Today, 21 September, we mark Peace Day, twenty-four hours in which the United Nations invites all people to cease hostilities and raise awareness of issues related to peace.
It's easy to get depressed when you read the news headlines. Sometimes it feels like our world is falling apart.
But today, a glance at your smart phone or Facebook page and you can see the world is close, be it the outpouring of support for refugees to public stances against racism and discrimination.
We are hopefully gaining a better sense that we are all in this together.
Fourteen speakers from places as diverse as Syria, Italy, Cote d'Ivoire and Sweden shared their personal stories and practical solutions for resolving conflict. Their testimonies offered a powerful antidote to hopelessness and inaction.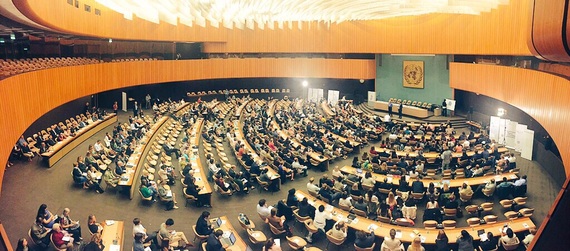 Indeed, several speakers showed that even the most intractable conflicts have potential solutions. In Syria, for example, civil society, religious and tribal leaders have put pressure on armed actors to negotiate, said Rim Turkmani of the London School of Economics, securing the safe return of some residents to their homes and keeping water and electricity running. "Peace is possible in Syria, but only if we support the peacemakers, not the war makers" she said.
Eliezer Rabinovici, a professor of particle physics at Hebrew University described an unlikely 20-year collaboration between scientists from across the Middle East called SESAME to establish a top quality research institute and light source modeled on CERN that will soon open in Jordan. "A group of scientists took their governments to a place they did not know they could be," he said, noting that science can be used as a bridge to build peace.
Lieutenant Antonio Dovizio of the Italian Navy, just returned a week ago from a year at sea performing search and rescue operations in the Mediterranean Sea, where his crew rescued more than 5000 people. He took the stage with Tareke Brhane, a former Eritrean refugee, now a European citizen who made the treacherous journey across the Mediterranean Sea and founded the organisation, the 3rd October Committee. Underlining our human connection, Dovizio said, "when you come across a shipwreck, you don't ask about their nationality, race or status, if they are a refugee or a migrant. You ask if the people are alive or dead."
Much violent conflict takes place outside of war zones, often in urban areas. In Los Angeles, Father Greg Boyle, a Jesuit priest, offers youth an alternative to the dangerous streets through job training and employment at his organization, Homeboy Industries. He said, "we have to stand against the idea that some lives are worth more than others." In his Peace Talk, he described how youth learn to work alongside former enemies, a transformation many did not believe possible.

Other speakers talked about their own powerful transformations as a basis for peace. London-based Rashad Ali described his journey from advocating extremism to promoting anti-radicalism initiatives. Severin Yao Kouame left behind his skepticism to embrace the power of dialogue to consolidate peace in Cote d'Ivoire.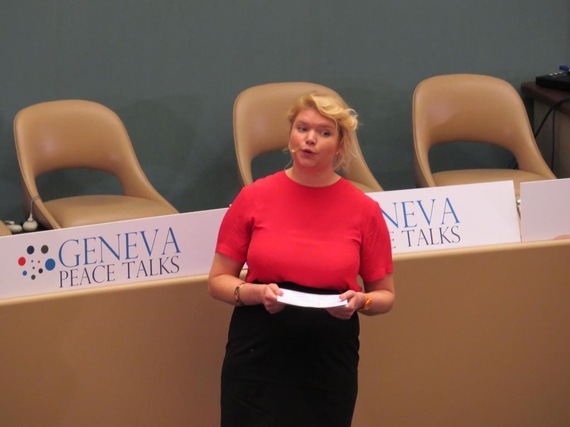 Ebba Akerman was disturbed by the exclusion experienced by immigrants in Sweden and began hosting dinners in which immigrants and Swedish natives could get to know each other better. Her organization, United Invitations, is now taking root in other European countries. In her Peace Talk she asked: "If we build our families around the dinner table can we also build our societies around the dinner table?"
At the heart of all the Talks was the notion that everyone has a role to play in building peace and the importance of human connection. Mother Teresa said it best: "if we have no peace, it is because we have forgotten that we belong to each other."
This Peace Day, join me in taking a minute to reflect on human connection and what actions you can take to contribute to a better and more peaceful world.

Videos of all of the Peace Talks - including previous years - can be streamed at peacetalks.net
Calling all HuffPost superfans!
Sign up for membership to become a founding member and help shape HuffPost's next chapter