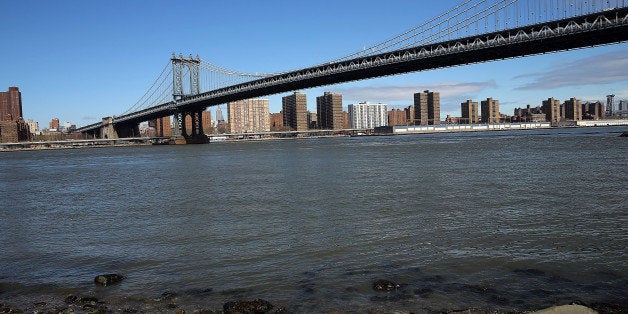 When Superstorm Sandy struck the Northeast on Oct. 29, 2012, devastating much of New York City and southern New Jersey, countless people volunteered to help those in need. As we mark the second anniversary of the storm, The Huffington Post is spotlighting three individuals whose commitment was evident from the moment they joined the immediate recovery response, and who today show no signs of slowing down.
Each of them has helped guide one of the various spinoff groups on the Occupy Sandy Project Spokescouncil, a collection of affiliated efforts aimed at not only providing continued assistance to Sandy victims in New York and New Jersey, but also preparing the states and their people to better handle future disasters. Their pride and compassion for the affected communities has helped keep the rehabilitation momentum going even though Sandy victims have now mostly left the media spotlight.
The On-The-Ground Activist
Nathan Kleinman, 32, has been an organizer for Occupy Sandy New Jersey since the beginning. After the storm, it took him eight days to get from Philadelphia to Ocean City -- ordinarily only an hour's drive away -- due to blocked highways and closed bridges. Since then, he has taken part in countless aspects of the rehabilitation of southern New Jersey and the shores of Delaware Bay: arranging conference calls for OSNJ, helping homeless storm victims, leading volunteer rebuilding projects and joining the executive committee for the Cumberland County Long-Term Recovery Group.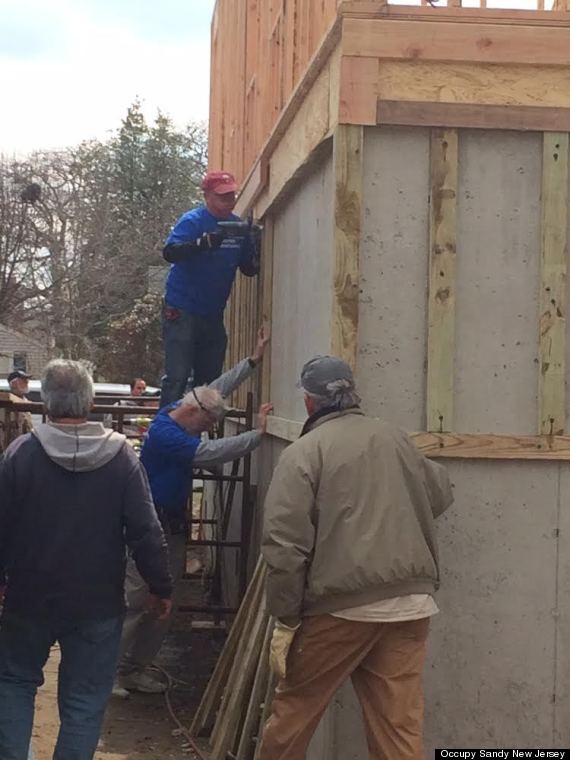 A group of Occupy Sandy New Jersey volunteers.
This fall, to commemorate the anniversary of the superstorm, Kleinman and his fellow volunteers are focusing their efforts in the town of Fortescue, New Jersey. One of the largest waterside towns in Cumberland County, Fortescue was hit hard by Sandy and has struggled to bounce back. The shore community once revolved around the Charles Worth Hotel Restaurant, a 140-year-old landmark that served as the town's community center, but the townspeople have yet to receive enough funds and volunteer support to reopen the venue. This week, Kleinman is taking as many volunteers as possible to rehabilitate the old restaurant through the Cumberland County Long-Term Recovery Group.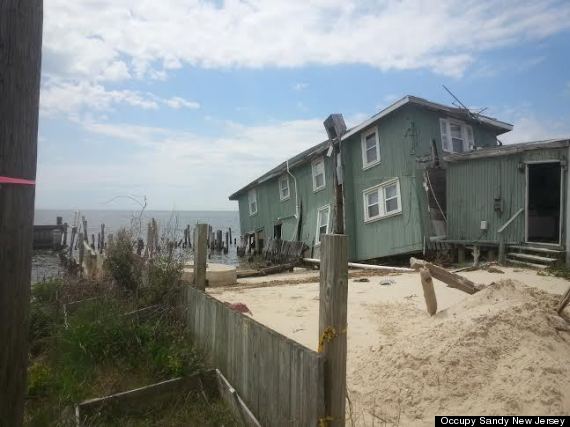 A Fortescue home still in disrepair in May 2014.
"The general feeling down in those communities is that people have been completely left behind," Kleinman told HuffPost. "This land in southern New Jersey is somewhat sinking [due to climate change], and so it seems the consensus is these communities are going to disappear. But the people are very proud of 400 years of history there, and are not willing to let their towns and their history just sink under the waves."
Ben Haygood, one of Kleinman's fellow OSNJ organizers, is also the director and founder of the Bayshore Resource Center in Highlands, New Jersey. Kleinman says the center, which organizes construction and cleanup efforts, will be critical in the event of another disaster.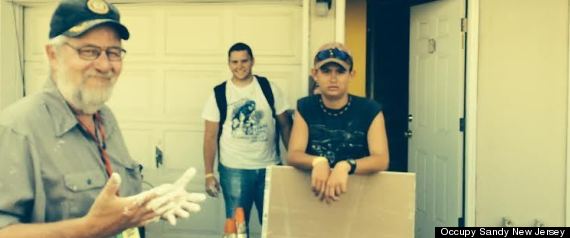 A group of Occupy Sandy New Jersey volunteers.
"The fact is, when you look at any of these communities that were really hit hard by Sandy, so many of them were devastated even before the storm hit through years of neglect, through rampant corporate capitalism, through gentrification," said Kleinman. "To think about how a community like that is going to recover from a disaster really involves a much more holistic approach than any typical disaster organizations do. Sandy was a horrible tragedy, but it was also an opportunity for communities to come together, and it really forced communities to organize in ways that they haven't really before."
The Business-Minded Volunteer
From his early days with Occupy Sandy, Pablo Benson, 32, felt drawn to the particular plight of communities living along Rockaway Beach. In the spring of 2013, he transitioned completely to helping those people when Worker-Owned Rockaway Cooperatives (WORCs), a group led by the activist Tamara Shapiro, joined the Project Spokescouncil to address the damage Far Rockaway had experienced -- both before the storm and after.
"The Rockaways were suffering from a human-made disaster before the storm happened," Benson told HuffPost. "The storm only exacerbated the systemic inequalities that they were suffering for years, [the] neglect on the part of the city. It was slated for this big gentrifying push calling the Rockaways 'the new Williamsburg by the beach.' The kind of investment that was coming in had nothing to do with the communities that existed there, especially in Far Rockaway and Rockaway Beach."
Using funds from Occupy Sandy, WORCs began empowering the neglected Rockaway residents by helping them incubate and finance small businesses of their own. Partnering with the Working World, an organization that employs a similar co-op model in countries around the globe, WORCs hosted a 12-week intensive program for 40 area residents, helping them to develop and finance two worker-owned cooperatives -- a bakery and a construction company. Both are fully operating today, and the construction company is making a profit.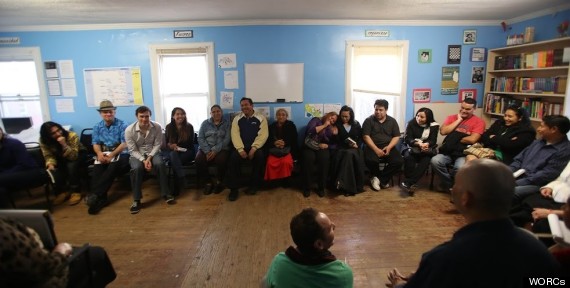 The WORCs residential training program.
"It is so inspiring," said Benson. "Coming into the whole process, I thought that I had something to teach or to share with these communities, and what I've learned throughout the process is that they have so much more to teach me."
Now in its second phase, WORCs is prepping a taxi service, a landscaping company and a juice bar, each one a worker-owned cooperative. According to Benson, each business will receive low-interest, zero-debt loans to protect the people involved if the business fails.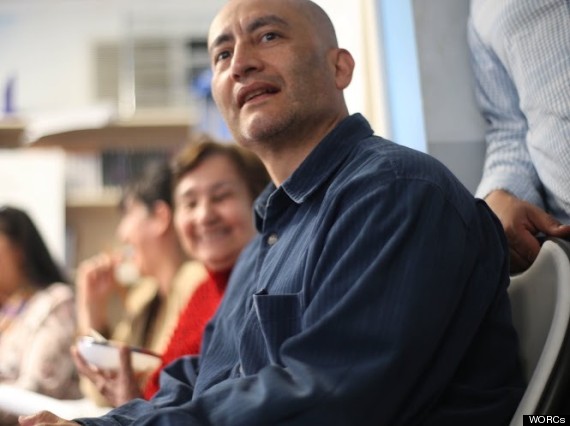 A Rockaways community member at the WORCs training program.
"By no means did we just parachute into the Rockaways and then leave," said Benson. "We envision this is going to be a long-term recovery effort. As soon as all the sexiness of the initial weeks was over, a lot of people fled, and we want to make sure that we're not that reckless. We want to make sure that these investments actually work."
A self-proclaimed technocrat, Devin Balkind, 28, watched the city fall apart after Sandy, due in part to a lack of centralized information. In the day-to-day confusion that followed the storm, with volunteer events and recovery efforts popping up at odd times and places, people needed to know where they could get help and what kind of services they were eligible for -- and there was no easy way to find out. As an Occupy Sandy volunteer and founder of Sarapis, an IT nonprofit, Balkind decided to lead a project that would find a solution to this problem before another disaster struck.
NYC:Prepared, originally named FLO Solutions, is now looking to support each of the other Occupy Sandy project groups, as well as other local relief efforts, with Balkind's software sharing, training and customization program.
"Recently, we've helped deploy websites for the Brooklyn and Staten Island long-term recovery groups [and] for New York City VOAD [Voluntary Organizations Active in Disaster], and we've brought these groups into an open-source information management system," Balkind told HuffPost. "We're getting them to use the software so in the next disaster, we have real data-driven information sharing, which is something that we didn't have for Sandy. I hope that it will become a real resource for the nonprofit community in New York in general."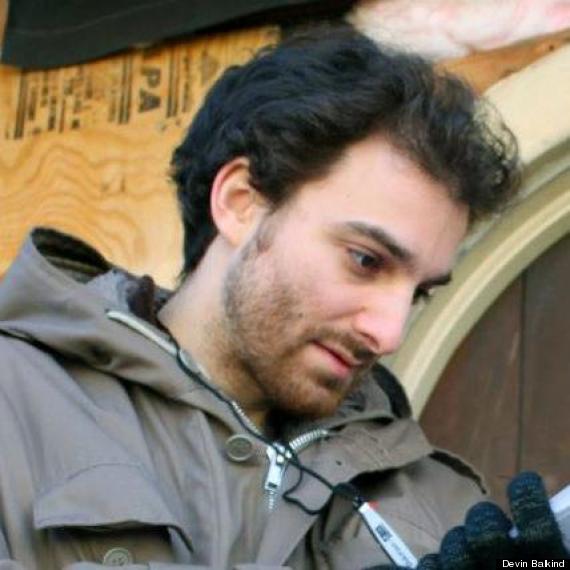 Balkind canvassing soon after Hurricane Sandy.
For the second anniversary of the superstorm, Balkind is offering free websites to any of the organizations within these three networks through NYC:Prepared, allowing them to publish, syndicate and deliver news content to those who want it. His team is also working on compiling a resource directory that will enable people to find the services they need by using the Internet, as opposed to the government-assembled PDF forms that Sandy victims currently rely on.
"There's a shift in how all of relief and recovery work is taking place around the world, and increasingly in America, and that is adopting data information standards and processes, making the standards accessible to participants through software and training people to use that software so they feel empowered by it," said Balkind.
"I do not want to see the city respond to a disaster like it did to Sandy again," he continued. "It could have been done much better, had information standards been in place so that people knew how to reach each other at the data level. I'm motivated by the fact that New York is a special place, and the city needs to be prepared, and it's inexpensive to do it."
This article is part of a series produced by The Huffington Post highlighting the contributions of Go-Givers -- people who are looking beyond a "Go-Getter" approach to success and redefining success to include the importance of giving back. To nominate a Go-Giver of the Week, email gogiver@huffingtonpost.com.
Related
Before You Go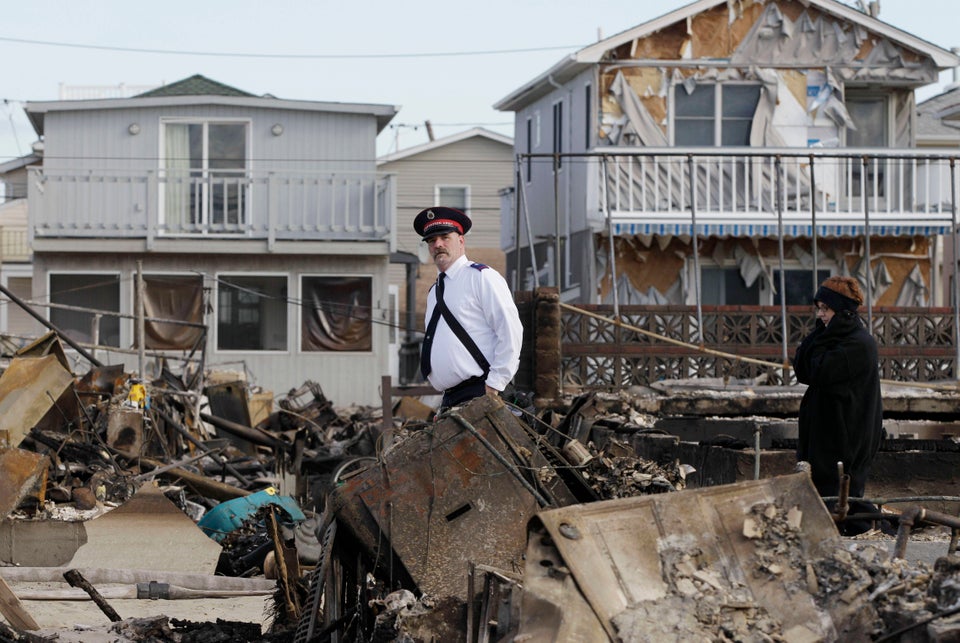 Hurricane Sandy