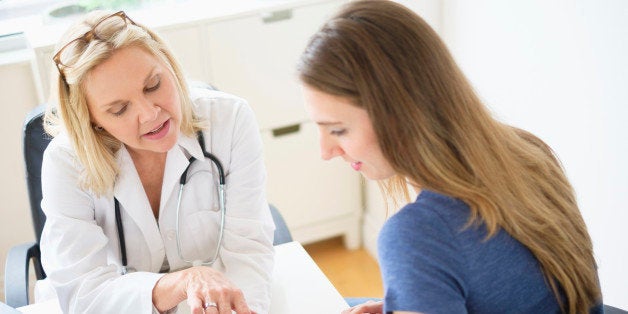 Well over ten years ago, I walked into my first National Eating Disorders Association Conference, my newly written book, Life Without Ed, tucked away in my bag. Even though the book's idea of personifying my eating disorder as an abusive partner named "Ed" seemed strange to some, the thought leaders--founders of the eating disorders field--welcomed me and my work with open arms.
These professionals astounded me with their passion and devotion to those whose lives, like mine, had been touched by the illness. I was deeply moved when experts began recommending my book and even the "Ed" metaphor to their patients and families. These clinicians said that my view as a recovered person was valuable, that I could provide a unique hope and inspiration. And, as a field, that was our main goal: to help those who still suffer.
Recent and public discussions about the rise in eating disorder treatment centers has posed the question about whether or not that common goal still stands. As an author, advocate, and someone who spent years in the agony of one of these illnesses, I welcome any conversation that might provide support and guidance to those who struggle themselves.
What strikes me most about the recent conversation about this growth in the eating disorders field is actually what isn't being talked about: why has there been such an expansion in treatment centers? An estimated 30 million Americans will struggle with an eating disorder at some point during their lifetime, and tragically, there is a huge disparity between those who need help and those who receive it. Like countless people, I struggled for years--beginning at the young age of four--without even knowing that I had a problem. I desperately needed an eating disorder treatment program in Dallas, Texas, where I grew up, but I didn't know it. That is why education can be the first important step to bridging the gap between the millions who need help and access to it.
In my new role as a National Recovery Advocate of Eating Recovery Center's Family Institute, I recently had the great privilege of providing one form of this education in Dallas. After all of those years that I suffered in silence within the same community, it was surreal to me to have the opportunity to share knowledge with those, like myself, who needed it. Individuals who suffer and their loved ones need to be aware of what to look for in terms of quality care, and they deserve to know what options are available to them. Not to mention, the community in general as well as health care providers must learn the truth about eating disorders--that they don't look a certain way, that behaviors manifest differently, and that help is available. When I was struggling, neither my family, nor my pediatrician, nor I understood these facts, because organizations weren't providing this kind of education. At the time, I don't believe that any specialized eating disorder treatment programs existed in the entire state of Texas.
Nearly every day, I receive messages from people who have read my books who question, like me, whether or not they actually have an eating disorder, and then, after making the significant realization that they do, subsequently cannot find care within their communities. People often travel out of their city or state to find a specialist. Given how life-threatening eating disorders are, it is well worth it to travel in order to receive the best care possible. I am happy to say that thanks to Eating Recovery Center, my current hometown of Austin and several other cities in the Lone Star State, including Dallas, now have continuity of care for patients, support for families, as well as educational resources. I only wish the increase in the availability of eating disorder treatment had happened back when I was a kid.
But what about the important question of quality of care? My personal recovery and advocacy work has taught me that just any type of care--no matter how available--doesn't make a dent in eating disorder symptoms, and in fact, unqualified care can make things much worse. After college, I finally understood that I had an eating disorder and sought help from a doctor who referred to himself as an experienced clinician. This so-called expert completely dismissed my illness saying, "You don't look like you have an eating disorder," despite the fact that I met the weight requirement for anorexia nervosa. The well-meaning dietitian who worked along his side was at a loss for how to help me with my uncontrollable binges as well as other eating disordered behaviors. Instead of tackling these difficult problems, she taught me various cooking skills like how to carefully microwave eggs. I continued binging, purging, and restricting, but I sure knew how to microwave an egg without it exploding into a huge mess. My behaviors worsened; my life was a mess. Hope was fleeting. I looked into getting help at an inpatient as well as residential program, but my insurance wouldn't cover this higher level of care. Today, gratefully, more people are able to access insurance benefits for coverage. Even still, there is often a waiting list for people to enter treatment due to a lack of beds. I distinctly remember having to wait six weeks just to have one dietetic appointment with the professional who ultimately ended up helping me. Those weeks felt like an eternity as Ed clenched my throat more tightly.
Needless to say, it was worth the wait to connect with the experts who skillfully guided me along the recovery path. I learned, after trial and error, that qualified care is out there. Knowing what I know now, I can see clearly that I would have benefited from a treatment program that offered higher levels of care. Due to my difficulties with insurance, I did all of my recovery work on an outpatient basis--regularly seeing various professionals who worked in offices dispersed throughout town. Living alone at age 22, I often returned from an enlightening therapy session only to find myself face to face with my refrigerator--and Ed. Without support by my side at mealtimes, Ed frequently trumped even the most powerful treatment sessions. I firmly believe that I would have recovered more quickly and with less bumps along the way if the wide array of treatment options that are now available had been open to me then.
As one example of treatment center expansions being discussed recently, Eating Recovery Center has a network of 24 locations in seven states that is led by who I, and the industry recognize as leading experts in the field. In fact, Dr. Ovidio Bermudez, Eating Recovery Center's Chief Clinical Officer, was one of those doctors who eventually led me back to health. What I know from working firsthand with him, both as a patient and now as a colleague, is that empirically supported treatment led by experienced providers is what can save lives. What helped most in my personal recovery was evidence-based practices integrated with alternative approaches, again, led by experts. I never thought I would say this, but, today, I am fully recovered from the illness that once ruled my life. Help is available, and best-in-class care can be found. In fact, the International Association of Eating Disorders Professionals has even established a credentialing system to help with finding an experienced provider.
As I continue my work in the ever-growing eating disorders field, I welcome any discussion like this that gives us the opportunity to help those who still suffer. We need to talk. We need to ask the tough questions. Conversations like these, I imagine, are what contributed to the field's success--what led to saving my life as a patient. For that, I am grateful and honored to join the discussion.