People magazine is fed up with lawmakers' routine response to mass shootings -- and after Thursday's shooting at Umpqua Community College, the publication's editors decided to help readers express their discontent, too.   
The magazine has told personal stories about each of the gunman's nine victims, and the latest issue, which will be out on newsstands Friday, includes a letter from editorial director Jess Cagle, who uses the platform as a call to action. He asks readers to press their representatives for better solutions to mass shootings.
"We need to know that our representatives in Washington, D.C., are looking for solutions and not giving up, and they need to know if we agree or disagree with their strategies," Cagle wrote. 
To make it easier for readers, People printed the names and phone numbers of all 535 voting members of the House and Senate. (The online version, up now, also includes their email addresses and Twitter handles.) 
"When Obama spoke after the incident, I sat there and rolled my eyes and thought, 'here he is again, making another speech,'" Cagle told The Huffington Post on Wednesday. "And nothing has been done about this problem."  
"And sure enough, he admitted that here he was again and his response had become routine. But he also said
the media's response
has become routine," Cagle added. "I really took it to heart."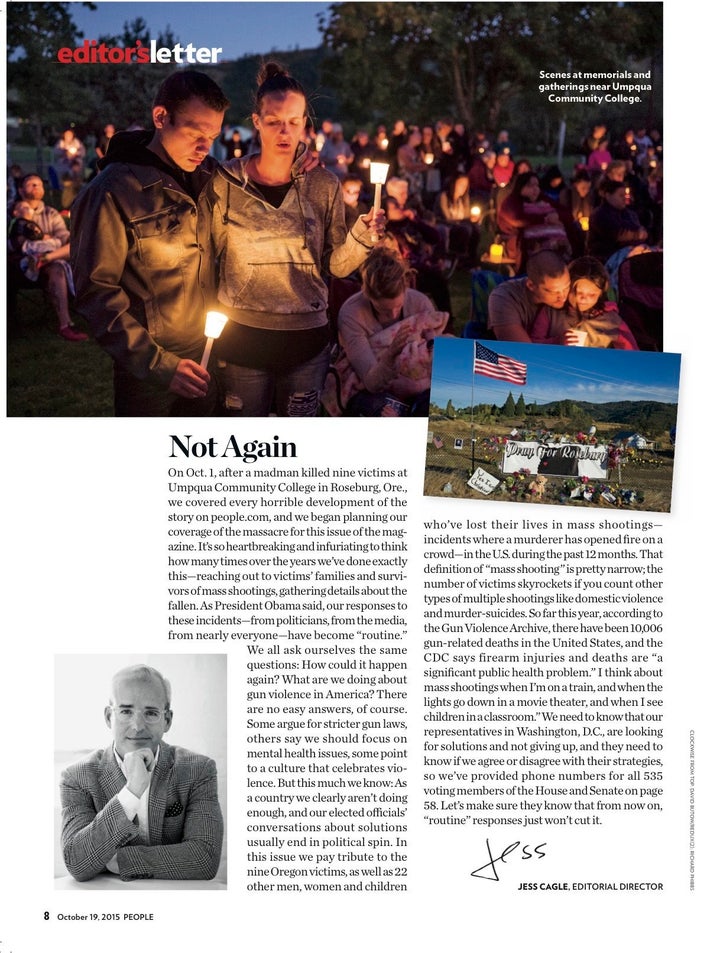 In his letter, Cagle reflects on the sad reality of living in a country where mass shootings are so common. 
"I think about mass shootings when I'm on a train, and when the lights go down in a movie theater, and when I see children in a classroom," he writes.  
He also noted that the narrow definition of a "mass shooting" -- typically when 
four or more people
are killed with firearms -- leaves other victims of gun violence out of the conversation, including those killed in
domestic violence shootings
. 
Cagle said his call to action is simply that -- a call -- and that he was careful not to lay out specific solutions ("because I don't have the answers") or politicize the issue. 
"The call to action isn't me asking people to take a political stance. It's me asking: Let's educate ourselves. Let's find out what's working. And what's not working. And find out what our representatives are doing about it," he said. "People lay out different solutions based on their political bent, but no one says, 'we should be trying it all.'"
But given the heated climate of the national gun debate, Cagle acknowledged that not everyone sees his message as apolitical. 
"It's hard to talk about the problem because too many people see it as a political stance," Cagle added. "But it is disturbing to me that the response is to take offense here."
So far, the response to People's letter has been overwhelmingly positive, and Cagle said he hopes readers will make use of the contact information he published. 
"Let's hold our representatives' feet to the fire and hear what they're trying to do about this," he said.
Looking ahead, Cagle said People will delve into stories about how citizens are affecting real change when it comes to gun violence.
"There's got to be a higher purpose to covering these events than just creating headlines," he said.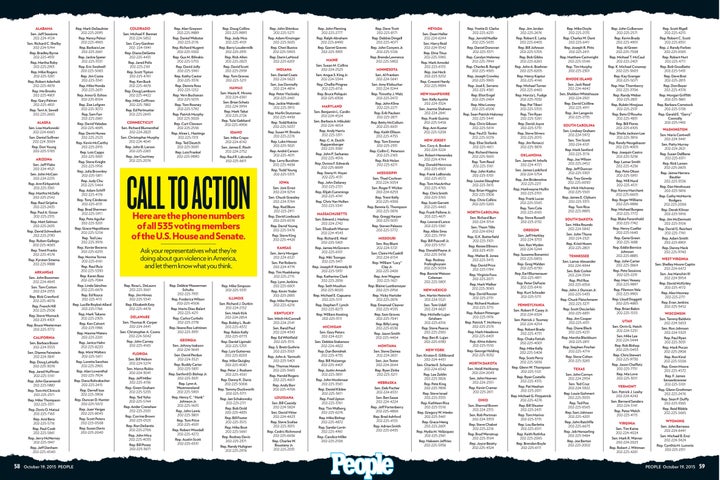 REAL LIFE. REAL NEWS. REAL VOICES.
Help us tell more of the stories that matter from voices that too often remain unheard.