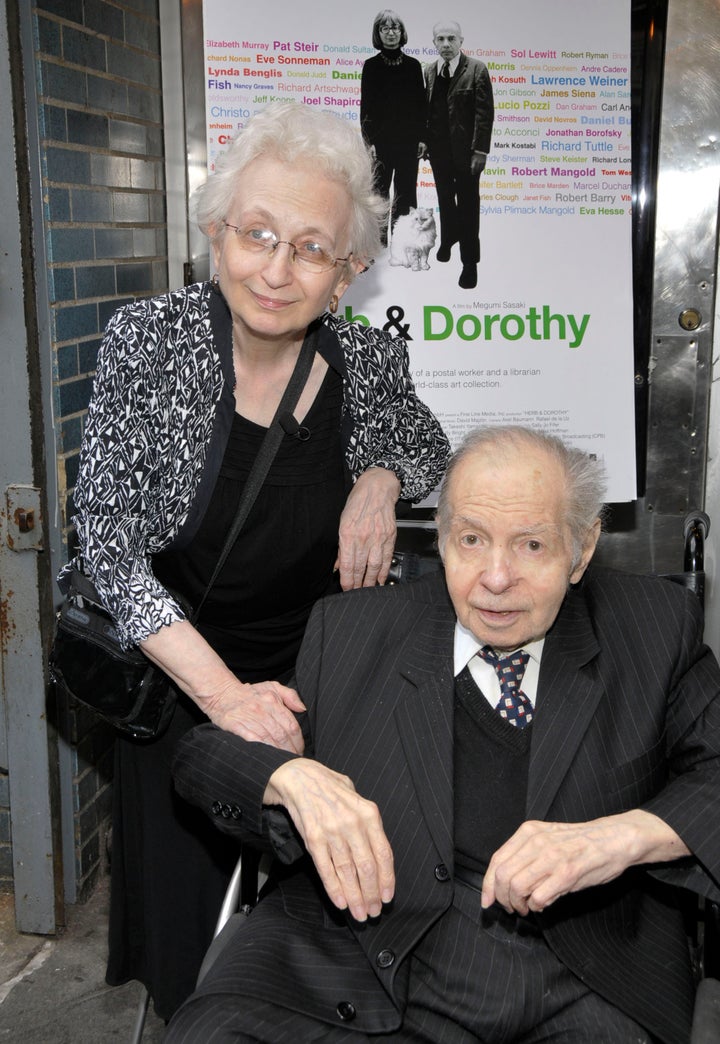 A new documentary on Herb and Dorothy Vogel, the legendary New York collectors who managed to accrue a world-class trove of minimalist art on a government employee's salary, premiered last week at the Whitney Museum, a month after an excerpted version of the film opened the REEL Artists Film Festival in Toronto. "Herb & Dorothy 50x50," directed by their stalwart documentarian Megumi Sasaki, picks up where the previous film, "Herb & Dorothy," left off: Previously, the couple had just given their entire collection to museums in each of the 50 states, and made plans to travel the country to see the newly donated collections. Before they could embark on this tour, however, Herb Vogel passed away. Dorothy Vogel has since closed the art collecting chapter in her life, echoing Herb's earlier comment that "what we did then is now art history."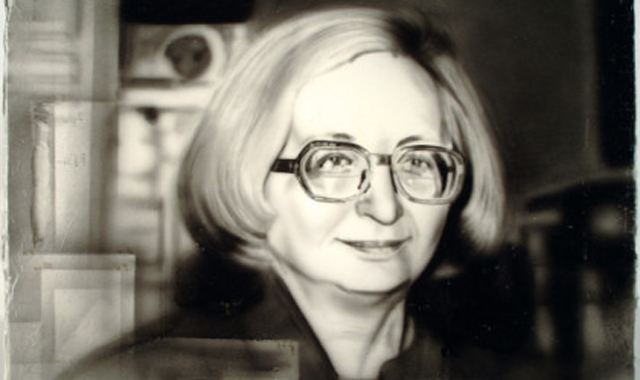 Daryl Trivieri, Portrait of Dorothy Vogel, 1989 (detail)
A recent New Yorker review of the new film notes its melancholy, with Herb's failing health and the couple's marriage making for a more intimate and heartbreaking documentary. (When Dorothy attended the Whitney screening alone, an audience member's question about what artwork Vogel missed most was met with the reply, "I just really miss Herbie.") ARTINFO Canada's recent conversation with Vogel saw her subdued -- though she was clearly buoyed by the presence of Sasaki. Over the course of an hour, the two discussed the challenges of breaking up and placing the various parts of the Vogels' vast collection, the trick of enjoying "difficult" contemporary art, and moving forward after a loss.
A curator in Hawaii comments, in this second film, that "this is very American work." Was there any notion, when you were initially deciding what to do with the collection, that you might donate to institutions outside of the U.S.?
Vogel: I don't know what she meant by that, because we have people in the collection who aren't American. It was never a consideration that they had to be from anywhere in particular. We didn't make those distinctions. It's just that we lived [in the U.S.], so most of the people we met were American, that's all. My husband was asked if we might give things to institutions abroad. He was always emphatic that he wanted the collection kept in the United States, though. I'm not sure what his reasons were.
Vogel: I thought it was valid that we kept it here. First of all it would be more accessible to us... [laughs]

As you gain distance from the collection, how are you seeing it?
Vogel: It's a part of my past.
How would you describe the collection as an entity?
Vogel: Contemporary art; work done in our time.
What were your criteria for choosing these 50 institutions?
Vogel: The first group was chosen because we had personal relations to them. We had either loaned work to them, had shows there, knew people who worked there, [or] visited. The first choices came from our personal feelings. And then for the others, where we couldn't possible know [the institutions] - we'd never been to Hawaii or Idaho, or places like that - we relied on curator Ruth Fine and her personal contacts.
Were there any challenges that stand out, in this process?
Vogel: One of the institutions went out of business before the project had really gotten underway - in Las Vegas, Nevada. We had to find another institution, and that was a challenge. We ended up choosing the university [University of Nevada, Las Vegas]. If you see the catalogue, though, there is a different institution than what's on the website, now, as a result of this.
I imagine your knowledge of New York would have made it quite difficult to select a home for the work there. You ended up not selecting any institutions in the state. Why was that?
Vogel: We felt it was not needed in New York. There are many institutions there that carry the same kind of work. We felt the collection would better be served elsewhere.
Did collecting become curating as you moved into a position of bestowing the work onto institutions?
Vogel: I never thought of it that way. But we maintained that what Ruth Fine did was curate 50 shows at the same time. I don't think I could have done it.
Were there any works you felt a connection to, or couldn't part from?
Vogel: No, no. I liked the works that were up, because I lived with them. But I had no personal feelings that they had to stay there. I felt they were getting a better home.
Are there any of the 50 collections that you'd really like to see in person?
Vogel: I think I'd like to see the one at Yale. They're making their own catalogue, asking a lot of questions, and really taking an interest. They're also borrowing from our collection at the National Gallery, and adding work from their own, too, so it's going to be a major exhibition. I'd like to see that.
This kind of experience would surely bring attention to what certain states, institutions, or systems are lacking in terms of resources. Did you get a sense of that, as you decided which institutions to donate work to?
Sasaki: Certainly everyone's trying to keep their heads above water right now; survival seems to be the priority for these museums. But the most interesting thing about it, for me, was the varying tactics these places are employing to engage audiences. All these programs aimed at bringing people in ... it was pretty interesting to see the thought that goes into this.
Megumi, was the impulse to do a second film quite immediate after the first, or how was it borne-out otherwise?
Sasaki: I didn't plan to make the second one when I was engaged in the first. But when I saw the first of these 50 exhibitions, in Minneapolis, it was very impressive, and it finally set in, the eye [that the Vogels] had. It struck me then that I didn't know very much about their collection, considering I'd made a film about them, and had followed them for four years, and captured their life. I still knew very little, and it made me want to learn more.
Vogel: This project came about in the working stages as Megumi was finishing the first film. There is a statement at the end of the first film that mentions it, but for the majority of our time with Megumi, we weren't able to discuss the 50 States project. Finally it was fait accompli and we made our announcement. Megumi came to the press conference where the museum representatives were receiving the news. It was sort of momentous.
There is a quote from Chuck Close from the first film: "they like the most unlikeable art." Now that the collection is disseminated across the country and available to 'the masses,' how do you regard its accessibility?

Vogel: I think if you take the work of Richard Tuttle, for instance, his work is difficult, and people have to see it a few times to get into it. A lot of the work from the collection is like that: at first glance, it's hard, but you see it again and again and again, and it grows on you. You have to take the time to reflect on it.
Some of these works might have been originally passed up because of that, and we were there to grab it.
Sasaki: For me, contemporary art can be so inaccessible, there is an intimidation around it. Whether it's the kind of work that Dorothy and Herb collected, or something else, people get really intimidated, and I was too. You feel like you have to explain why or why you don't like it. One of the greatest lessons I learned from Herb and Dorothy is that you don't have to explain, you don't have to theorize art to like it. The important thing is to look. It's a visual art.
Richard Tuttle mentioned that in the first film: what makes them so unique is that they take the information from their eye straight down to their soul. They don't process it in the brain. And that turned out to be the most important lesson of the first - and then the second film, as well.
Vogel: People equate wealth with knowledge. One has nothing to do with the other. You don't have to be wealthy, but you have to have a little knowledge, and mostly insight. My husband was self-taught in the sense that he audited art history classes from the best art historians of his day. He learned from the best. But he did not matriculate. You don't have to get the degree; you can go on your own, and follow your own destiny. This is what my husband did: he followed his own destiny.
What's your advice on collaboration?
Vogel: It's more fun to collaborate, like I did with my husband. I always said when it stopped being fun, we would stop. It stopped being fun the day he died.
Do you have any advice for young collectors who don't have the advantages you just mentioned?
Vogel: I have a lot of advice. Keep good records: as much information as you can; later on, people want to know these things. And I think people need to follow the heart. Don't listen to a lot of people; if you do, you won't be happy. Listen to yourself.
But mostly, it's good to have someone to collaborate with, to be appreciated, and share the knowledge with and to enjoy it with. It's an enriching way to collect. I have no incentive to do it myself.
More of Today's News from BLOUIN ARTINFO:
Calling all HuffPost superfans!
Sign up for membership to become a founding member and help shape HuffPost's next chapter