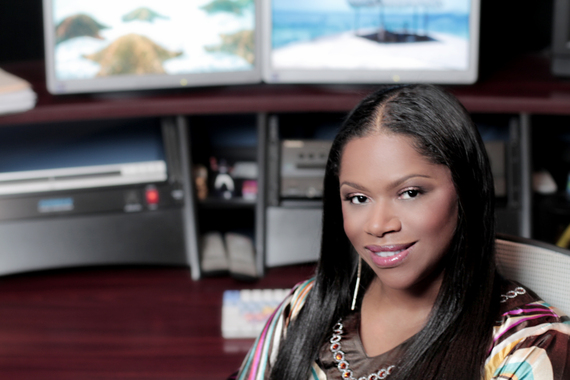 Let me start by saying...I love movies. When I finally have down time, I love watching moviesand romantic comedies are particularly my favorite. So, I was beside-myself-excited when I met filmmaker Tricia Woodgett. As a black woman, there is an amazing sense of pride, accomplishment and feeling of sisterhood when you see other black women excel in an arena dominated by men.
Tricia's star in the film industry is rising rapidly and, with the recent release of Carter High, a major motion picture on which she served as a producer about the 1980's scandal that rocked Texas High School football to the core, she is poised to join the ranks of Ava DuVernay, Gina Prince-Bythewood and Yvette Lee Bowser.
Not only does she possess an impressive producer/director resume, not only is she telling important stories of people of color via her production company TigerEye Films, she is also establishing an entirely new distribution platform that will redefine how films are made available to the world and who gets to participate in the process with her newest endeavor FilmCloud Distribution.
Based in Dallas, FilmCloud is a film/television distribution company strictly for multicultural independent content providers that will allow filmmakers, from all parts of the world, to showcase their talent to a global audience. With an initial release in seven markets, FilmCloud will provide a culturally diverse platform for independent artists that is not currently available to them. Because most independent platforms focus on a particular region like Nollywood or Bollywood and are very narrow in their offerings to artists and film lovers, Tricia developed FilmCloud in partnership with a friend out of her own frustrations with trying to get distribution. This new platform will allow the broadest stroke of content diversity available to indie artists, and they get to keep the majority of the profit share from the streaming of their films. It's a way for artists of all ethnicities and genres to come together in one place and make their films accessible to the viewing public instead of just sitting on a shelf.
The company has already secured investments, valuing the company at $1.5 million, and has two primary customer segments: independent filmmakers and viewers of independent films. So how does it work? Filmmakers may submit a trailer link and film summary via the FilmCloud website www.myfilm-cloud.com for distribution consideration. FilmCloud will hold its national launch at the 2016 SXSW (South by Southwest) Film Festival in Austin, Texas.
So what's next for this entertainment powerhouse? Tricia is tackling one of the biggest African American folklore tales in history...Black Wall Street. But, Black Wall Street is no myth, and far too many people have little to no idea what happened on June 1, 1921 in Tulsa, Oklahoma. The nation's most affluent black community was bombed from the air and burned to the ground. In a period spanning fewer than 12 hours, a once thriving business lay smoldering - a model community destroyed and a major African-American economic movement resoundingly defused. The night's carnage left some 3,000 African Americans dead and over 600 successful businesses lost. It's a story that has been passed around and passed on by Hollywood for years, but will finally be told by Tricia and New Orleans writer/director LeVay Ballet who worked with Tricia on the Carter High project. They will begin location scouting for the movie in early 2016. She is also slated to team up again with Carter High director Author Muhammad for the feature film Little Voice next year.
While her career as a successful producer and director has grown, one goal has remained a constant for Woodgett, she has made her own dreams a reality, equally as important has been the ability to provide opportunities for others who have dreams of being in the film industry. She remains committed to her calling of enabling emerging filmmakers to tell their stories as big and bold as they possibly can.
Take Action and look for Tricia Woodgett in 2016.
Dr. Cheryl "Action" Jackson
Calling all HuffPost superfans!
Sign up for membership to become a founding member and help shape HuffPost's next chapter