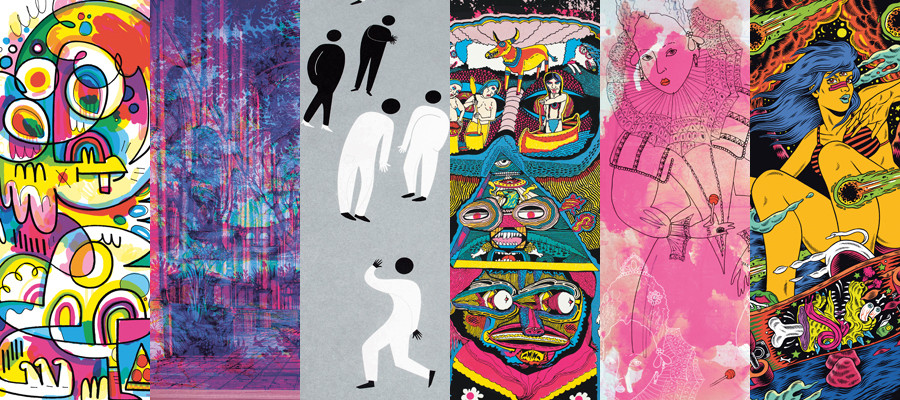 So reads a block of text opposite the table of contents in People of Print. The beautifully adorned tome, published by Thames & Hudson earlier this month, explores a world in which GIFs, generative imagery and fractals have become ubiquitous. Digital and algorithmic art is no longer the future; in fact, it's hardly the present.
Amidst this sea of screen-based masterpieces, though, authors Marcroy Smith and Andy Cooke are spotlighting the designers, illustrators and collectives who are still embracing the traditional corners of print techniques. From the fanzine masters and self-published bookmakers to the poster artists and comic illustrators that live at the center of vintage fandom to textile artisans and handmade fashionistas, People of Print features profiles on 45 individuals or groups devoted to "tactility, materiality, and the visible craft of print."
Smith is the director of the online version of the book, described as a library of illustrators, designers and printers that began back in 2008, as well as the founder and editor of the aptly named magazine, Print Isn't Dead. Cooke is a British graphic designer with a self-professed "questionable beard," whose list of clients includes Google, Ikea and Microsoft. Together they've pulled together images and interviews from artists like Mike Perry, Dolly Demoratti, Erik Kessels and KeeganMeegan & Co.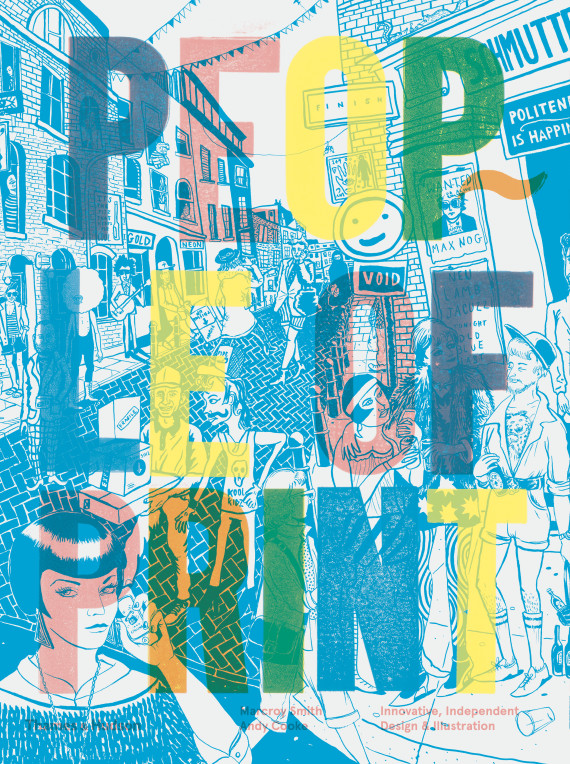 "Print offers a different experience altogether," writes KK Outlet curator Danielle Pender, in an introductory essay for the book. "It's sensory, the smell and feel each add something different to the content. Something committed to print holds more weight in the eye of the reader than something online... Rather than our digital lives relegating print to obsolescence, they have cemented it as something more valuable."
In the spirit of Pender's words, we've compiled a list of 10 featured printers you should know. Below are the names of a handful of artists, illustrators and designers committed to keeping print alive: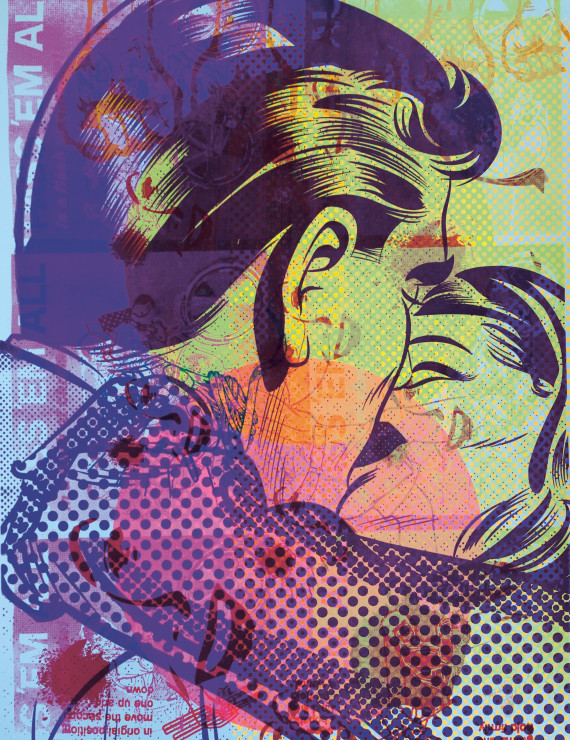 Fatherless, Untitled, screen print, 2012
Fatherless is a collective of printmakers, designers, graffiti artists and educators rooted in the American Midwest, consisting of Corey Hagberg, Jarrod Hennis, Javier Jimenez, Greg Lang, and Dave Menard. The name "Fatherless" comes from the collective's process of creating -- every "Rust Belt Power Pop" screen print touches the hands of each artist in the group. "They are not five artists that work 'under' the name of Fatherless," its online description reads. "A Fatherless print is made by five artists."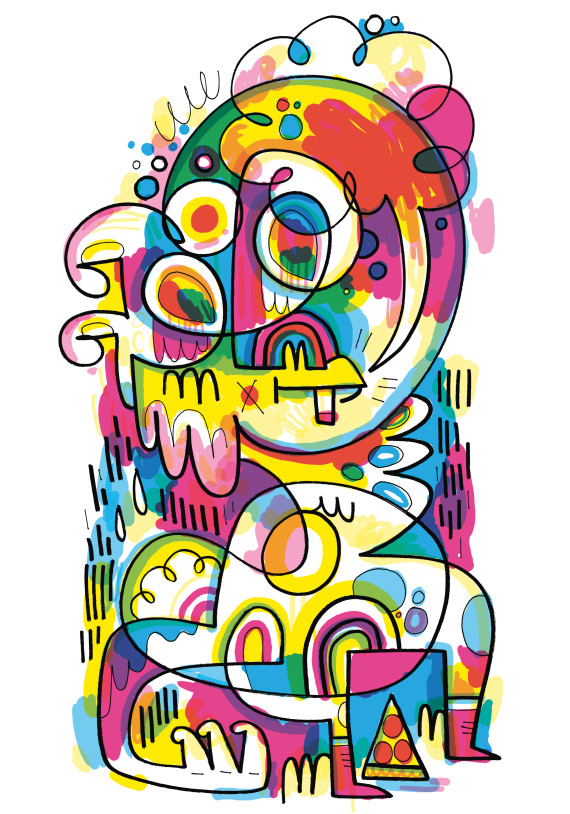 Jon Burgerman, Tricolore (Man, Pizza, Cigarette), screen print, 2012
London-based illustrator Jon Burgerman's murals, toys, prints and apparel showcase the art of doodling at its best. "A doodle isn't necessarily a drawing on a piece of paper," he described in an interview with PSFK. "A doodle can be an idea, it can be a melody. It's just something that you do maybe when you're meant to be doing something else or when you're not full concentrated on that one task so you have a slightly absent-minded distraction. You're traveling or you're walking around and sketching something, and from the depths of your mind something magical happens."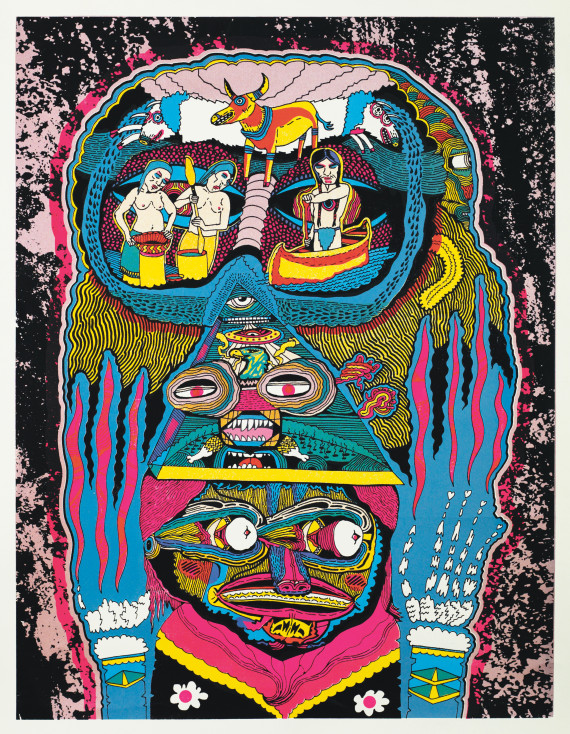 Killer Acid, Live and Let Live, screen print, 2010
Rob Corradetti founded Killer Acid, a print-based art project centered on everything from screen printing to stickers to t-shirts -- generally, the ephemera associated with Brooklyn band art. The works cull inspiration from drug culture, American kitsch and surrealism. Appropriately, Killer Acid has designed for bands like the Black Lips, Mac Demarco and The Pizza Underground.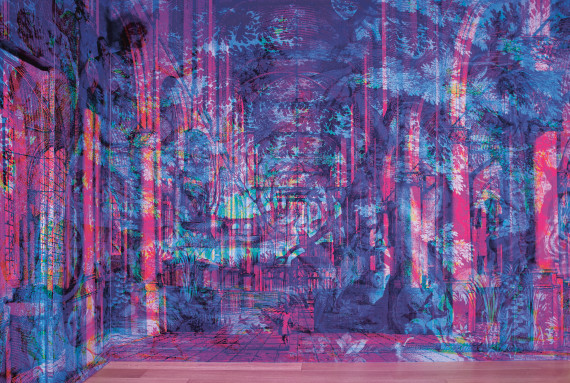 Carnovsky, Landscape No. 1, digital, 2013
Based in Milan, Italy, the duo of Silvia Quintanilla and Francesco Rugi make up Carnovsky. Together they produce everything from wall paper to garments to furniture, many of which interact with red-green-blue light systems that change the very appearance of their layered imagery. Quintanilla and Rugi are inspired by antique natural history books and engraving techniques, resulting in a color-drenched oeuvre that blends detailed figuration with a hypnotic palette.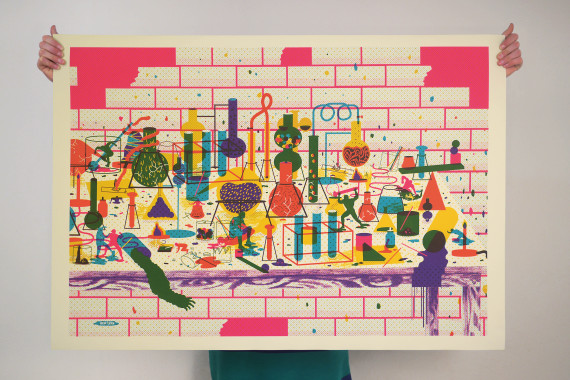 Frenchfourch, Bastonnade, screen print, 2013
Based in Paris, France, Frenchfourch aims to highlight "the young, flourishing and talented scene of French, European and world graphic artists." The above image comes from "Bastonnade," a project that spans seven countries, in which Frenchfourch hosted a new screen printed installation and a new collective in each city it visited.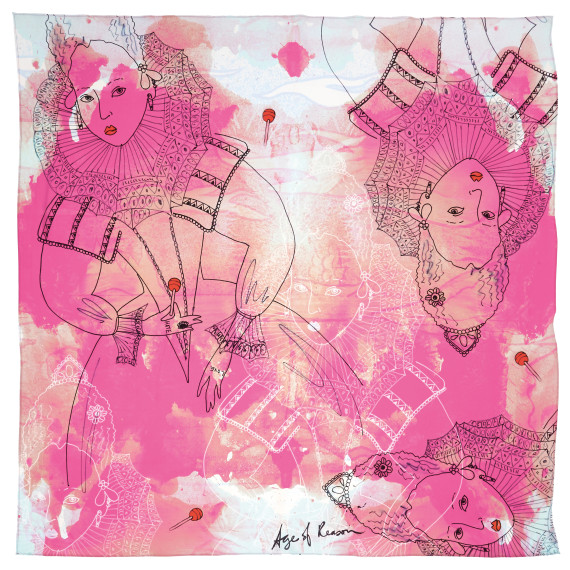 Age of Reason, Lollipop Queen, digital, 2014
Age of Reason, a Hove, UK-based print label, specializes in natural fiber scarves that blend memories of designer Ali Mapletoft's childhood in Lesotho, South Africa with the street style of London. Her intricate images seem better suited for a thick piece of pulp rather than a delicate swath of silk, which makes the creations all that more interesting. "I want Age of Reason to be the antidote to cute kitten and chintzy flowers on scarves," Mapletoft explains in a blurb for her profile.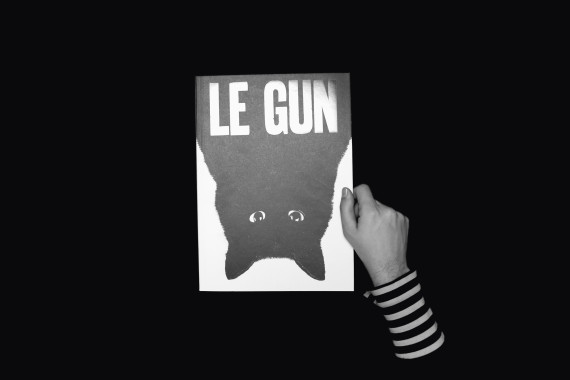 LE GUN, Le Gun Book, Issue 4
Le Gun, a printmaking collective in London, has one motto: the sum is greater than the parts. Bill Bragg, Chris Bianchi, Neal Fox, Robert Rubbish, Steph von Reiswitz, Alex Wright and Matt Appleton combine bits of punk, pop and occult to create largely monochromatic scenes that span from simple text to chaotic illustration.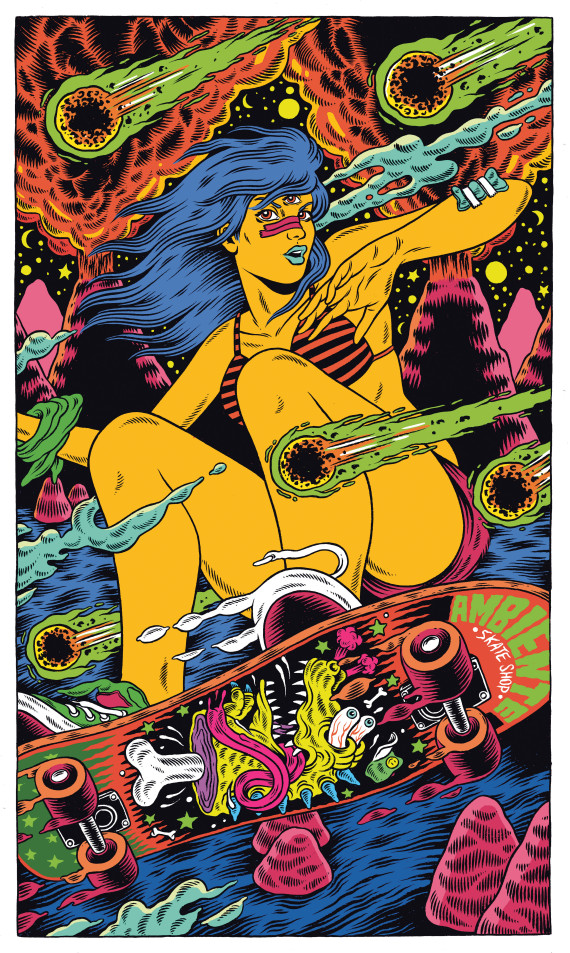 Bicicleta Sem Freio, Go Skate, screen print, 2011
"Art, design and rock 'n' roll," begins the online biography of Brazil-based Bicicleta Sem Freio (Bicycle Without Brakes in English). The description should probably include "women," as the work of Douglas de Castro, Victor Rocha and Renato Reno includes many multi-colored renderings of girls jumping, snarling and screaming.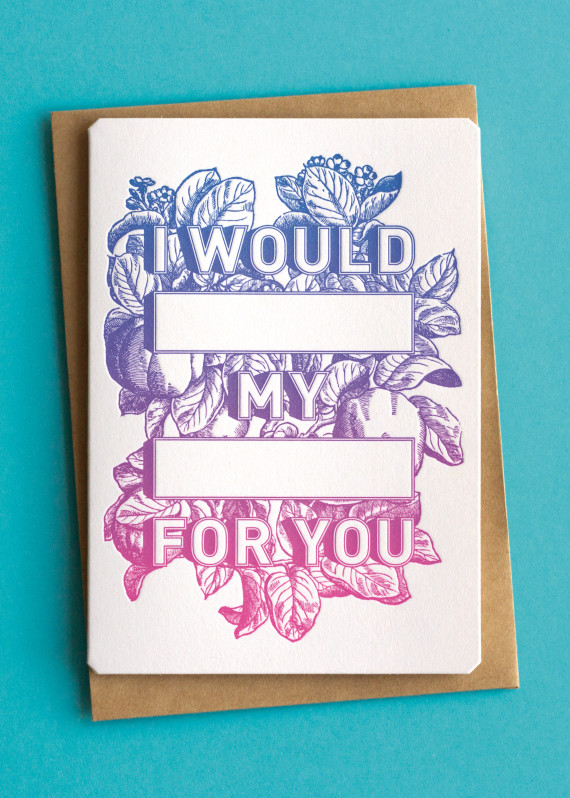 The Hungry Workshop, I Would Blank My Blank For You, letterpress, 2013
Husband-and-wife duo Simon and Jenna Hipgrave, from Melbourne, Australia, are masters of the letterpress end of printmaking. Together they amount to The Hungry Workshop. "Letterpress has an enhanced physicality," their description reads. "You can smell, see and touch an idea that has been executed with letterpress."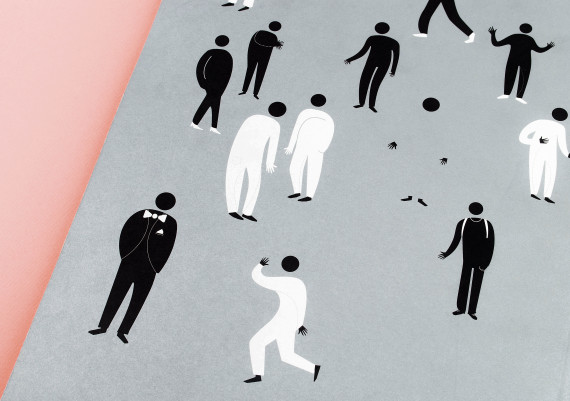 And Atelier, Dédalo #7 magazine, offset, 2010
The Portugal-based design studio And Atelier, founded by João Araújo and Rita Huet in 2010, focuses on editorial and poster design. "Our work always tries to accomplish a strong conceptual approach," they write on their website, "Through very clean solutions and with a strong typographic component and respect for letterforms and reading rhythms."
Related
Before You Go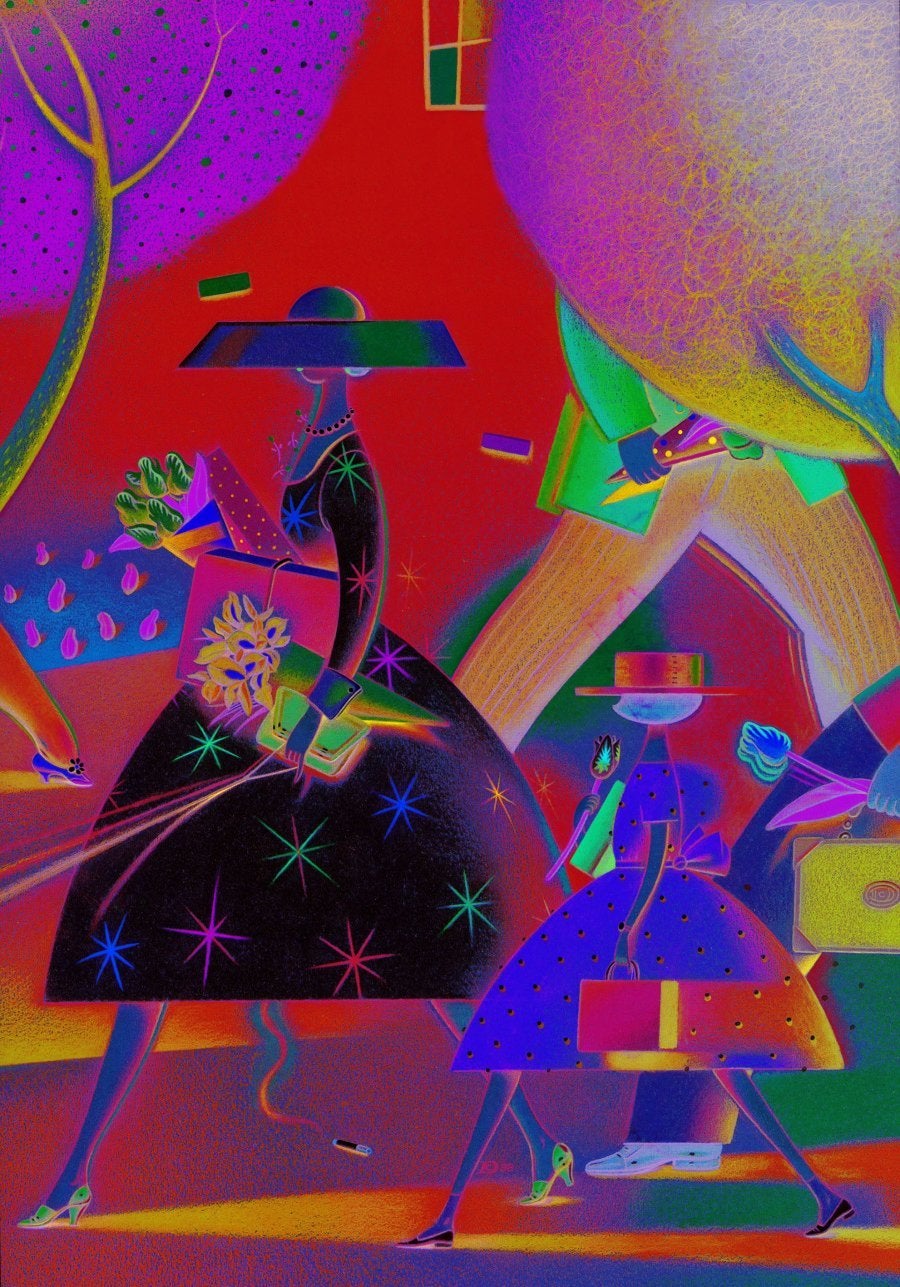 12 Illustrators You Should Know Right Now
Popular in the Community