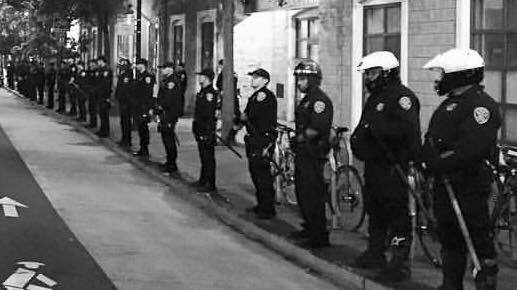 Photo of San Francisco Police Department in front of protest at Mission Police Station April 7th 2016 by Liam McStravick
Since 2014, the San Francisco Police Department (SFPD) has killed 11 people: Giovany Contreras Sandoval, O'Shaine Evans, Alejandro "Alex" Nieto, Herbert Benitez, Alice Angel Brown, Javier Lopez Garcia, Matthew Hoffman, Amilcar Perez Lopez, Donald Pinkerton-Devito, Filimoni Raiyawa, Mario Woods, and Jose Luis "Luigi" Gongora; sent racist and homophobic text messages mocking the community; and overpoliced San Francisco's communities of color to the extent that the racial administration of justice in San Francisco is worse than Ferguson's.
Lest you think that being white or in tech shields you from the ire of SFPD, I encourage you to read the story of Peretz Partensky.
In the wake of SFPD's brutal killing of Mario Woods on December 2nd 2015, the San Francisco Police Commission, the appointed body charged with oversight of the SFPD, drafted a new use of force policy that police are resisting.
On Wednesday April 6th, 2016 members of the Justcie4MarioWoods Coalition testified at the San Francisco Police Commission about our frustration with the complete lack of accountability of the San Francisco Police Department. We expressed our concern that another police killing is eminent given the arrogance and impunity of SFPD, and our fear of SFPD.
Leaving City Hall, we saw a public art project @MayorEdLee had installed: giant illuminated rabbits in the plaza. It was jarring to witness many people frolicking around the rabbits seemingly without a care in the world after listening to hours of testimony about police brutality.
The very next day after the Police Commission hearing, April 7th, 2016, around 10 am, three patrol cars rolled up on Shotwell Street in the Mission District, after receiving a call from San Francisco Homeless Outreach about a man with a knife.
Within 20 seconds of arriving, SFPD shot Jose Luis "Luigi' Gongora, a Mexican immigrant who did not speak English. He died later that afternoon.
Justice4Mario Woods Coalition held a previously planned Community Town Hall in the Mission the evening of April 8th 2016 at Buena Vista Horace Mann Middle School. After the meeting we held an impromptu peaceful protest march to the site of the shooting on Shotwell Street and then the SFPD Mission station.
SFPD showed up en masse in front of Mission Police Station: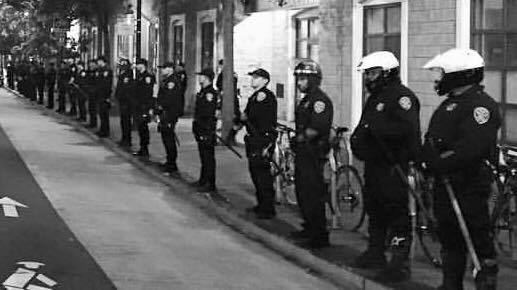 As we marched through the Mission, we implored people on the sidewalks to join us. Largely we received blank stares.
As Rebecca Solnit writes in her fantastic analysis of SFPD's shooting of Alex Nieto in the Guardian, Death By Gentrification:
"San Francisco had been a place where some people came out of idealism or stayed to realize an ideal: to work for social justice or teach the disabled, to write poetry or practise alternative medicine - to be part of something larger than themselves that was not a corporation, to live for something more than money. That was becoming less and less possible as rent and sale prices for homes spiralled upward. What the old-timers were afraid of losing, many of the newcomers seemed unable to recognise. The tech culture seemed in small and large ways to be a culture of disconnection and withdrawal. And it was very white, very male and pretty young, which is why I started to call my hometown "Fratistan". (As of 2014, Google's Silicon Valley employees, for example, were 2% black, 3% Latino, and 70% male.)"
I expressed my take on the divide between recent arrivals and long term San Franciscans in a letter to Justin Keller, the tech bro who wrote an open letter to Mayor Ed Lee and Police Chief Greg Suhr expressing his concerns about homelessness in San Francisco. I explained why Mayor Ed Lee's response to police killings has been completely inadequate in this post.
San Franciscans, I ask whether you have lived here for a long time or are a newcomer like me that you please pay attention to what is happening in our city and do something about it.
We have a crisis on our hands, and it will continue to grow until many people pressure our elected officials to act.
Related
Popular in the Community