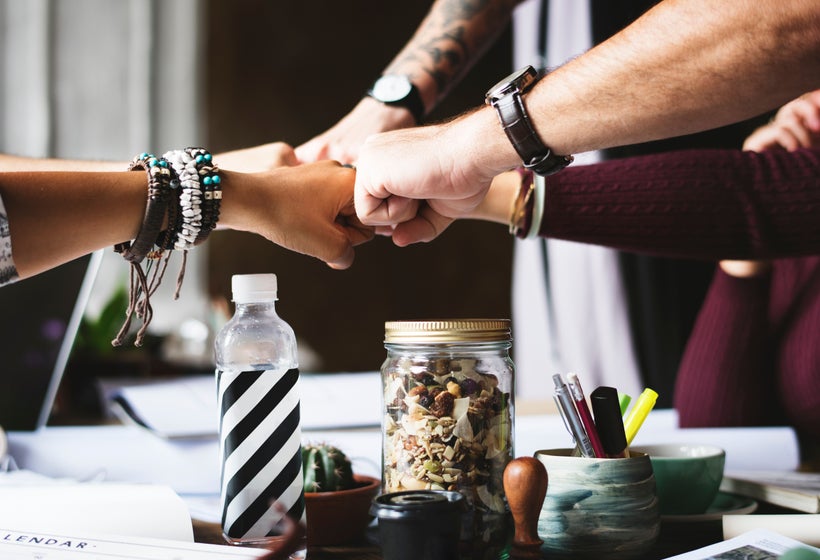 Rachel Druckenmiller is a woman after my own heart. We first met at the 2016 WELCOA Summit, where she gave a speech for being awarded the Top Health Promotion Professional in the country (2015).
I was immediately taken by Rachel's outstanding work as the Director of Wellbeing at SIG, but particularly by her passion, presence and attentiveness to all those she meets. Whether you are Rachel's best friend, colleague, or a complete stranger, she will be there to listen, to understand, to uplift and inspire you. She brings these qualities with her wherever she goes, and especially to work.
Rachel is courageous and daring, beautiful and wise, compassionate and caring. She is one of those few people who truly practices what she preaches, and never does things with less than her whole heart. I am thrilled and honored to share the gift of Rachel at Love Summit 2017.
Check out Rachel's pre-Love Summit Q&A below, and join us this Thursday & Friday at LPK Brand Innovation Center in Cincinnati to get a dose of her inspiration in real-time.
What is SIG? Tell us about your role as SIG's Director of Wellbeing.
SIG is an innovative benefits consulting and brokerage firm based in Baltimore that treats its clients like family. We become an extension of their team and are committed to helping them enhance their workplace culture. We are an Alera Group member firm and are leaders in our industry, having been recognized as a top workplace and health-promoting employer multiple times over the past decade. We go beyond benefits consulting to offer expertise and guidance in the areas of compliance, health and wellbeing, technology solutions and employee engagement and communication.
I've been at SIG in some capacity for almost 15 years and have enjoyed watching our team and services grow. In my role as the Director of Wellbeing, I support and guide companies to connect and engage their employees in meaningful ways, so they can become an employer of choice. I focus on implementing strategies that promote a thriving culture and enhance individual and organizational wellbeing. I collaborate with our team to do this through consulting, interactive workshops, trainings, hands-on skill-building sessions, and coaching.
People only support what they help create, so we intentionally engage employees throughout the process. I meet with leadership and HR teams to learn about their challenges and collaborate with them to come up with ideas for how to foster a workplace culture dedicated to growth, learning and wellbeing. I also help train employee-led culture and wellbeing teams, so organizations have an infrastructure and support system to advocate for their initiatives. I speak at conferences and retreats, offering a refreshing and holistic approach to working and living that invites people to feel energized, inspired and alive.
We use Gallup's model of wellbeing and focus on integrating career, financial, social, community and physical components of wellbeing into our work with companies. It's a privilege to be able to do such meaningful work and to have the opportunity to impact so many people's lives for the better.
You've written several articles about SIG and its positive work culture. Tell us a bit about what makes SIG a heart-centered business.
When I started as an intern nearly 15 years ago, I was greeted and welcomed with kindness by friendly faces and a CEO who was clearly committed to taking care of his employees and their families. Less than a year into my employment, our CEO gave me the leeway to flex my schedule so I could see my then-boyfriend, now-husband's soccer games at our alma mater, as he was still in college. That might not seem like a big deal, but it was an early sign that I was working for a company that cared about its people and supporting them as whole persons, not just roles or positions.
We have a ROWE workplace – Results Only Work Environment – which consistently shows up in top workplace surveys as a key differentiator and retention tool for us. In ROWE cultures, the focus is on outcomes, not hours. We trust employees to be responsible, accountable for their work, and autonomous, choosing when and where they work as long as they complete their work. Many of our employees have families and young children, and ROWE makes it easier for us to prioritize family and work, instead of sacrificing one for the other.
When people come to visit our office, they often make comments like, "Is it always like this here? People seem so happy." You can "feel" our culture by spending time with our people and in our space. Our wellbeing brand is Spark! Come Alive, as we believe everything we do gives employees an opportunity to feel more alive.
Every company has its challenges, and we do, too, but we do a lot of things well. We have a few internal committees dedicated to planning initiatives to bring our employees together so we can have fun, improve our health and wellbeing and give back. By spending time together, we build connections and create a family-like community. Many of our employees are not just coworkers, they're friends outside of work, too.
We foster friendship and community with initiatives like paint nights, onsite workout classes, potlucks, community service projects, cooking demonstrations, bridal and baby showers, self-defense and cake decorating classes. We offer something for everyone. One of the keys to being a heart-centered business is to implement policies and initiatives that value and prioritize the whole person, not just what they can do for the organization. We care about who our employees are as human beings first.
We've been attracting an influx of millennial employees to complement our seasoned team, many of whom have been with the organization for over a decade. I'll be sharing some stories about our culture at the Love Summit, so you'll hear more about some specific things we do at the conference!
What drew you to pursue a career in wellness? Why is wellness so important?
I've always been fascinated by human behavior and read a lot about nutrition along with countless self-help books as a teenager. Studying Psychology as an undergraduate and conducting several health-related research studies with one of my professors during that time set the foundation for the work I would eventually pursue in wellness. I had no intention of pursuing this path and feel like it found me ten years ago when I met the wellness manager of a local gym, who introduced me to the profession.
Over the past decade, I've pursued additional training as a health coach, earned a Master's degree in Health Science, and most recently completed a Thriving Workplace Culture Coaching training. During that time, I have overcome a series of personal health challenges that have further solidified my commitment to this work and to spreading hope, health and kindness in the workplace and beyond. I blog about my journey and what I've learned on my blog, Rachel's Nourishing Kitchen, and on LinkedIn.
A few months ago, I was talking to my friend, colleague and fellow Love Summit speaker, Ryan Picarella, about our personal definitions of wellbeing. I define wellbeing as, "a state of wholeness characterized by a commitment to connection, contribution, growth, and love." Wellness can mean ten different things to ten different people, so it's important that we create an environment that invites people to get curious about what wellness means to them.
Through my own healing journey, I've learned that everyone is struggling in some way. Life is hard, and all of us have competing priorities that make it difficult for us to do all of the things we know would be best for us. Wellness is important because when we are well, we can show up in the world as the best version of ourselves and serve others fully.
What are you most looking forward to at Love Summit 2017?
Connecting, learning, and growing. For me, the highlight of any conference is the people. I love getting to know people, hearing their stories and learning from them. What makes this conference different and special is the focus – love. It was bold to have the courage to call a business conference the "Love Summit" in the first place, in the face of questions and concerns, but I imagine most people would agree that what we need most right now in this world is love.
It can be easy to get lost in the troubling news stories that seem to be more rampant than ever these days, but I try to focus on all of the good that happening, too. So many people and organizations are spreading hope, joy, kindness, compassion, and love in the world, and I see the Love Summit conference as a celebration of that. I'm honored to be a part of the line-up of accomplished and inspiring speakers and have a feeling that this year's conference will be something we remember for years to come.
Calling all HuffPost superfans!
Sign up for membership to become a founding member and help shape HuffPost's next chapter
This post was published on the now-closed HuffPost Contributor platform. Contributors control their own work and posted freely to our site. If you need to flag this entry as abusive,
send us an email
.