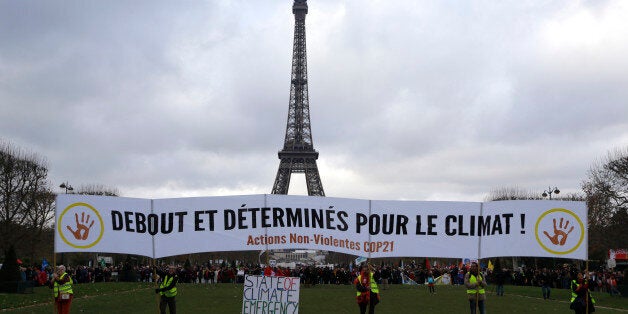 This is a moment when the human community rose to the challenge of the times. On Saturday, more than 190 nations agreed to cut climate change pollution, transition to clean energy and put the world on a course toward ever-increasing climate action. As President Francois Hollande observed, this is the first universal climate agreement in history. The global community has come together like never before and taken up the shared responsibility of protecting our communities, our children's future and the natural systems upon which all life depends. Climate action has been taken!
Though honoring this responsibility will take decades, the Paris agreement will help us stay the course.
It calls on nations to strengthen their climate commitments every five years, help vulnerable communities become more resilient, and provide financing for developing nations to invest in clean energy. It also says the world must hold the increase in global temperature to "well below 2 degrees" and push toward 1.5.
National leaders and negotiators did a great job of reaching consensus. But much of the ambition in the agreement came from another force: people on the ground. People already coping with climate impacts and the people already putting solutions in place.
I saw it everywhere I went in Paris this week: in Le Bourget, in the forums and side meetings across the city, and in the streets and public spaces.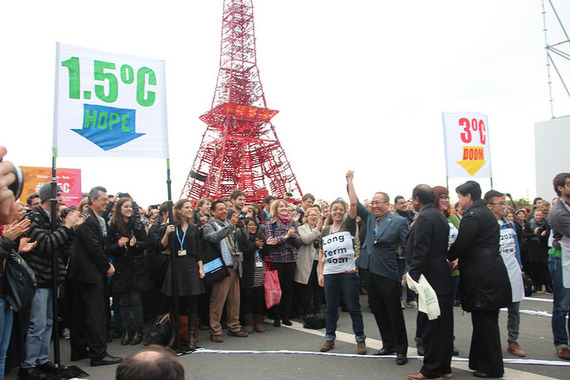 People from the Marshall Islands and other Pacific Island nations said their societies are facing annihilation from sea-level rise if we failed to act in Paris. Experts from New Delhi reported that extreme heat waves in India are threatening people's health, especially those living in slums. And indigenous women from the Alaskan Arctic told of having their homes subside because of melting permafrost and knowing as many as 80 traditional communities would have to be moved away from rising tides.
The voices from the frontlines were impossible to ignore. They demanded that nations commit to holding global temperature rise to 1.5 degrees, and their message was received.
Including the 1.5 target in the final text seemed impossible just two weeks ago. Though scientists say this goal is necessary to prevent profoundly destructive climate impacts, few thought countries had the political will to aim for it. Then the climate talks began and people from frontline communities raised their voices. Kathy Jetnil-Kijiner, a poet from the Marshall Islands, reminded delegates that a 2-degree rise in temperature means "my island is underwater."
What seemed unattainable became what was demanded the world over. It won't be easy to reach the 1.5 goal; the commitments countries made coming into Paris only get us to 2.7 degrees. But the fact that the agreement requires nations to strengthen their commitments every five years will get us closer to the mark.
Nations felt emboldened to include to a stronger target in the agreement in part because people across civil society showed them what was possible.
Over 7,000 cities committed to taking strong climate action, and many mayors were on hand in Paris to describe how they are already using renewable power, energy efficiency, and transportation options to clean up carbon pollution. As Paris Mayor Anne Hidalgo said, cities "are fantastic sources of solutions and possibilities."
More than any climate negotiation I have attended, the Paris summit conveyed a sense of opportunity--opportunity for innovation, economic growth, and job creation embedded in climate action.
Executives from Unilever, GoogleX, Alibaba and hundreds of other corporate giants came to Paris to talk about those opportunities. Venture capitalist Nancy Pfund reported that California's renewable energy sector has resulted in 50,000 new jobs, which is more than Google, Facebook and Twitter combined. And NRDC's Anjali Jaiwsal said meeting India's Solar Mission goals will create 1 million jobs for India.
Much work lies ahead to transform the world's energy systems and reach the 1.5 goal. Leaders must meet their carbon pollution reduction targets. And citizens, business leaders, mayors, climate justice groups and more must keep the pressure on. Just as civil society helped galvanize bold action in Paris, we must remain vigilant and hold nations accountable for ongoing commitment.
But right now, we savor this day. I thank the leaders and all those who called for climate action. Because we have acted, we can look forward to a brighter future for our children and grandchildren.
This post is part of a series produced by The Huffington Post, in conjunction with the U.N.'s 21st Conference of the Parties (COP21) in Paris (Nov. 30-Dec. 11), aka the climate-change conference. The series will put a spotlight on climate-change issues and the conference itself. To view the entire series, visit here.
Popular in the Community