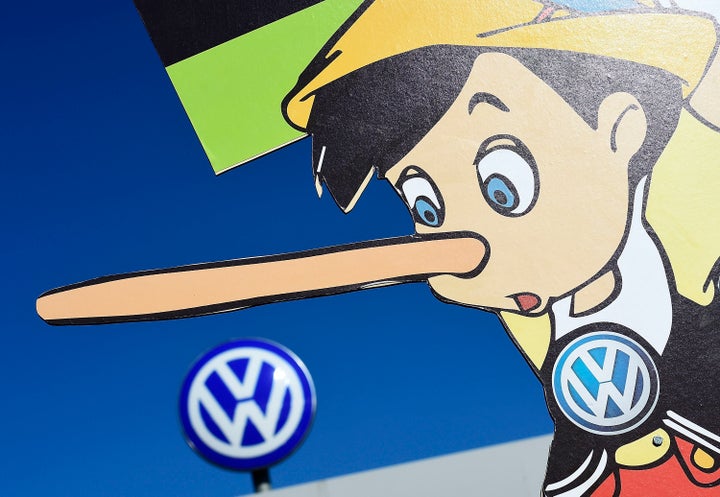 While Volkswagen's diesel-powered cars were cheating on emissions tests and releasing far more pollutants into the air than previously thought, the company backed away from opportunities to talk about its impact on air quality.
Since 2010, the automaker's sustainability reports have devoted less and less room to discussing non-carbon gas emissions and their effect on the atmosphere, according to a new analysis by the data firm eRevalue.
Public companies, and many private firms, release data about their sustainability efforts usually once per year, as a way to keep investors informed. The problem with these "corporate social responsibility" reports, as my colleague Emily Peck pointed out, is that sometimes they're just glitzy publicity stunts.
Here's the trend in Volkswagen's reports, compared to a handful of other top carmakers: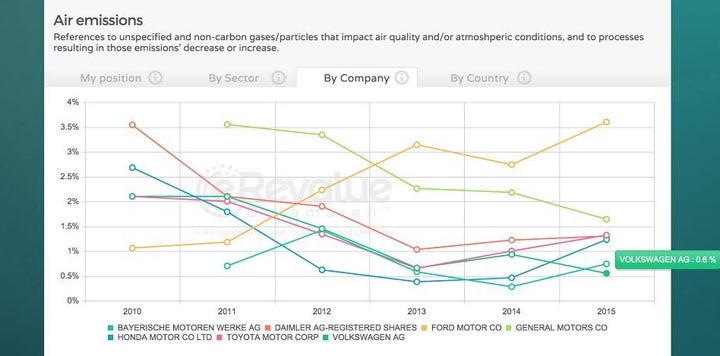 Volkswagen -- depicted in dark green -- devoted 2 percent of its 2010 report to non-carbon gases' effects on air quality. Aside from a slight uptick in 2014, each subsequent report contained a lower percentage of references than the year before. By 2015, the references had decreased to 0.6 percent -- below BMW (teal), Honda (blue), Toyota (pink), Daimler (red), General Motors (light green) and Ford (orange).
Volkswagen did not immediately respond to The Huffington Post's request for comment.
The company this week admitted to cheating on emissions tests for more than 11 million diesel-fueled vehicles. Software installed in the cars was used to hide the fact that they emitted 40 times the legal limit of nitrogen oxide, a toxin produced by burning diesel. The company has set aside $7.3 billion to deal with the service costs, though the ultimate price tag could be much higher.
The rigged tests may have caused nearly 1 million metric tons of extra air pollution per year, according to an analysis by The Guardian.
The world's biggest carmaker isn't the only company whose reports show a troubling trend regarding air quality impact. General Motors, for example, also shows a shrinking percentage of references to the subject since 2010, according eRevalue's data.
"It says something about the way a company perceives the relevance of certain topics," Lara Muller, a sustainability expert and professor at Nyenrode University in the Netherlands, told The Huffington Post. "Once it's off the radar, investors should start to worry and start engaging."
Volkswagen is paying the price.
CEO Martin Winterkorn resigned on Wednesday amid a wave of expected firings. The company's stock price continued its downward spiral on Friday, even after Volkswagen named Porsche boss Matthias Müller its new chief executive. Indeed, the company's reputation may never recover from the crisis.
As the industry reels from this scandal, the Environmental Protection Agency has said it will clamp down on emission compliance testing.
Related
Popular in the Community