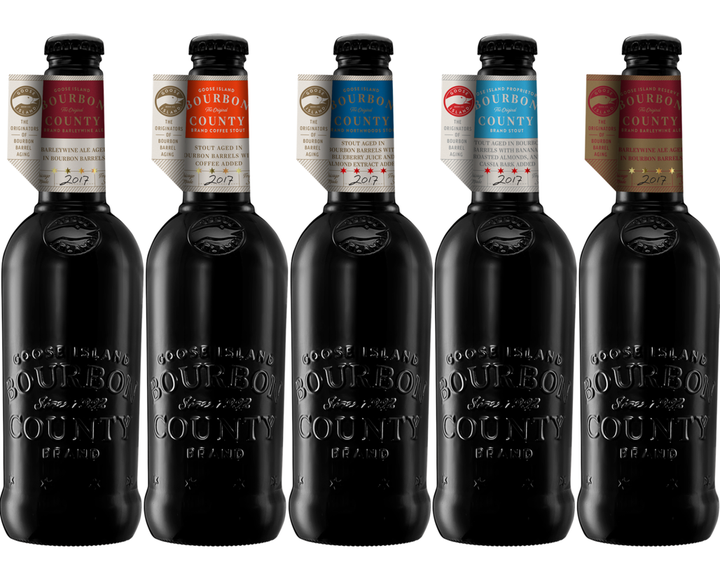 Being trampled in a race to procure a severely discounted toaster oven is not the best way to spend your Black Friday. Instead, you could wait in a more civilized line, in front of your favorite liquor store or bottle shop. In this line, people hand you beers and chat about the best dishes eaten the night before. At the end of this line, there's beer. Annually released Goose Island Bourbon County Stout, to be specific. But this happens in November. Why are we talking about it now?
Well, it's because we know what Goose Island is going to release. Each year, the day after Thanksgiving, Goose Island releases a new lineup of its roasty, whiskey-tarnished, motor oil-esque stouts. Thousands upon thousands of people wait for the release at various beer retailers across the country. It's a day that has become iconic in the beer community, from seasoned veterans to newfound obsessives.
In past years, Goose Island has released stouts aged with chocolate and chile peppers. Stouts aged in rye barrels with vanilla. Stouts with coconut. Stouts aged in 35-year-old Heaven Hill whiskey barrels. When they go for it, they really go for it. And this year is no different. "With seven different Bourbon County Brand variants for 2017, our heads are spinning," said brewmaster Jared Jankoski. "But we couldn't part with any of them." Here's what we're Jankoski and his team brewed for 2017:
The Variants
Goose Island always releases a regular and coffee version of their Bourbon County Stout, as well as a barleywine. But while people buy these by the case, the real draw is the unexpected combinations of flavor, the beautiful Frankenstein's monsters of the beer world. These are the beers where whiskey and stout meet the culinary flavors you know and love.
The treatment of regular, coffee, and barleywine doesn't change much from year to year. There are small differences, but they're branded the same from year to year. The only thing that varies is the coffee roast (this year it's Intelligentsia's Black Cat Espresso) or the barrel used.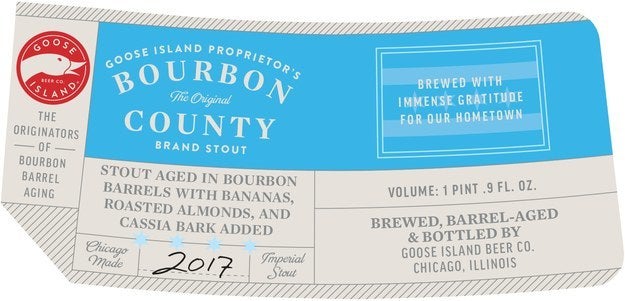 Bourbon County Proprietor's Brand Stout Available exclusively in Chicago, this year's proprietor's stout was brewed to evoke memories of a classic bananas Foster. Yeah, the dessert with the flaming bananas. Aged in second-use bourbon barrels, this decadent beer draws on flavors from banana, almond, and cassia bark (essentially cinnamon). Bananas Foster is great, but last time we checked, it didn't get you buzzed. Advantage: stout.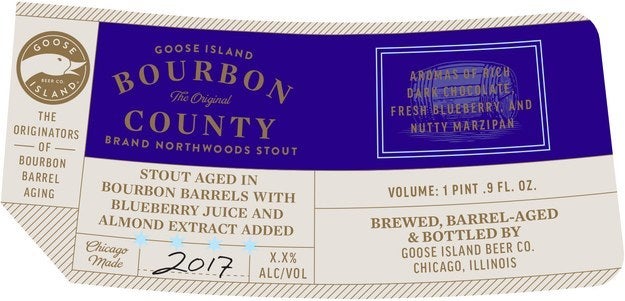 Bourbon County Brand Northwoods Stout Goose Island brewmaster Jared Jankoski has been toying with the concept for this year's nationwide Bourbon County release for years. It took a while to dial in the correct ratios for balance between blueberries and almond extract, but the end result is a stout that tastes like a boozy, irresponsible version of a blueberry marzipan pastry. That's the kind of dessert rebellion we like to see.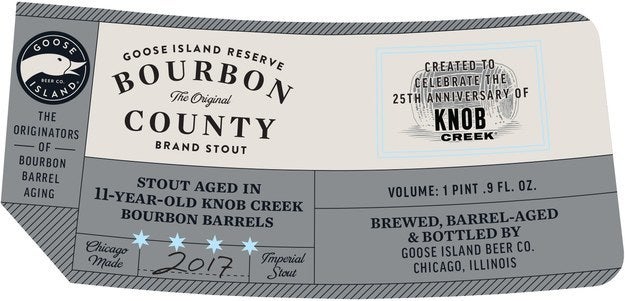 Bourbon County Reserve Brand Stout Lucky drinkers in Chicago and Kentucky will be able to snag bottles of Bourbon County Stout aged in 11-year-old Knob Creek bourbon barrels. The depth of charred vanilla and caramel flavor coming from the older wood in these barrels is going to make for a sublime glass of malty, pitch-black joy. This is a bottle to hold onto for years to come, as it develops an even more cohesive flavor with age.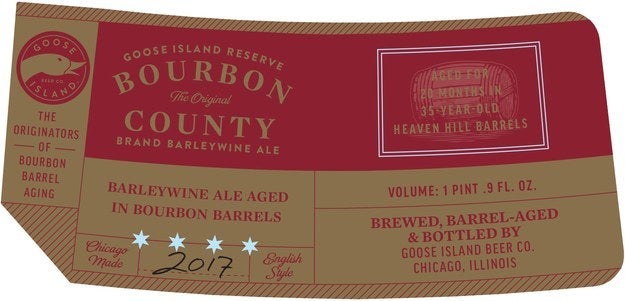 Bourbon County Reserve Brand Barleywine If you're a self-described beer nerd, barleywine freak, or generally appreciative of commitment to process, this is the one to freak out about. Jankoski took his barleywine base and aged it for 20 months in the 35 year-old Heaven Hill barrels that housed last year's Bourbon County Stout Rare. What we have on our hands is a melting pot of caramel-y bittersweet-ness and bourbon, with a little bit of that roasted malt flavor left over from the barrel's previous contents. This beer is the perfect depiction of the commitment to the barrels that Goose Island owns, to get that heavenly, velvety smoothness we look forward to every damn year.