An Amazon retailer is under fire for selling an offensive sweatshirt that makes light of eating disorders.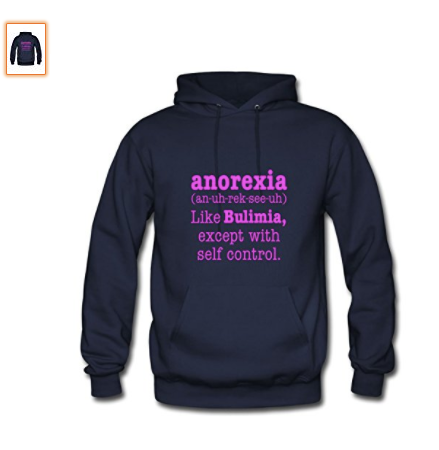 Reviews for the sweatshirt are overwhelmingly comprised of 1-star reviews ever since Twitter discovered the item. It even warranted a response from Claire Mysko, the CEO of the National Eating Disorders Association.
"Jokes about eating disorders are dangerous and cliché. This hoodie propagates the myth that eating disorders are trivial and mere issues of willpower or self-control," Mysko said in a statement. "Stereotypes like this result in increased stigma and are barriers that prevent people from seeking help. Anorexia is not a 'lifestyle choice,' it is a mental health disorder with socio-biological influences. We ask that Amazon stand with those affected by these deadly illnesses and remove the sweatshirt from their store."
Many people who have experienced eating disorders shared their views about the hoodie:
Another Twitter user pointed out that there were other clothing items joking about anorexia for sale on Amazon's site:
Under examples of offensive products, Amazon lists "Products that promote or glorify hatred, violence, racial, sexual or religious intolerance or promote organizations with such views, crime scene photographs, morgue or autopsy photographs, human body parts, products retrieved from a disaster or tragedy site, and videos, sound or other recordings taken without the subject's permission," but there is nothing that talks about eating disorders.