This week The Pollination Project celebrates the people who plant food and provide hope and income sources in their communities! From Oakland, California to Busia, Kenya, many of our grantees this week are planting gardens and educating their communities about nutritious food, organic gardening and permaculture principles. We are honored to give $1000 seed grants to the following projects all over the world.
Preschool Produce in Oakland, CA. The Mo' Mamas Childcare Center in Oakland, California was founded by Linda Grant and Rubi Madrone in order to provide low income residents with donation-based child care. Mo' Mamas provides local children with an environment where they can learn about the world through playful, educational activities and cultural experiences. In addition to their normal activities, over the next few months, Linda, Rubi, and their team of volunteers have dedicated themselves to educating local children and their families about the joys of organic gardening.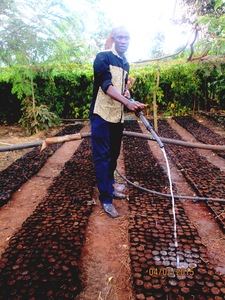 Preserving Cultural Traditions and Environmental Resources in Tanzania. Oscar Dominick is passionate about finding ways to couple environmental conservation with the preservation of important cultural traditions. Through the Traditional Medicine and Herbs Conservation Project, Oscar is helping communities in Tanzania's Kyerwa District to combat the overharvesting of important ethno-botanical resources by creating medicinal plant nurseries. Additionally, with the help of traditional healers, Oscar will create a regional seed bank in order to preserve culturally-prized, medicinal botanical resources for future generations.
Female Leaders of Tomorrow in Uganda. Kansiime Honest Fortunate's project, Girls to Lead Africa, empowers young women in Uganda to defy negative gender stereotypes and become the future leaders of their country. Throughout 2015 and 2016, Kansiime will hold school workshops where she will encourage female students to think critically about gender identity and negative portrayals of women in mass media. Additionally, participating students will learn valuable lobbying, policy development, and debate skills which they will use to improve the lives of other women in communities throughout Uganda.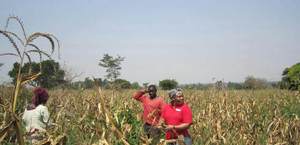 Organic Food in Busia, Kenya. Lindy Wafula is the founder of the Village Food Basket, a service of Village Ventures Kenya that provides fresh fruits and vegetables to impoverished orphans and female-headed households in Busia County, Kenya. Lindy will lease land where she plans to provide local women and orphans with the training and materials they need to begin cultivating organic produce. Lindy's project will not only provide local households with a supply of nutritious, sustainably harvested foods, but the surplus will also help to feed children at a nearby orphanage.
Social Justice, Feminism, and Veganism in Clifton Forge, VA. Corey Wrenn is the founder of the Vegan Feminist Network (VFN), a social media forum that fosters compassion and dialogue around issues related to women's rights and speciesism. Through their website, VFN offers free educational resources that encourage audiences to think critically about social justice, oppression, and inequity. Additionally, VFN provides an invaluable space for individuals to explore the social justice community by connecting with organizations, authors, and local social justice projects.
Horticulture in Kenya. Samuel Gitau's Mguu Tupu Self Help Group in Ruiru Kiambu, Kenya is helping to develop an economically, socially, and environmentally sustainable community through public health, reforestation, and education campaigns. In Samuel's newest effort, he is helping to 50 local widows establish horticultural tree-seedling nurseries. The seedlings that participants grow will be sold to the Kenya Forestry Research Institute and the County Government in order to provide the women and their families with a sustainable source of income.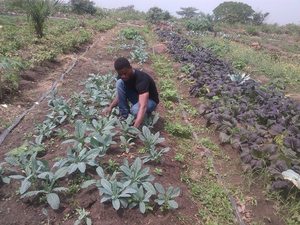 Permaculture in Ghana's Schools. Solomon Amuzu is the founder of Call To Nature Permaculture, a Ghana-based non-profit that uses permaculture practices to promote sustainable community development. This year, with the help of Samuel Adotey and Rachael Yussif, Solomon is organizing reforestation campaigns and garden construction efforts in villages throughout Accra and Aburi. Currently the trio is helping staff and students at the Oyarifa Basic School in Accra build an organic garden where students will learn how to grow their own food, build rainwater harvesting systems, and build structures to protect their crops.
Do you know someone who would be a great candidate for one of our daily grants? We welcome grant applications from anyone, anywhere, at any time!
Calling all HuffPost superfans!
Sign up for membership to become a founding member and help shape HuffPost's next chapter