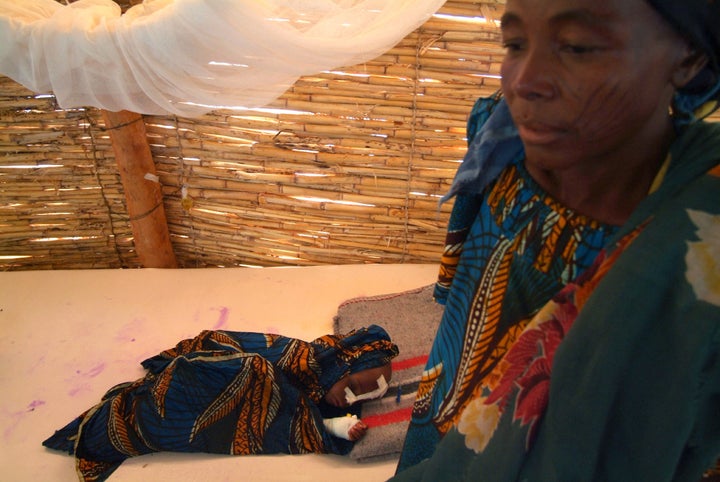 This blog is part of a series organized by The Huffington Post and the NGO alliance InterAction to call attention to the crisis in the Sahel, a region in sub-Saharan Africa where more than 18 million people face starvation and 1.1 million children under the age of 5 are at risk of dying from acute malnutrition. Click here to read more of HuffPost Impact's coverage of the Sahel and here to find out what InterAction members and others are doing in the Sahel.
The food trucks began rolling into Rharous county in the Timbuktu region of Mali during the week of June 11. They kicked up dust as they stopped in front of a crowd -- a mass of humanity desperate for food.
Do you have the image in your mind? Surely, you've seen it before. It's a tragic but familiar scene -- crowds of people who know that the next meal might make the difference, might stave off starvation.
Now look closer. Who is missing? Who didn't greet the truck? People with disabilities and other highly vulnerable people are bearing an acute burden of hunger. In 30 years, we have seen it time and again. The Sahel crisis is no different.
In my work, I have seen it up close. So has Almounzer Ag Backo, President of the federation of local associations of people with disabilities in Gourma Rharous, Mali. Almounzer was at a food drop in Hanzakoma between June 15-17. Here's what he told me:
When I arrived at the town hall, which was chosen by local authorities as a distribution point, trucks were there with food. I immediately realized that many people with disabilities would be excluded from distribution, because they are not recorded in the register of the council, which the local authorities had decided would be required to get the food. I saw a friend return home empty-handed, without a pot of millet! The next day, someone from Handicap International took him back to fight, to make himself understood by those leaders who are not sensitive to our situation. Finally, he could have his ration. The problem that then arose was getting his 50kg of millet, 5 liters of oil and other items home. He cannot see, and he and his wife lack transportation, so we had to get assistance from a neighbor to bring the food home to Moiloa Rharous.
There are millions of people like Almounzer's friend -- people who cannot walk to a food distribution center, which might move from one food drop to the next. Some are living with a physical or mental disability, and are hidden by their families. Yes, that happens. They may simply lack the prosthetic legs to walk on, or the rugged wheelchairs to ride over miles of land. They may be weeks away from giving birth, or older, too frail to make the journey.
The Sahel crisis presents us with yet another, terrible situation of exclusion. Without access to free food distribution or to food at moderate prices, these vulnerable people are left hungry. And in the case of Mali, those who are able are fleeing fighting in the north. According to the UN High Commissioner for Refugees (UNHCR), 320,000 Malians have been displaced. They are traveling en masse to the countries of their hungry neighbors, where relief comes in safety, not always full bellies.
The food shortages are biting. Mali is currently in the 'hunger gap,' a time of year when people are forced to eat seeds they would otherwise sow in July. On top of this, the health facilities that we run in northern Mali, and have temporarily lost to looting, now have to be reequipped and reopened.
Vaccination campaigns have ground to a halt, and the rainy season has arrived, bringing with it a heightened risk of epidemics. All this, and with people on the move there is a greater need than ever to teach them about the risks of the unexploded ordnance that may pollute their paths. Yet they tell me they sometimes spend days without eating.
We're working harder than ever to help the people of Mali survive this extremely difficult time. We will ensure that the pieces of the global response that we attend to are inclusive. And our response is not limited to food, nor to Mali -- we have worked in the Sahel region for more than 20 years, with current projects in Burkina-Faso, Chad, Mali, Niger,Senegal, South Sudan and Togo.
My colleague drove one of the first trucks into Rharous. We sent food for everyone, not just the highly vulnerable individuals that we know so well. But when that crowd greeted us, we knew there were more people waiting in the shadows. Our teams went house-to-house to deliver food and to check on their health. With our operations set to gear up, we also brought good news: we would return soon, to offer much more than rations of food.
Popular in the Community