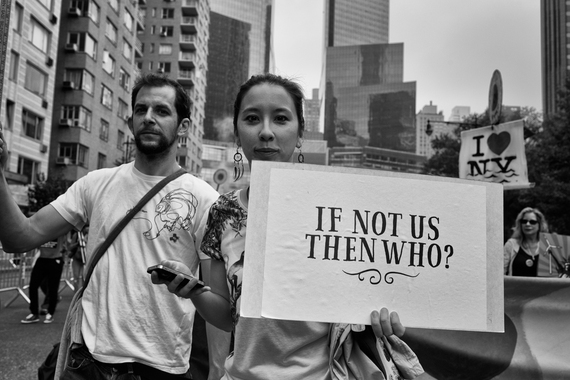 I've never been much of a protester. Don't get me wrong, I never miss an opportunity to share some political click-bait to aggravate conservative friends. Seriously though, I've always felt deeply moved (and envious) by the Civil Rights and Vietnam era protests but, in my lifetime, I could never get with the whole protest march thing.
Maybe it's the theatricality of it all, because it all seems so silly. Especially in the age of digital media where there are two cameras for every activist (including mine of course). The People's Climate March was no different from the rest of them; there were hundreds of causes-within-causes, there were the usual cast of characters running around with provocative signs and costumes and of course there were several corporations looking to score branding points from their half-assed 'social responsibility' programs. Same old foolish, resource-wasting noise.
In fact, this march was especially stupid. It was especially stupid because climate change is an indisputable scientific fact. (Yes I am a believer in Science). It's especially stupid because this is such a rational problem that we shouldn't need such an emotional plea to effect a reasonable change in our behavior.
Do these people really think they can change things? Can their trivial marching really have an impact on our massive environmental problems? Well, in my life, when there is such a clear and present danger in front of me and my family, the first thing I need to do is show up. Showing up matters. Showing up is the beginning of a solution.
These people showed up on our behalf and I was moved by their efforts. Maybe, if we all showed up for the really important problems in our world we could see some of the change we want. We would see some of the change we all need.
I hope you enjoy this photo essay of the People's March. Power to the people and all that.
Related