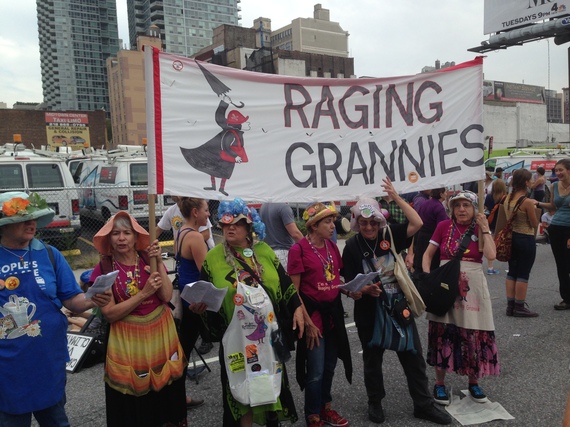 An estimated 400,000 people showed up to walk in the People's Climate March in New York City on Sunday. Somewhere scattered in that long rope of humanity were over 300 Minnesotans like myself, who endured a 24-hour bus ride (twice!) to 'walk the talk' that the reality of climate change requires immediate and meaningful action.
The long drive over gave each of us plenty of time to stare at the coach bus's bizarre Mayan/Reefer Madness/Lite-Brite/Space Invaders upholstery motif, and ask ourselves, "What am I doing?" and "How can my little voice change such a loud and complicated conversation?" For many, the ride was a faith-based operation--like Richard Dreyfuss in "Close Encounters," we were given a vision, a calling, and we needed to follow it through. Women's suffrage and civil rights were always the right thing to do, but it took a movement--people on their feet--to right the wrong. If people could sleep on a sidewalk for three days to be the one of the first to purchase an iPhone 6, a cross-country bus ride to keep Mother Earth out of the ICU (and humans out of the morgue) seemed like a small sacrifice.
The more-or-less official message of the People's Climate March was directed towards world leaders arriving to attend the United Nations' one-day climate change summit on Tuesday the 23rd . But the message on the street was perhaps a more powerful one, and was as diverse and energized as the people who walked the route. A poll on the bus ride home brought these banners and signs to mind:
There is no Planet B
It's Not the Heat, It's the Stupidity
2° C is Too Much 4 Me
Don't Have a Cow Man! Go Vegan
Science is Not a Liberal Conspiracy
It's Time to Stop Thinking About What's Possible, and Start Thinking About What's Necessary
Resistance is Fertile
Don't Drown the Clowns (?! carried by a large contingent of clowns)
Look Mom! No future! (kid holding sign)
System Change, Not Climate Change
Fracking Gasholes
Threaten Existence, Expect Resistance
Only You Can Prevent Faucet Fires (with picture of Smokey Bear)
Pennsylvania is Not for Shale
Your Grandchildren Are More Likely to Die from Climate Change than Terrorism
Too Little, Too Late, Two Decades
Cook Organic, Not the Planet
I'm Marching for My Grandchildren, Are You Reading this Kids? Signed Mom
Pay to Use My Air as Your Sewer: Carbon Tax
Defienda Nuestra Madre
We Want Bisous, Not CO2 (a number of Canadians were in attendance)
Ice Cream Cone (pictured): If It's Melted, It's No Good
Tax Carbon, Pay People
If you're interested in raining on our not-so-little climate change parade by playing the Hypocrisy Card, we'll make it easy on you: the round trip bus ride from Minneapolis to Manhattan was about 2400 miles. The bus drivers quoted us a fuel (in)efficiency of 5 miles per gallon, which is 480 gallons. For 45 riders, that's 10.7 gallons per rider. (Oddly enough, a Prius with four riders came out about the same). We felt that was a good carbon value. Sometimes you need to set a back-fire to keep the entire forest from burning down.
REAL LIFE. REAL NEWS. REAL VOICES.
Help us tell more of the stories that matter from voices that too often remain unheard.