WASHINGTON — For the second weekend in a row, thousands of environmentalists plan to descend on the nation's capital and hold marches throughout the country, this time to resist President Donald Trump's efforts to derail U.S. climate action.
Jamie Henn, co-founder of 350.org, one of several groups that organized the event, told HuffPost that the goal is to "push back on this administration's attacks on our climate and communities and put forward our own vision of a clean energy economy."
"This march is so important because [people's] lives are on the line," Henn said in an email. "The actions of this administration are having an immediate impact on communities across the country, sending more kids to the hospital with asthma, letting more lead and chemicals into our water. And they're going to have a lasting impact on our planet, putting our entire future on the line."
Since taking office, Trump has moved quickly to unravel Obama-era policies meant to reduce the United States' carbon footprint and fight climate change ― a crisis Trump has dismissed as "bullshit" and a "hoax." The president has proposed sweeping cuts to the Environmental Protection Agency and other scientific agencies, and made a hard push for increased fossil fuel production. He has also vowed to withdraw the U.S. from the Paris Agreement, the landmark accord in which nearly 200 countries committed to slashing carbon emissions, although many in his inner circle have urged him not to do so.
Adding to an already extensive list of decisions that have infuriated the scientific and environmental communities, Trump signed an executive order Friday aimed at opening up protected areas of the Arctic and Atlantic oceans to oil and gas development.
"Trump and his administration have been relentless, ruthless and shameless in attacking protections from pollution, exposing us to health threats, retreating from climate action, and renouncing science," Michael Brune, executive director of the Sierra Club, another organizer of the event, told HuffPost in an email. "In fewer than 100 days, they have launched a truly extraordinary assault on our health, our climate, our public lands, and our future. We want this date to be remembered not just as Trump's 100th day in office but also as the day we filled the streets with support for climate action, public health and environmental justice that no one can ignore."
It's not clear how many people will turn out for Saturday's march in D.C. Henn said that as of Friday, online RSVPs had climbed to more than 140,000 nationwide, mostly for the D.C. event. More than 450 buses full of protesters are scheduled to arrive in D.C. from as far away as Louisiana and North Dakota.
Henn told HuffPost it's been "amazing" and "incredibly inspiring" to see people come together around a common vision of defending the planet. Some 900 organizations have partnered for the event, and more than 40,000 flyers have been distributed across the D.C. area in the past several days.
"The Trump Administration started in protest and now on Day 100 the resistance is still going strong," Henn said. "We're not running on a lot of sleep right now, but people are fired up and ready to march."
Among those expected to attend are actor and climate activist Leonardo DiCaprio and former Vice President Al Gore.
Demonstrators are expected to gather near the Capitol on Saturday morning. The march will kick off at 12:30 p.m., with protesters walking down Pennsylvania Avenue to surround the White House in a mass sit-in. A post-march rally will follow near the Washington Monument.
Henn said the march will show American lawmakers that the public wants a green-energy future.
"This is a winning agenda: it saves the planet, it creates millions of jobs, and it promotes social justice," he said in his email. "It's an agenda we're going to take back to every city and state across America. This is a movement not a moment and the march is just the beginning."
Last Saturday, Earth Day, thousands of people swarmed the National Mall to participate in the March for Science.
Support HuffPost
The Stakes Have Never Been Higher
Before You Go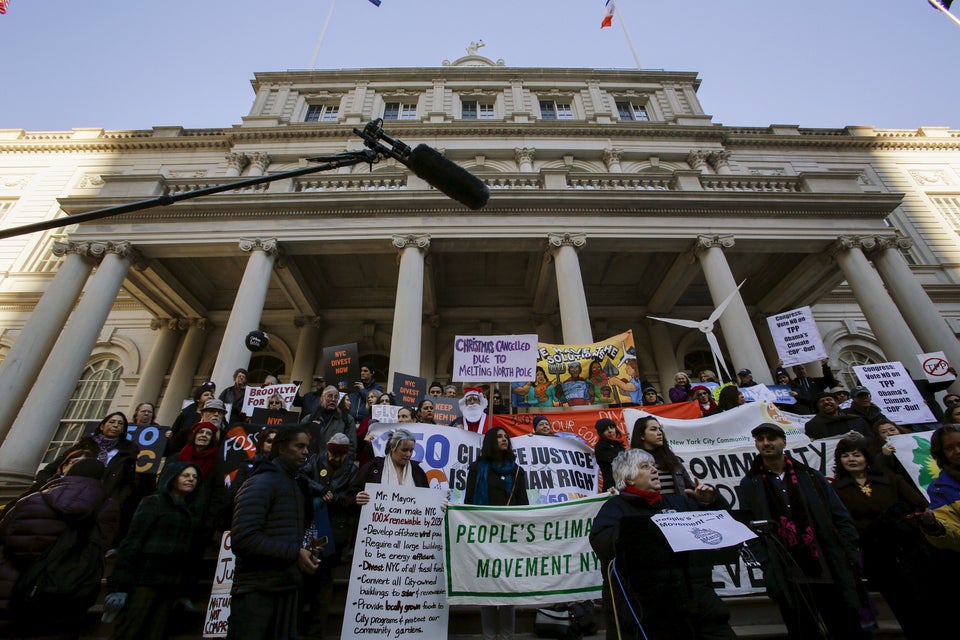 What You Can Do Right Now To Stop Donald Trump's Dangerous Climate Agenda
Popular in the Community