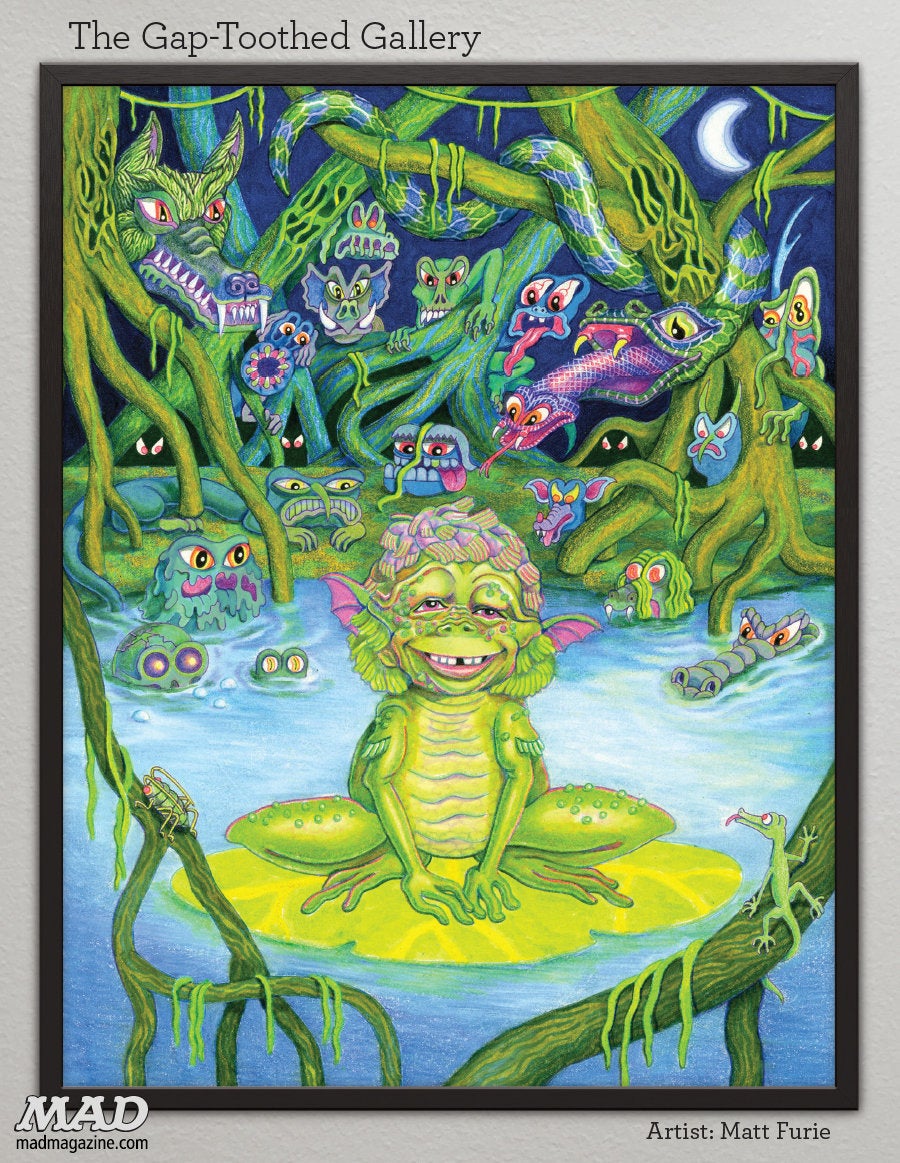 Frogs are, as far as the animal kingdom goes, pretty peaceful creatures.
With slimy bodies and bulging eyes, they enjoy chilling by ponds in groups of frog friends, croaking during mating season, and using their sticky tongues to catch slugs, spiders or whatever they can grab. By all accounts, pretty damn chill, with no latent predilection for racist jokes. 
These mellow vibes are what compelled artist Matt Furie to make a frog one of the recurring characters in his stoner bro zine "/www.fantagraphics.com/boysclub/"}}">Boy's Club" in 2005. The series followed the shenanigans of four 20-something housemates of different species but similar interests ― namely, weed smoking, pizza snarfing, and mad dissing. One of those roomies was a frog named Pepe.
And then, amid the chaos of the 2016 presidential election, things got weird.
Ever since, Furie has been on a mission to #SavePepe, restoring the amphibious scapegoat to its natural, chillaxing habitat. His latest move is a creepy-cute illustration of a frog with a curious likeness to MAD mascot Alfred E. Neuman, which will appear in the latest edition of MAD Magazine on Friday. 
"I've been drawing frogs for a long time," Furie explained on the phone with The Huffington Post. "It's been strange for me to have a frog character become so politicized. I thought it was a good fit for MAD because they've been the go-to place for political cartoons that comment on the weirdness of politics. I was trying to express the creepy feelings I had from the whole 2016 political frog meltdown."
The psychedelic depiction features a gap-toothed frog with a dopey smile, surrounded by sinister swamp creatures lurking in the background. "The piece was done before I even heard about the whole 'drain the swamp' thing," Furie said. But, as the artist explained to Vulture, "I have family in Florida near a beautiful swamp reserve. It's a great refuge for swamp critters that need the ecosystem to survive. I hope they never drain it."
As for the homage to Neuman, Furie speculated that Pepe and Alfred would get along if the two fictitious characters were to ever share a beer. "Their attitude toward politics, in general, reflects my own," Furie said. "Which is not really caring so much about it or making a funny comment about it in kind of an idiotic way."
Furie hopes the MAD drawing will help Pepe continue along his rehabilitation tour, eventually reaching a place of love, peace and chillness. His other recent efforts include collaborating with Save the Frogs! on a line of Pepe-centric swag with proceeds benefitting a wildlife organization devoted to protecting endangered frog species. 
The artist is also enlisting the internet to help #SavePepe from the land of alt-right trolls. Furie is looking for frog-lovers, regardless of their artistic talents, to draw their own peaceful Pepes and submit them via email or Twitter. You heard the man. Make Pepe chill again!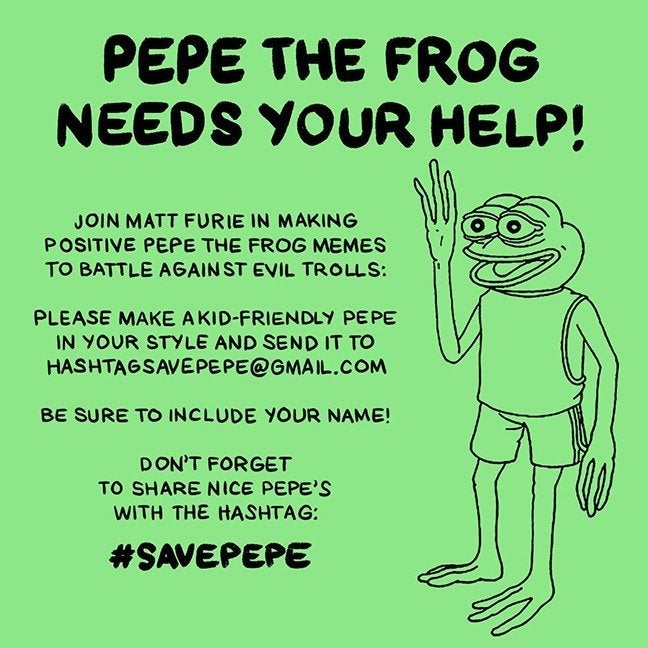 Calling all HuffPost superfans!
Sign up for membership to become a founding member and help shape HuffPost's next chapter
BEFORE YOU GO
PHOTO GALLERY
Cat Memes From Suffrage Movement