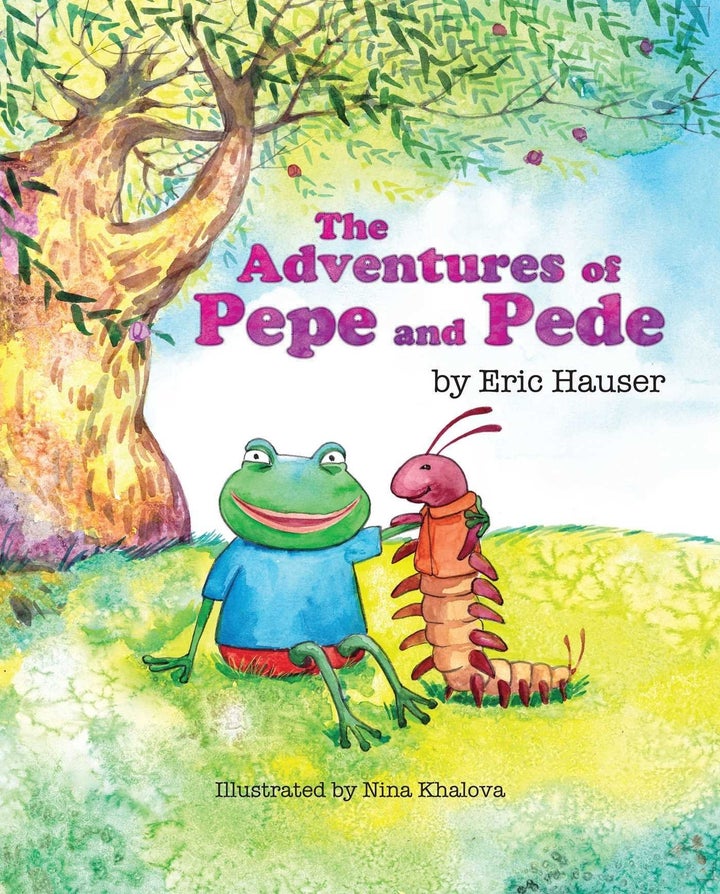 Writing children's books with hateful, xenophobic messages may not be against the law, but copyright infringement is.
Matt Furie, the artist behind the viral amphibian Pepe the Frog, brought copyright infringement charges against a former Texas assistant principal whose self-published picture book revolved around a racist frog named Pepe.
As reported by Motherboard's Matthew Gault, The Adventures of Pepe and Pede author Eric Hauser admitted to copying Furie's image, and the lawsuit was settled in a few days. All sales of the book will come to a close and the entirety of its profits will go toward a Muslim civil rights advocacy organization.
For those familiar with Pepe the Frog, the resemblance between Pepe and Pepe is, well, nearly exact.
Comic artist Furie created the original Pepe ― a mellow bro of a frog ― in 2005, as part of the zine "Boy's Club." The character consisted of a pizza-loving slacker who spent his days smoking weed, farting and roasting his fellow 20-something roommates.
Three years after the small zine was released, an image of Pepe went viral on the online message board 4chan. Before long, permutations of Pepe began popping up on Reddit, Instagram and other corners of the internet, having fully ascended to meme status. There was Angry Pepe, Feels Bad Man Pepe, Nu Pepe and Poo Poo Pee Pee, some of which were enjoyed by famed internet users like Katy Perry and Nicki Minaj.
Pepe's story took a turn in 2015, however, when white supremacists hijacked the image, which they adapted to resemble figures like Adolf Hitler and Donald Trump. Events came to a head when the Anti-Defamation League declared Pepe a hate symbol in 2016. It was a strange internet journey that led Furie to declare the frog officially dead earlier this year in hopes of moving on from the well-meaning frog that accidentally yet inextricably became associated with racism, xenophobia and hate.
And dead Pepe remained dead, at least until Hauser's children's book emerged on the scene. "Pepe the Frog and his best friend Centipede unite as one to restore law and order, and bring freedom back to Wishington Farm!" the book's tagline reads. Along with Pepe's associations with the so-called "alt-right," Trump supporters often refer to themselves as centipedes on the Reddit thread /r/TheDonald.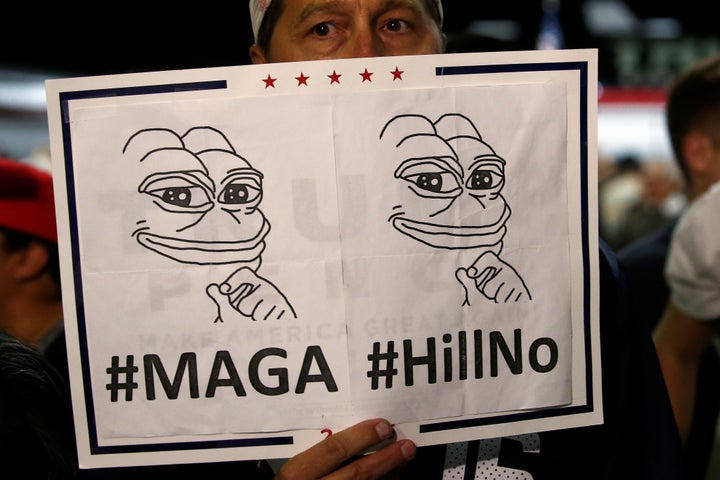 The book follows Pepe and Pede as they take down a bearded alligator called Alkah, whose name clearly resembles Allah. The frog and bug, by throwing buds from the honesty tree, defeat Alkah and his mud-covered minions, quite literally draining the swamp. "With law and order now restored, this land was great again," it ends.
And everyone lives not-so-politically-correctly ever after?
After the book caused controversy in Hauser's hometown of Dallas, he was removed from his post as middle school assistant principal and reassigned to another position in the district. Hauser resigned as a result.
"The book was worse than I thought," Chad Withers, a teacher in Hauser's district, told Motherboard. "The story itself is despicable, racist, and xenophobic. I was disgusted by it. I've never seen anything before that was so obviously targeted propaganda to children."
Hauser himself, however, maintained the book did not promote the "alt-right," nor themes of bigotry and hate. Rather he told the Dallas Observer Pepe and Pede was meant to "break down the barriers of political correctness and embrace truth."
Ukrainian freelance artist Nina Khalova was hired to illustrate the book. As Gault uncovered, Hauser specifically requested that Khalova create the alligator's minions based off cartoons of women in burqas. Because she lived in the Ukraine, Khalova was unaware of the dark political implications of the project. At the end of the day, Hauser's fatal mistake was asking Khalova to create the character of Pepe by directly copying an image of Pepe the frog. "I want the frog to look very similar to this frog," Hauser directed, attaching a picture of Furie's Pepe.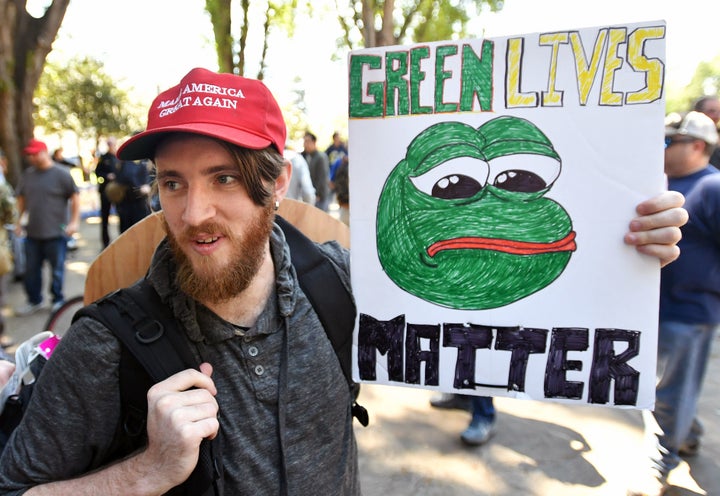 This made intellectual property lawyers Louis Tompros and Don Steinberg's job pretty simple. Hauser admitted to copying Furie's work nearly immediately and sales of the book were brought to a halt. The $1,521.54 profit earned so far was redirected to benefit the Council on American-Islamic Relations (CAIR).
"It's important for everyone to stand up against hate, whenever and wherever they can," Tompros, who took on the case pro bono, told HuffPost. "Matt Furie was willing to do that by fighting back against the alt-right's efforts to claim Pepe as a symbol of hate. We knew that we had the ability as intellectual property lawyers to help in that fight, so we did."
For Tompros, the Pepe case offered a rare opportunity to make the world a little less hateful. "Lawyers in areas like immigration and constitutional law get to use their day job skills to make the world a better place all the time," he said. "It's considerably less common for intellectual property law to be the right tool in the fight for social justice. But when it was, we wanted to make sure we were there to do our part."
It seems The Adventures of Pepe and Pede have officially come to an end. We hope Matt Furie's chill, stoner frog will finally get some well-deserved rest and, you know, not be appropriated by bigoted middle school assistant principals into xenophobic propaganda again anytime soon.
CORRECTION: An earlier version of this article stated that Post Hill Press is an imprint of Simon & Schuster. In fact it is an the independent publisher distributed by Simon & Schuster. This article also stated Hauser was fired as a result of his book; rather, he was reassigned to another position, then resigned.
Popular in the Community