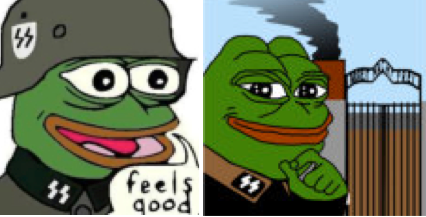 The initially innocuous character joined the ranks of the Swastika, Confederate Flag, Aryan Fist following its induction on Monday. The ADL created the "Hate on Display" database of racist terms and imagery in 2000.
"Once again, racists and haters have taken a popular Internet meme and twisted it for their own purposes of spreading bigotry and harassing users," said ADL CEO Jonathan A. Greenblatt in a statement. "These anti-Semites have no shame. They are abusing the image of a cartoon character, one that might at first seem appealing, to harass and spread hatred on social media."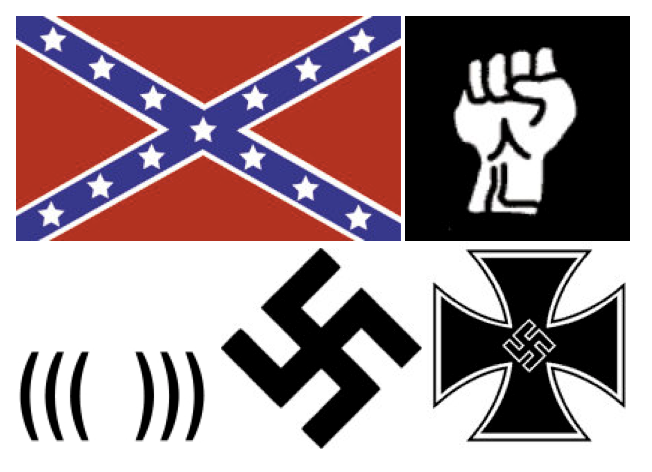 Pepe didn't always have such a bad rap. He first appeared online in 2005 as a character in the "Boy's Club" comic series, according to website Know Your Meme.
Over time, internet users began adding "feels good man" tagline to the image ― a reference to a scene in which Pepe relieves himself in the restroom. Users have also depicted him as Angry Pepe and Smug Frog. Eventually, people began altering the frog's appearance to include racist and bigoted characteristics on websites like Reddit, 4chan, and 8chan ― all sites where users can post anonymously.
Pepe has been depicted as a Nazi soldier, a smiling Jew watching the World Trade Centers collapse, Hitler and a KKK member. Other images depict the frog with the caption "kill Jews man."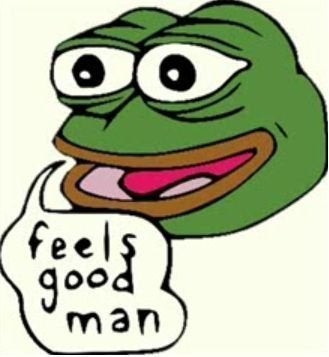 Pepe's creator, artist Matt Furie, spoke with The Huffington Post earlier this month about the meme's popularity this election. He called the frog's newfound reputation unfortunate.
"Maybe someday he'll be a symbol for peace and love and brotherhood," he told The Huffington Post, prior to the ADL's announcement.
"I think if I were to describe what people know about the Alt-Right, it's probably some things they've seen online. It's the Pepe memes it's the parentheses, it's the take-no-prisoners attitude on places like Twitter and things like that," he said at a Sept. 16 meeting.
Spencer, who is also the president of the white nationalist think tank the National Policy Institute, went on to directly describe Pepe as "someone who is willing to speak the truth."
Many people who have shared Pepe's image, however, have apparently been ignorant ― by choice or otherwise ― to its increasing negative connotation.
Prior to Spencer's statements, Donald Trump Jr. controversially shared a photo in which Pepe stands with Trump Jr., his father and several other men whose faces were superimposed on characters from the movie "The Expendables." Its banner "The Deplorables," was a mockery of Hilary Clinton's comments that Trump's supporters belonged in a "basket of deplorables."
Trump Jr. joked in the post of having "made the cut" and wrote that he was "honored" to be among his father's supporters.
"That cartoon frog is more sinister than you might realize," wrote Elizabeth Chan, a senior strategist for the Clinton campaign. "In recent months, Pepe's been almost entirely co-opted by the white supremacists."
Trump Jr. later denied knowing that the cartoon frog had such a hateful alter ego.
"I've never even heard of Pepe the Frog. I mean, I bet 90 percent of your viewers have never heard of Pepe the Frog," he told ABC News. "I thought it was a frog in a wig. I thought it was funny. I had no idea there was any connotation there."
A request for comment from Pepe's original illustrator, Matt Furie, on the ADL's decision was not immediately returned Tuesday.
Related
Popular in the Community