WASHINGTON ― A California cartoonist never thought the frog he drew over a decade ago would have anything to do with a U.S. presidential election or Nazis. Then 2016 happened.
Democratic presidential nominee Hillary Clinton's campaign published an explainer on Tuesday about Republican presidential nominee Donald Trump's "horrifying" use of Pepe the Frog, a cartoon character that white supremacists have co-opted.
But Pepe wasn't always a controversial symbol with a national platform. Until recently, he was just a frog.
"What I am going to say? 'Hey, you anonymous white supremacist, stop making my frog Trump?'" asked Matt Furie, the artist widely credited with creating Pepe. "It's funny that this frog is in the national news right now for really negative shit."
In 2006, Furie, who now lives in Los Angeles, published a comic called "Boy's Club" about a group of 20-something slacker roommates, one of whom was a chill green frog man named Pepe. A panel where Pepe's called out for peeing with his pants all the way down — he responds, "feels good man" — became particularly popular.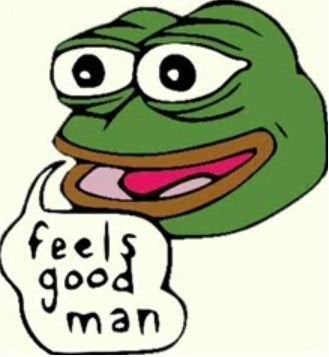 White supremacists seem to like Pepe, too. Nazi versions of Pepe emerged and became associated with Trump supporters online. Clinton's campaign cited a Daily Beast story from May that quoted an "anonymous white nationalist" on Twitter as saying there was a "campaign to reclaim Pepe from normies"— also known as nice, mainstream people. However, the operator of that Twitter account, @JaredTSwift, said it is a parody.
"What I am going to say? 'Hey, you anonymous white supremacist, stop making my frog Trump?'"
"Don Jr., like Mr. Trump, disavows any groups or symbols associated with a message of hate," said Trump spokeswoman Hope Hicks in an email.
"That cartoon frog is more sinister than you might realize," Elizabeth Chan, a senior strategist for the Clinton campaign, wrote on Tuesday. "In recent months, Pepe's been almost entirely co-opted by the white supremacists."
But Furie says his frog is simply going through an unfortunate phase. It's "super negative right now, but it comes in waves. Maybe someday he'll be a symbol for peace and love and brotherhood," he said, adding that he hopes Pepe ultimately lives on as a positive symbol of youth culture.
Asked whether he thought the frog he drew in his 20s would become part of a presidential election, Furie laughed. "I was basically just making a 'zine with a bunch of jokes in it to kind of amuse my friends," he said.
Furie is not a Trump supporter and said he previously backed Sen. Bernie Sanders (I-Vt). He says he now supports Clinton, even though her campaign is "talking smack about Pepe." Like many Americans, he seems baffled by the direction of the election.
"I think it's disturbing that white supremacy is still a thing in this day and age, and that it's not only a thing, but the top Republican candidate is affiliated with it," Furie said. "It's just a really strange time politically."
This story has been update to include comments from @JaredTSwift.
Sign up for the HuffPost Must Reads newsletter. Each Sunday, we will bring you the best original reporting, longform writing and breaking news from the Huffington Post and around the web, plus behind-the-scenes looks at how it's all made. Click here to sign up!
Popular in the Community