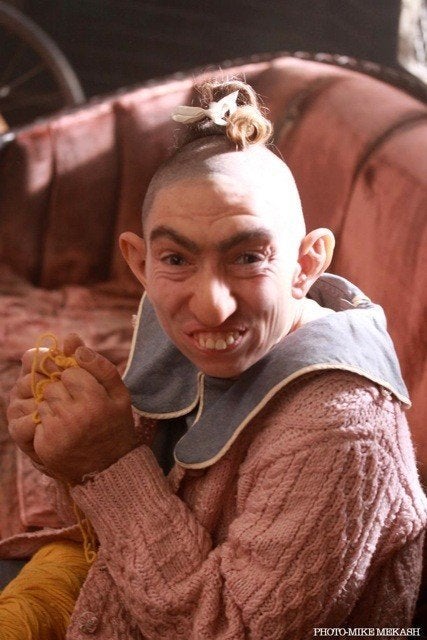 The startling-looking character who once provided comic relief is now saving the day on the hit FX series and Naomi Grossman, the actress who plays her, is as surprised as anyone by Pepper's popularity. "I feared hate mail and people saying, 'Who are you and why are you making fun of these people?'" she told HuffPost TV via phone. But Grossman's received the opposite reception.
Below, the actress, who is first and foremost a comedienne, opens up to HuffPost TV about Pepper getting smart, those damn aliens, Miley Cyrus, the makeup and this week's unforgettable musical scene.
Was filming the "Name Game" scene as fun as it looked?
Oh my god. Such a blast! We just had that song on loop for 12 hours and it never stopped. When you got one eyeball in [Grossman wears one fake one as Pepper], you don't necessarily know where the cameras are coming or when they're rolling and I was just rocking out for 12 hours straight.
Were you surprised the show was doing a musical number?
Oh, yes. Of course! It was shocking. I mean, when you think about it, why would it be? It's Ryan Murphy and the people behind "Glee." But it's also "American Horror Story," so I was like, "Wait. What?!" But I thought it was genius. I thought it was a great idea then and I think it's a great idea now. I'd like to see a little horror on "Glee" personally.
It was a big episode for Pepper too. We found out some of her backstory and that she was framed for the murders that were first mentioned in Episode 1. Did you know about that from the get go?
Not at all. I only knew what everybody else knew, which is what Sister Mary Eunice said in that scene. So when I got the script for "The Name Game," that was the first I ever knew of any of that either.
I had an idea that Pepper was going to come back smart because the direction very early on was, "The more unintelligible you make Pepper now, the bigger transformation it is later." That was a nice little hint, but nothing was ever quite spelled out. So while everybody was freaking out [like,] "Where's Pepper? Is Pepper still peeing?," you can imagine how I felt. All of a sudden, I wasn't working and I thought, "What did I do?" [Laughs.]
From the very first episode, the audience had a very strong, positive reaction to Pepper. Had this trajectory been established for her of was she given more substance after writers saw how much viewers love her?
I don't really know the answer to that, but I asked myself the same question. I do think they had always thought about bringing her back, but I don't think she was necessarily going to get quite this arc with monologues and dance numbers.
So you were surprised by the audience's reaction to Pepper at the onset?
Oh, yes. Absolutely! First of all, here I was, introducing the asylum. That first day on set, I kind of looked around and thought, "Huh ... there's no one else here quite like me." I always knew it was a special character, but if they were going that wacky with Pepper, who know what else could be in there! There were just a lot of people with greasy hair. [Laughs.]
So I was surprised along with everyone. You can't plan on what the audience is going to react to or what's going to resonate with them. There's just no way of knowing. I think it's incredible people are so fired up over Pepper when over eight episodes, she only said six words! [Laughs.] To get all this fan art and attention after six words, it's really something.
For all I knew I was just another crazy in the asylum, but evidently not.
Did you have any trepidations about playing Pepper?
A little bit, but not so much so that I wouldn't be falling over my heels to do it. I was thrilled -- even shaving my head, I was completely on board. Given the fact that I do primarily comedy, for me to play a role like this with someone with a condition, it was really important for me to not seem like I was making fun.
I feared hate mail and people saying, "Who are you and why are you making fun of these people?" I've gotten none of that and that's beautiful.
So I went out of my way to do some research and watched some fabulous films about people with mental conditions and I think I got it. I wanted to be PC because that's the nature of the show, whereas I personally, as a comedienne, enjoy shocking and enjoy saying things that are inappropriate or wrong. I knew this was not the time to do that.
I also read that when the show first started, people on set weren't sure what to think when you were all made up and as an audience, we had a similar reaction: Is this someone in makeup or someone with a condition? It was a bit uncomfortable.
I agree. It happened a lot. Finally, I've been around set now enough that people know what I actually look like. But at one point, security escorted me off the set!
For a very long time, before the show aired, they would hide me behind a shroud when I was walking around the lot because everything was a secret. I think people just assumed I was one of Michael Jackson's kids. Why else would I be masked? So, yes, at first it was very uncomfortable. People didn't want to stare ...
I had a really unusual situation recently, where I was at the movies and a microcephalic sat in front of me. All of a sudden, I was in a flipped situation. I too wanted to stare, but then didn't want to stare.
What did you think the first time you saw yourself as Pepper?
It was shocking. The first time I saw it was a photo. Before I was really officially cast, they took a bunch of pictures of me and then manipulated it to see what I would look like as the character. When I saw that, I was like, "Wow! OK."
Up until we wrapped, I would still look at myself in the mirror and go, "I can't believe that's me!" [Laughs.]
How long does it take for you to get into the makeup?
About two and a half to three hours and that's with two guys working on me the entire time. They're my besties. Initially, it was five or six hours.
I know you can't tell us how the season ends for Pepper, but what were your hopes for her?
Knowing that all I had was, "Play with me," I had no hopes for Pepper. For all I knew, this was a one-off. There were roles like that, the patient with Tourrette's in the rec room, we never saw him again. It's not like he did a bad job, it's just the public did not make GIFs of him and change their profile picture to him. Who knew? It's all been a surprise. I had zero expectations.
Given the fact that this character has an arc and goes places, it would be more common for them to cast a name. So, in a way, they took a little bit of a chance on me, which was awesome. I've been a character actress for a long time, but this is my most mainstream success. I think it's awesome that they didn't cast a name in this role, when they totally could've. Of course, I'm biased. [Laughs.] This is a role that I would think any actor would want. I wonder, if Miley Cyrus was her, I wonder if that would change things. [Laughs.] She actually just tweeted about me so she's in my zeitgeist.
Ryan Murphy also teased that in last night's episode, there was a clue about Season 3. Do you know what it was?
I don't know what it is!
Would you return for Season 3 if given the opportunity?
Is that a joke? [Laughs.] Yes. Oh, God. That would be a dream. It's already been a dream so "no expectations" is working out OK for me. [Laughs.]
"American Horror Story: Asylum" airs Wednesdays at 10 p.m. EST on FX.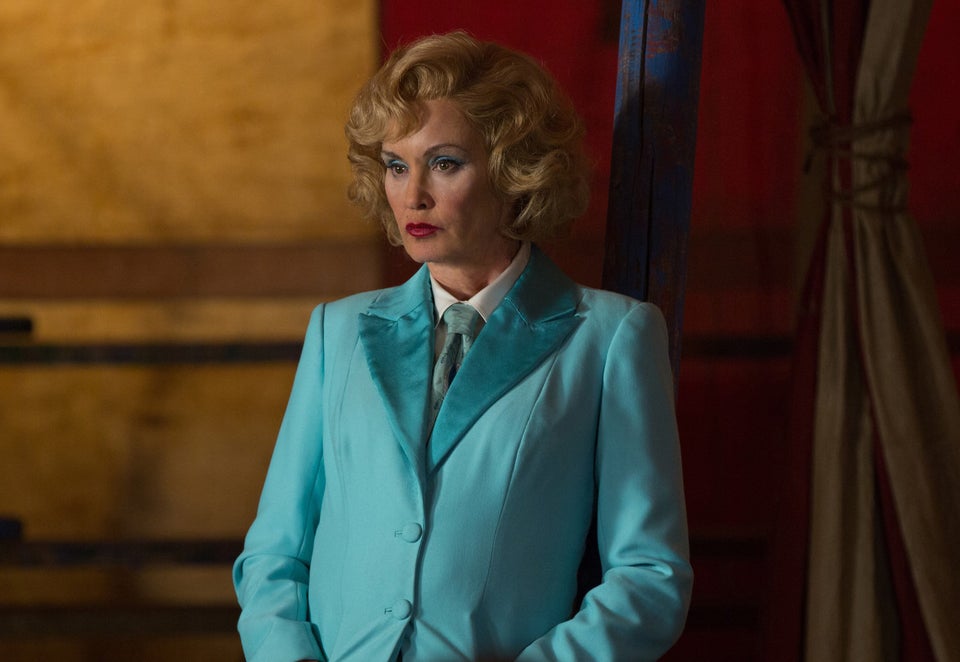 "American Horror Story"
Popular in the Community