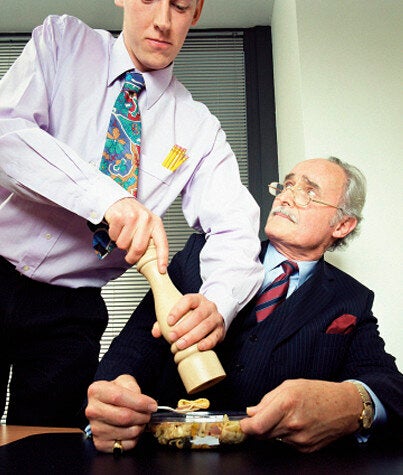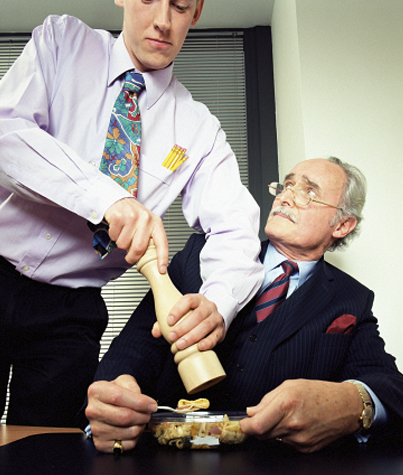 This is the third in a series of articles by Mike Sanson the Editor-in-Chief of Restaurant Hospitality magazine, a great trade mag and website for restaurant management. Every issue he tweaks his readers into passionate responses. The issues he confronts them with are of vital interest to restaurant management, but they are also the kind of topics that will raise the hackles of folks who dine out often. Here's one that I thought I would share with you along with a few of the responses he selected from the many he received. They shine a light on what goes on behind the kitchen doors.
What are your thoughts? Would you like some pepper on that?
Put Some Pepper On It? No Thanks!
By Michael Sanson, Editor-in-Chief, Restaurant Hospitality Magazine
Iron Chef Michael Symon told me a long time ago that the difference between good and bad cooks is that good cooks know how to season food properly. I remember what he said every time I go into a restaurant where there are no salt and pepper shakers on the table. Of course, most "better" restaurants don't put either on the table because their chef knows exactly how much seasoning his or her food needs. I'm down with that. Unless, of course, they don't. And then you're screwed.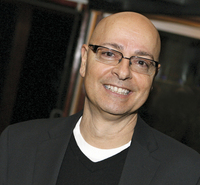 It takes cajones to ask for salt and/or pepper in "better" restaurants because many servers are afraid they'll anger the chef. Years ago, I had a favorite local restaurant that was nearly perfect. Very cool setting, a hip crowd, and an ultra creative menu. But the chef underseasoned her food and there were no shakers on the table to correct the seasoning. So, whenever I would visit this restaurant, I would bring my own stash of sea salt and surreptitiously season the food with the thought that I might be banned from the restaurant forever if I got caught (think Soup Nazi). I know it wasn't just me, because others at my table and sometimes those at nearby tables who saw what I was doing would ask for a hit of my contraband.
What you just read is a long windup to one of my restaurant pet peeves--the pepper mill. The restaurant I just described is an exception, not the rule. Most of the "better" restaurants I visit season their food properly. If a sin is committed, it's one of excess (overlyseasoned food). There is no retreat from that scenario, but I find it more tolerable than underseasoned, bland food. What really annoys me is the peppermill routine. You know what I mean because a lot of you do it. You send servers to tables with what looks like a medieval weapon to ask customers if they would like cracked pepper.
I'm sure plenty of you can explain where this ritual originated, but it begs the question: Does the food need pepper? If the answer is yes, then why didn't the chef use the proper amount of pepper before the dish reached my table? And, if you agree with Michael Symon's above statement, then the presentation of a pepper mill suggests to customers that the chef/cook in your kitchen is not a good one.

I know that if I was a chef who took great care to season my food properly, I would not allow servers and customers to rain pepper upon my parade of hard work. In your defense I will say that when the pepper question is posed to customers, a majority of those at the table will give the mill-wielding server the green light. Perhaps it's this subconscious thought that they are getting something extra for free. It just seems like a silly, outdated custom from the 1970s that should have gone away like shag carpeting.
You tell me. What's up with the pepper mill? Is it still part of your service ritual? Send me an email and I'll share the best of your thoughts.
Restaurateurs Reply: They Really Love Their Pepper Mills
AT BIN 112 WE DO NOT HAVE SALT AND PEPPER ON THE TABLE AND do offer peppermill upon request, but neither is usually requested. But at Strip Club 104, our new restaurant, we tried to follow what worked at our previous restaurant and, boy, they tore us apart: What, no pepper mill when you bring our steak? Some people just like to bitch and some people just do not appreciate good food, but they pay the bills so make them happy.
Jason E. Clark
Executive Chef / Owner
BIN112 on Trade Street;
The Strip Club 104, A Steak House
Greer, SC
I'D HAVE TO WHOLEHEARTEDLY DISAGREE WITH YOU. I LOVE TO DINE out and to try new places and dishes. I have been to restaurants where they did not put salt and pepper on the table and I find it irritating. I understand the creative pride that a chef feels over his or her dish and the feeling that they have gotten it just right. However, I find it to be rather presumptuous and arrogant to assume that everyone should enjoy the dish as is.
Chris Gaudreau
General Manager
Applebees
Gurnee, IL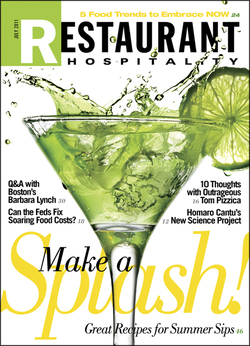 IN DEFENSE OF THE MEDIEVAL WEAPON, OUR SERVERS ONLY BRING OUT the peppermill for salads delivered to the tables. We do have salt, pepper and assorted hot sauces in the bar area mainly for the small plates and oysters we serve. If a customer requests salt or pepper after the meal is presented to the table, I and/or the chef will immediately talk to the customer politely to see if there is anything that needs to be addressed, or if it is their personal preference.
Rocco Cinqueranelli
Owner
Dylan's Raw Bar & Grille
Grosse Pointe Park, MI
NOT ALL PEOPLE AGREE WITH THE HEAD CHEF. MAYBE THEY WANT MORE SALT or pepper. And what if someone said there is way too much salt on my food. If we had to depend on someone else and their palate, why not just let him order for us? And why not allow the head chef to apply his amount of steak sauce? Baskin Robbins has 31 different flavors because we are all different.
Andrew Shapiro
Owner/HeadChef
Catherine's Restaurant
Bensalem, PA
I COULDN'T RESIST SENDING AN EMAIL TO STATE, YES, WE HERE AT MORTON'S, at The Palm, at Capital Grille and at Old Homestead are in love with the pepper mill sequence of service. But, as a snooty diner as well, I love fresh cracked pepper on my salads. A fresh wedge or Caesar salad is just not the same without it! Can't say the same for any other course.
Maria Lewis
Sales and Marketing
Morton's The Steakhouse
Bethesda, MD
I HAVE A CUSTOMER that sent me hate mail that said If I do not get pepper mills on the tables, that she is never coming back. I am one of those people who looks at the stuff on the table (salt, pepper, condiments) as dirty and probably never wiped down. I like when people offer pepper on the food that needs it, but I think it's true that some people just season without even tasting.
Doug Katz
Chef/Owner
Moxie
Shaker Heights, OH
THE PEPPER MILL TOPIC RESONATED WITH ME BECAUSE MY STAFF has often asked me to offer "the medieval weapon" ( I loved that!). I just have not. It's one more thing to stock, inventory, clean, maintain, etc. My first response was, "Hey, I paid for it, if I want pepper on it I will put pepper on it!" Here is the fun part. After a while and after I let several others read your article, I thought, wait a minute Joe, he has a point! If any dish is prepared properly and deliciously, it should not need additional seasoning!
Joe Priest
General Manager
Reedville Café
Hillsboro, OR
RATTLE SNAKE EYEBROWS ON TOAST POINTS, SANS THE PEPPER MILL, may be the latest and greatest offering in Key West or New York. But in little old Grand Haven, MI, a pan-roasted salmon filet with the option of a pepper mill performance is welcomed and viewed as a nice touch. A profitable restaurant operates under the philosophy of exceeding guest expectations at every phase of the dining experience. To offer a service even though it may be declined is an opportunity to add value.
Steve Loftis
Owner
Harbor Restaurants
Grand Haven, Michigan
YOUR THOUGHT-PROVOKING OBSERVATION ON RESTAURANT DINing is spot on with regard to the ubiquitous offering of the pepper grinder at the table, which certainly draws my pique about my entree's in-kitchen seasoning. I always politely but firmly refused the service at my table. I see it as a classic steakhouse move, appropriate for those who desire an au poivre effect on their rib eye or a showy service flourish among business associates. But beyond that, it's thoroughly unnecessary. Thankfully, none of my restaurant clients in the Boston area indulge in this practice.
Chris Lyons
Principal
Chris Lyons Communications
Boston
I AM A FAN OF PEPPER, HOWEVER I DON'T ADD UNTIL I HAVE TASTED the dish. My grandfather would banish you from the dinner table if you so much as picked up a salt or pepper shaker without tasting first. It's a mortal sin to season a dish without tasting first. I think he was right.
Candace Cooler
Marketing Secretary
Riverside Resort Hotel & Casino
Laughlin, NV
Tell them what you think or the Pepper Mill and no salt and pepper on the table?
Friend Meathead on Facebook: http://www.facebook.com/AmazingRibs
Related