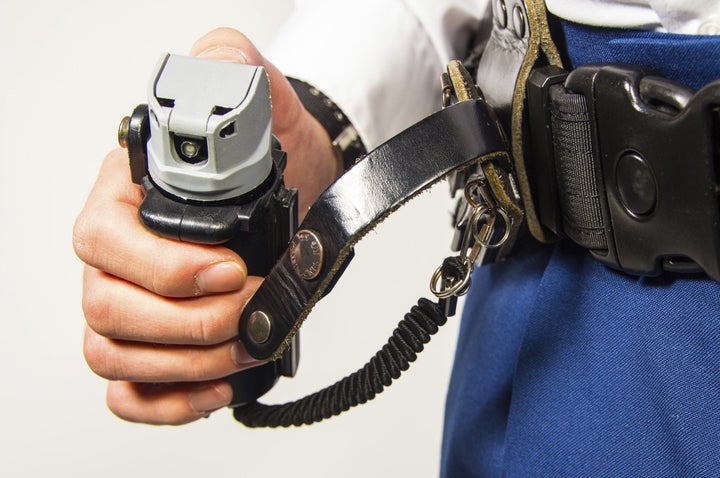 The Birmingham Police Department is in court this week to appeal a judge's decision that it must create stricter guidelines around using pepper spray in schools.
A federal district judge ruled in September that school-based police officers who spray kids with painful chemicals during minor incidents violate students' rights. Police officers placed in Birmingham City Schools should get specialized training on how to work with students and create a more specific plan to clean up kids who have been pepper-sprayed, the judge said.
But the police department says the judge's requirements are overly intrusive. Its appeal also takes issue with a few other specifics of the decision, including an order to pay five students monetary damages.
A written appeal filed by police department attorneys claims the district court seeks to control "(1) [school resource officer] duties; (2) SROs' use of Spray; (3) SRO training; (4) and SROs' decontamination of students that have been sprayed," even though it is "the power of the City of Birmingham's elected government to control the BPD" through the police chief.
"Such a heavy-handed intrusion into the internal government of the City of Birmingham is unwarranted," lawyers wrote earlier this year in their brief to the U.S. Court of Appeals for the 11th Circuit, according to Alabama Media Group. "The district court reached the wrong conclusions about what the Constitution requires. It compounded that error by injecting itself into internal municipal affairs."
Representatives for the police department did not respond to requests for comment.
The original suit highlighted the experience eight student plaintiffs. One student, identified in the lawsuit as B.D., was pepper-sprayed after getting in a dispute with her school principal.
"It caused me a lot of emotional distress. It caused me a lot of depression, a lot of missed days of school. It caused me hair loss," B.D. said during a call with reporters in October. "At least it wasn't all in vain. I have something to show for all my heartache."
Policies regarding pepper spray in schools haven't changed since the lawsuit was filed in 2010, said SPLC associate director Ebony Howard. This means that current Birmingham City School students are still failing "to receive any protection."
"Here we are again before the court of appeals, one more time," Howard told The Huffington Post. "And while we spend all this time arguing in court and talking about the various legal standards, Police Chief Roper's policy ― the one the district court found was unconstitutional and lets kids get pepper-sprayed for talking back and then doesn't require them to get decontaminated ― can still exist."
Police officers began getting placed in Birmingham City Schools in the 1990s, during a period when the number of police officers in schools was ballooning nationwide.
Howard thinks the outcome of the Birmingham case will have national implications.
"I definitely think the behavior of the officers in this case is representative of the behavior of a lot of untrained school resource officers," she said. "I think what this case does ― as one of the first of its type and probably the first to get a decision from a district court ― is it signals to police departments across the country: We cannot put untrained officers in our schools and allow them to treat our children like animals."
Rebecca Klein covers the challenges faced in school discipline, school segregation and the achievement gap in K-12 education. In particular, she is drilling down into the programs and innovations that are trying to solve these problems. Tips? Email Rebecca.Klein@huffingtonpost.com.
Popular in the Community