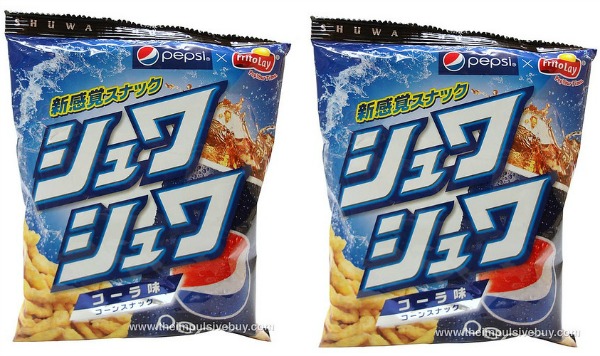 Our appetites seem determined to never eat another boring tuna sandwich again... unless it's slathered in Sriracha and Nutella. So, why stop at mashing together some of the snack world's most classic offerings? Yes, Pepsi-flavored Cheetos now exist.
"These Pepsi-flavored Cheetos are the latest food hybrid to spit in the eye of Mother Nature. They are from Japan," Steve from The Impulsive Buy writes. According to Steve, the Frito Lay Cheetos x Pepsi Shuwa Shuwa Cola Corn Snack bears a noticeable "flat cola" aroma mixed with the familiar smell of cinnamon donuts. The Cheetos are coated with a cola powder with an strong citrus taste that unfortunately overpowers the sweet cola flavor.
While this particular bag was hunted down on eBay for $3.99, you can swoop one up if you just so happen to be in Japan.
Welp, here's to the end of mankind as we know it. Cheers, folks!