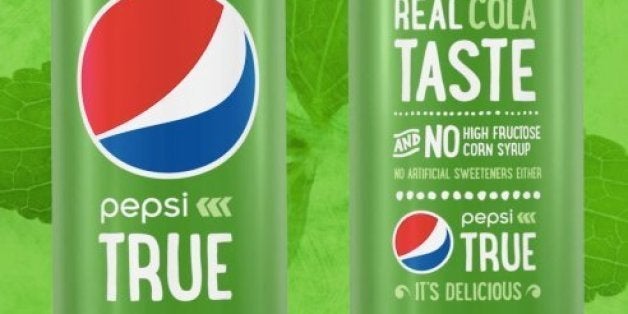 Pepsi is trying to slim down with a new sweetener.
On Wednesday, the soda and snack giant announced Pepsi True, its first mid-calorie soda since the failed launch of Pepsi Next more than two years ago. Sweetened with a blend of sugar and stevia, a plant-derived sugar substitute, Pepsi True contains 60 calories -- 30 percent fewer than regular cola. As sales of low-calorie diet sodas like Diet Pepsi plummet, mid-calorie alternatives blend sugar with other sweeteners.
The move comes a week after the company vowed to cut calories in its beverages by 20 percent. Pepsi and its rival Coca-Cola have faced growing criticism in recent years for the role their products play in fueling the obesity epidemic.
Coke last month rolled out Coca-Cola Life -- also sweetened with sugar and stevia -- after successful tests in the U.K. and South America. Both companies chose green labels for their sodas as a nod to the leaves from which stevia is extracted.
Like Surge, the cult lemon-lime soda rebooted by Coca-Cola earlier this month, Pepsi True will be exclusively sold on Amazon. A listing for a 24-pack of 7.5-ounce cans was not yet available for purchase on Wednesday morning.
A PepsiCo spokeswoman said the soda would go on sale later this month.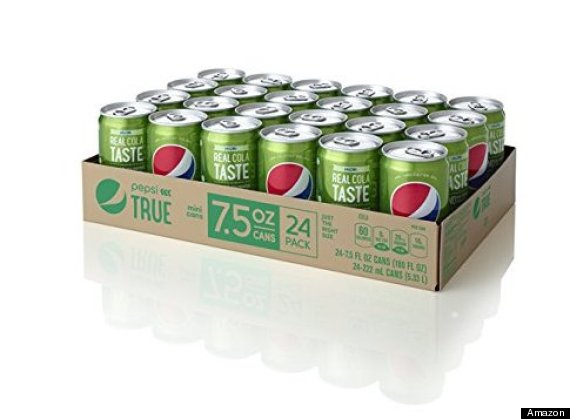 As sold on Amazon
But stevia has a bitter, sometimes licorice-esque aftertaste that deters some consumers. Earlier this year, Vitaminwater enthusiasts vehemently complained when Coca-Cola swapped out 1 gram of sugar for stevia in its formula. A month after fans flooded Vitaminwater's Facebook page with angry comments, Coke reversed course and brought back the original flavor.
Original Pepsi drinkers may similarly scrunch up their noses when they taste Pepsi True.
"The fact of the matter is the taste is still not right," Jonas Feliciano, a senior beverages analyst at the market research firm Euromonitor, said of stevia's taste in an interview with The Huffington Post. "It still doesn't taste like a full-flavored product. It's closer, but it's still not there."
He said soda companies would be better off launching new brands, sweetened with stevia from the outset, rather than tinkering with existing soft drinks.
"Everyone's trying to clone an original, and they're close. But it doesn't quite cut it with a lot of consumers," Feliciano said. "So far, especially with cola, stevia doesn't seem to be the answer."
Related
Popular in the Community