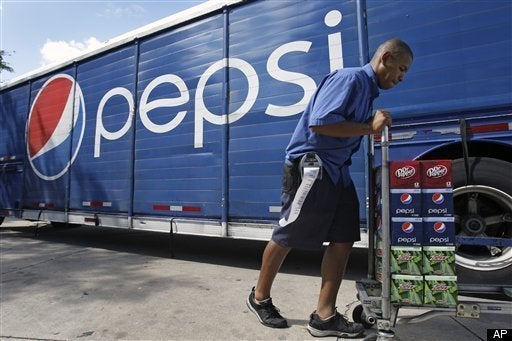 MILWAUKEE (AP) -- Two men who claim PepsiCo stole their idea to sell bottled water sued the snack and drink maker in Wisconsin and won a $1.26 billion judgment last month after the company didn't respond.
PepsiCo, which calls the accusations "dubious," says it didn't know about the lawsuit until almost a week after the court granted the award without a trial.
The company wants the court to toss out the ruling, known as a default judgment, or at least give PepsiCo a chance to fight the accusations.
PepsiCo said part of the problem was it was served the lawsuit in North Carolina, where it is incorporated, instead of Purchase, N.Y., where it is based. Later, a secretary who received letters relating to the case failed to act on them.
Spokesman Joe Jacuzzi said PepsiCo wants to fight the claims but acknowledges it failed to respond because of "an internal process issue."
It's likely PepsiCo will get to make its case and won't have to pay the $1.26 billion because judges tend to be lenient about enforcing default judgments, said Myron Moskovitz, a law professor at Golden Gate University in San Francisco. Judges don't want to deprive anyone of their right to be heard in court, he said.
"I'd be surprised if they didn't set it aside," he said of the judgment. "But there's going to be some red faces in court."
Charles Joyce, of Juneau, Wis., and James Voigt, of Cleveland, Wis., sued PepsiCo in April, asking for a jury trial and damages of more than $75,000. Their lawyer, David Van Dyke, told The Associated Press the two had worked together and came up with the idea to bottle purified water in individual servings.
Joyce's and Voigt's lawsuit accuses PepsiCo of misusing trade secrets. It also names Wis-Pak Inc. and Carolina Canners Inc., companies that make and distribute PepsiCo products, and Thomas M. Hiles, then the executive vice president of Carolina Canners.
The pair claim they entered written confidentiality agreements about a new beverage they were calling "U.P." with executives of Wis-Pak and Carolina Canners in 1981. The executives violated the agreements and gave the information to PepsiCo, which eventually rolled out a bottled water brand -- Aquafina -- about a dozen years later, Joyce and Voigt claim.
PepsiCo says it never knew anything about the case. Here's what it told the court on Oct. 13 when it asked the court to abandon the judgment.
-- June 11: Stith & Stith, PepsiCo's law firm in North Carolina, is "allegedly" served with the complaint but the company gets no word.
-- Sept. 15: Stith & Stith forwards a letter about the case to Tom Tamoney in PepsiCo's legal department, but his secretary, Kathy Henry, "was so busy preparing for a board meeting she did not deliver it to anyone" or tell anyone about it or enter it into a log that tracks such things, according to PepsiCo's court filing.
-- Sept. 29: The plaintiffs ask for a default judgment -- a ruling that they won because PepsiCo failed to make a case against them -- and the court complies the following day.
-- Oct. 5: When Henry receives that notice, she enters it in her log, and that triggers her memory of receiving the earlier letter.
PepsiCo lawyers learned about the case the next day, the company said.
"The plaintiffs' claim -- that in 1981, they gave someone other than PepsiCo an idea for a 'soft drink' and that somehow, 15 years later, PepsiCo used that alleged information to develop the Aquafina Water products -- is completely dubious and without merit," Jacuzzi said.
Van Dyke, with the Chicago law firm Cassiday Schade, said he is drafting a response to PepsiCo's motion. He said he asked for $1.26 billion based on the revenue and profit PepsiCo has made from the Aquafina brand.
If the agreements were enforceable contracts, the plaintiffs may have a case, said Mark Leonard, a partner at Davis and Leonard LLP, in Sacramento, Calif., who focuses on intellectual property. Typically, patents are the best way to protect ideas, he said, but not everything can be patented.
"In the event it was not patentable, which would not surprise me, then the only way to protect that idea would be contractually," he said.
Popular in the Community