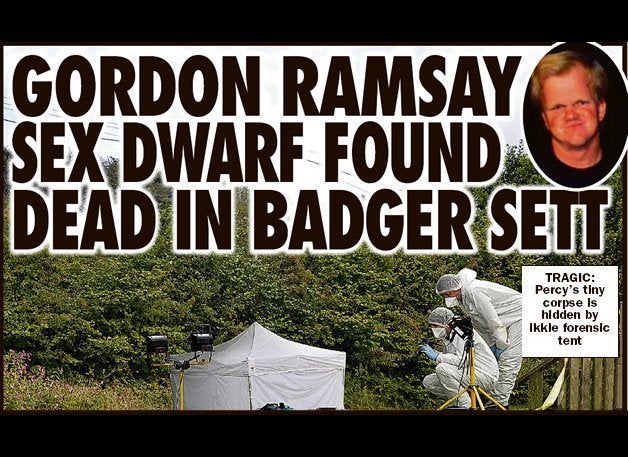 When the headline screams, "Gordon Ramsay's Porn Dwarf Double Eaten by Badger," it's hard to resist reading, even if it isn't true.
The Sunday Sport spun quite a yarn with an initial piece that claimed a pint-sized adult film star who bears a striking resemblance to celebrity chef Gordon Ramsay was about to make it big.
The little man's meteoric rise to wealth and fame was tragically cut short a week later when the diminutive porn actor was allegedly found dead in a badger den in Wales, according to a follow-up story from The Sunday Sport
RadarOnline and Rupert Murdoch's Sky News regurgitated the sordid details this week that the corpse of the alleged dwarf, Percy Foster, had been gnawed by animals.
There are good reasons why the so-called tragic death sounds hard-to-believe.
A Huffington Post Weird News reporter contacted the local police in Tregaron, Wales where Foster was allegedly found to check the facts. The official told The HuffPost that she hadn't heard of any report of the alleged death.
The Internet Adult Film Database -- a smutty IMDB -- didn't have any record of Foster. Nor are there any matches for the supposed film The Sport said gave Foster his big break: "Hi-Ho- Hi-Ho, It's Up Your Arse We Go."
X-rated historian Bill Margold told HuffPost he had never heard of Foster, adding that someone of his stature would be memorable.
"The short performers on both ends of the spectrum are rare," Margold said.
Alex Boese, urban folklorist and curator of the Museum of Hoaxes, doesn't want the media to stop generating far-fetched stories, even if a few gullible souls believe them.
"It might be a more boring world if the media didn't cover these," said Boese, " because it's kind of funny."
Related
Popular in the Community