Agriculture secretary nominee Sonny Perdue on Thursday vowed to defend efforts to restore the Chesapeake Bay, even though the White House has proposed eliminating funding for its cleanup.
If confirmed, the former Georgia governor would not have power over the Environmental Protection Agency's $73 million initiative targeting runoff from farming fertilizer, the chief source of the nitrogen and phosphorus contaminating the Chesapeake Bay. But he said his Department of Agriculture would continue to work with farmers to reduce pollution.
"I don't believe we can continue the progress that's been made," he said, referring to the the across-the-board cuts proposed in President Donald Trump's skinny budget. "I certainly hope we can even increase and continue the progress."
Perdue offered scant details as to how he would secure gains made through decades of federally funded work. Trump has suggested slashing the USDA's budget to $17.9 billion, a 21 percent reduction that halts funding for rural clean water projects and agrarian business services. The proposed cut also targets the USDA's Natural Resources Conservation Service, which provides assistance to farmers in the Chesapeake Bay watershed, at a time when farm incomes are down 50 percent from four years ago.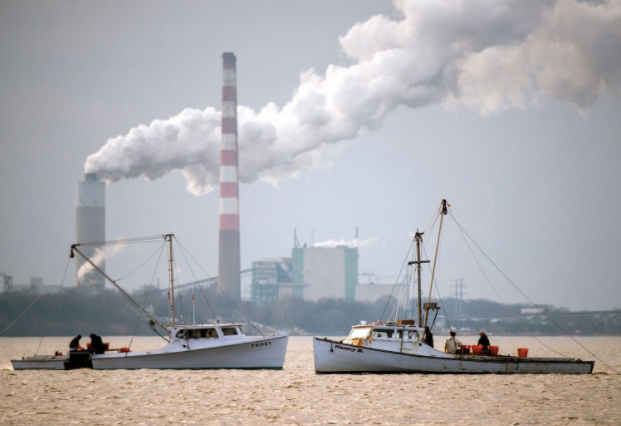 Roughly 30 percent of the watershed ― which stretches north from Virginia, through Maryland, Delaware and Pennsylvania and into parts of western New York ― is made up of agricultural lands. Nitrogen and phosphorus, often from chicken manure used to fecundate soil, are carried from streams and rivers into the bay. The elements feed toxic algae blooms that absorb oxygen and block out the sun, which prevents marsh grasses from growing underwater. Oysters and blue crabs die from lack of oxygen or by slipping into soft mud that would normally be made taut with grass roots.
The oyster industry, once a regional cash cow, has staged a major comeback as results from the cleanup effort began to show over the past decade, as The Huffington Post reported this week. The wild oyster population has yet to bounce back, but farmers who raise bivalves in underwater cages on the bay and its estuaries have seen business boom since the water became less cloudy about six years ago.
"I'm a farmer, we're farmers, we're members of the Farm Bureau," said Bob Rheault, executive director of the East Coast Shellfish Growers Association. "Yet we find ourselves at odds with land farmers, unfortunately, who resist efforts to use best management practices and limit impacts of fertilizer on the watershed."
Perdue doesn't seem to see it that way. He called the Chesapeake Bay "a vital resource nationally" that will be preserved "much to the credit of farmers, agribusiness and others who acknowledged the runoff."
"Hopefully we can continue the education and the national NRCS there so we can continue that program," he said.
Calling all HuffPost superfans!
Sign up for membership to become a founding member and help shape HuffPost's next chapter
BEFORE YOU GO
PHOTO GALLERY
Why Scott Pruitt Is A 'Dangerous' Choice To Lead The EPA