A European clothing company is pledging to no longer be a brand "just for the perfect man" and instead to become a clothing line for all types of guys.
Dressmann, based in Norway, rolled out a campaign in September called #JustTheWayYouAre to highlight different body types and "broaden the picture of what a perfect body can look like," according to promotional materials.
"We want to overcome limiting beliefs that some bodies are better, more beautiful or more normal than others," Knut Vidar Nilsen, marketing director at Dressmann, said in a statement. "Simply, we want to show that there is no perfect man, there are only perfect men."
Dressmann started that effort with a new ad featuring several different men, including older guys, a skinny dude and a hairier and larger man in addition to the typical muscular male model.
"It's about being confident in who you are, not what the fashion industry tells us is the perfect man," Jens Bonesmo, Dressmann's brand director, told The Huffington Post.
Watch the Dressmann ad, "Underwear for perfect men:"
The fashion chain said in a behind-the-scenes video that it was "lost" in fashion industry standards but wants to "get back to reality." So far, it looks like it's working: sales went up 30 percent in September compared to the same month a year earlier, a spokesman said.
One-third of guys have negative feelings about their body, according to a survey of 2,068 men in Norway and Sweden that TNS Sifo conducted with Dressmann over the summer and shared with HuffPost. The survey also showed more men are worried about their physical appearance than their financial circumstances or social life.
A majority blame advertising for fueling that anxiety, rather than TV, films or celebrities.
Even guys who many think are in great shape can feel bad about their body.
Jamie Dornan, a former Calvin Klein underwear model and star of "50 Shades Of Grey" said earlier this year he "always felt skinny and small" and still gets down about his appearance today. "Now I have the same insecurities as when I was a kid," he told the Irish Independent.
Matt McGorry recently told Yahoo! about going from being a bodybuilder to an actor and still feeling nervous about going shirtless on screen. After his shirtless scene came out, he imagined people would think he looked imperfect, but he never actually encountered a negative reaction.
"It's funny because from one perspective you could say, 'Oh, he's letting himself go,' but from another perspective, I just don't need that validation I once did," said McGorry, who stars in "Orange Is The New Black." "I still love working out, and I think it's good for my health, and I feel good doing it. I haven't gone more than two weeks without working out in years. But I think with mental health, allowing myself to be who I am naturally in terms of my body, I think that's sort of practicing more self-love that way."
Older men, too, can feel left out. An increasing number of aging males have opted to use plastic surgery in recent years to look younger, according to the AARP.
Which is one of Dressmann's points -- that it's not just young guys who feel tubby. Fifty-six percent of men in the TNS Sifo/Dressmann survey said they strongly believed advertising should better reflect different body types and ethnicities, as well as ages.
"We have focused this campaign to be about all kinds of men," Bonesmo said. "And as a brand for all men, I think it was about time that someone said, relax and be perfect, just the way you are."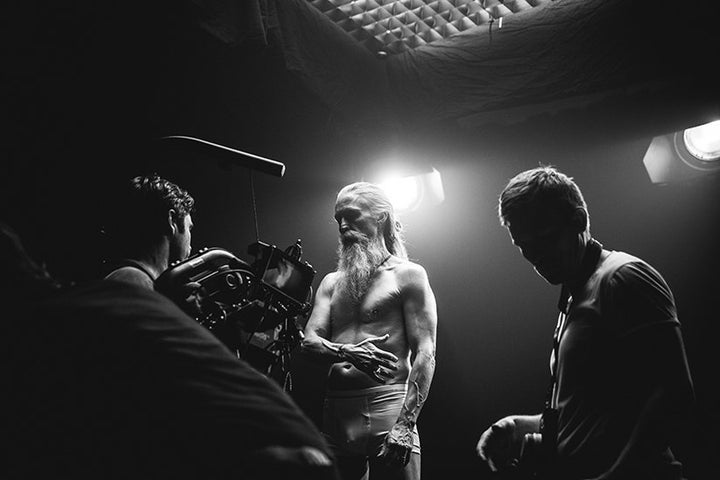 Related