Just a short distance from New York City, the suburbs of Northern New Jersey offer the same perks as the big city without the traffic and crowds. These towns are an easy escape where you can spend a relaxing day shopping, eating, and enjoying great weather outside of the city. Trust us-you won't believe what you've been missing!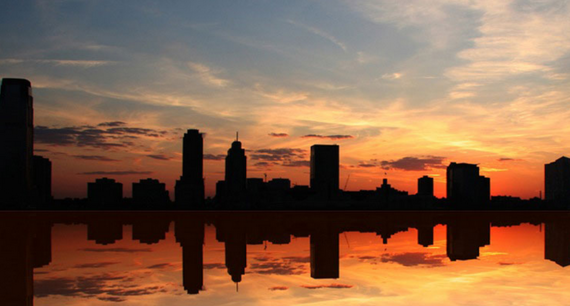 Montclair feels more like a small city than a suburb and is only a few stops away from NYC on the train. The streets are lined with towering trees and historic homes (there are 49 sites on the National Register of Historic Places!), but the downtown district contains the perfect blend of shops and restaurants. Make no mistake - they are just as fashion-forward here as their city counterparts are.
You don't want to start your day on an empty stomach. Luckily, Montclair is certainly not short on breakfast options. Toast features a rustic interior and mouth-watering brunch reminiscent of a B & B. Their mantra is "Peace, Love, Pancakes" and every meal is made using owner Amy Russo Harrigan's family recipes. If pancakes aren't your thing, the large selection also includes eggs, sandwiches and a dedicated vegan menu.
Raymond's, located on Church Street, is also a great breakfast option in the heart of the business district. Stop by for a quick bite and a cup of coffee before the line stretches down the street. In warmer months, the outdoor seating is the best spot for people watching in town. Raymond's specializes in brunch - the eggs are always a hit, and the chili is excellent on a colder day!

Your first shopping stop, Oasis, is next door to Raymond's and a short walk from Toast, so meander over whenever you've satisfied your stomach. Oasis debuted in Soho but has since moved to New Jersey, and certainly feels like just that-a fashion oasis from the moment you step inside! The store features unique items and weekly new arrivals, so you can keep up with all the trends. Owner Rafi Rachman makes sure to offer the best customer service, with fashionable and energetic sales associates that can help you find whatever item is missing from your wardrobe!

Hop in the car and head to the Montclair Art Museum. While the suburbs seem like an unlikely place to find world-class art, famous artists including George Inness have made this area their home and you'll find large galleries dedicated to their works at the museum. As an added bonus, you'll avoid all of the crowds usually found in NYC!
After your visit, head to Millburn to continue your adventure. Choose to take the scenic route for the twenty-minute drive and enjoy the views of South Mountain Reservation. The hilly reserve covers 2000+ acres and weaves through many of the surrounding towns. You might spot some deer, or even hawks, which are known to live in the reserve, as you make your way to Millburn.

The center of Millburn is, without a doubt, Millburn Avenue, where you'll find amazing boutiques and delicious food steps away from each other. The first stop is Dressed By Lori, a store inspired by Audrey Hepburn and Breakfast at Tiffany's. Lori Csik's uses her extensive fashion experience to carry unique dresses for any occasion, from "day to play". With so many dresses from a wide variety of designers in the store, there's something for everyone. Don't forget to pick up some cute jewelry while you're here to complete your look!
The next stop is Roxy Shoes, just a few minutes' walk down the road. Here, you'll find shoes that are both fashionable and comfortable. After all the walking you've done, you'll probably want to find a style that gives you the support you need (and that still looks great!) Pick up a perfect everyday shoe or something to wear with your new dresses!
Are you starving by now? The dining possibilities in downtown Millburn are endless. Grab dinner at Cara Mia, which is a family-owned Italian restaurant that prides itself on using the freshest and finest ingredients to prepare their delicious dishes. There are lighter salad options, as well as pasta in almost any shape you can imagine. Cara Mia is a local favorite, and it won't be hard to see why!

To finish off a terrific day, catch a show at the Papermill Playhouse. Anne Hathaway and Kristen Chenoweth got their start here, and celebs from Jane Fonda to Betty White have also performed here! The theater itself used to be a working paper mill, and still has some old-time charm. Shows come here just before they hit Broadway-you won't be disappointed by the caliber of these award winning performances!
At the end of the night, you're only a 35 minute drive or train ride back to the Manhattan. The suburbs have a lot to offer any city dweller, and your subsequent adventures into Northern New Jersey are bound to be full of great finds, delicious food, and fun experiences. Nothing says summer like a road trip, and now that you know the must-hit spots, you'll be coming back to again and again!