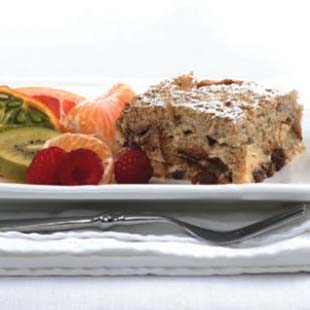 By Emily Kennedy, Recipe Developer & Tester for EatingWell Magazine
There is a small café called 3 Squares a few miles from the EatingWell offices that makes what I consider to be the world's best French toast. It's nothing fancy -- made with challah bread and served with cinnamon whipped cream, sliced berries and bananas. It is the kind of breakfast that I crave, and I have made it my mission to figure out how to make it (and make it healthier) at home. Here are my secrets to perfect, healthier French toast:
Get the Right Bread: You want bread that does not have too chewy or tough a crust or too many holes. This means steer clear of your beloved French baguette and fancy artisan breads. And while bread made from white all-purpose flour may taste good, it won't do much for you nutritionally. But you don't have to sacrifice taste to get the benefits of fiber from a whole-grain bread. To make a tasty, whole-grain French toast, I like to use a medium-density, semi-soft bread like thick-sliced whole-wheat, multi-grain or oatmeal sandwich bread, which is soft without being too delicate.
Use a Sturdy Pan: I like to make my French toast in a cast-iron pan, which gets nice and hot and maintains its heat evenly. I heat my pan slowly over medium-high heat and use just enough melted butter to barely coat the inside. This gives the toast a delicate, crispy exterior without drying out the interior. Think crème brulee—crackly, sugary shell on top of silky pudding.
Use Low-Fat Dairy: Traditional French toast recipes call for heavy cream, eggs and vanilla extract to make the custard. To make a healthier version with less fat and fewer calories I use reduced-fat or nonfat milk in place of the cream and a combination of whole eggs and egg whites. Replace one egg with two egg whites. No one will know the difference. Vanilla or almond extract and a sprinkle of cinnamon will add flavor without any added fat or calories.
Be Creative with Your Toppings: The French toast I get at 3 Squares Café is decadently topped with a generous dollop of cinnamon whipped cream and sliced fresh fruit. At home, I prefer something lighter. So, I whip just a tiny bit of heavy cream and fold it into nonfat Greek-style yogurt. I promise, it is delicious, and you save saturated fat and calories by cutting some of the whipped cream with thick and rich Greek-style yogurt. Just be careful not to eat the whole bowlful by yourself.
Other easy, healthy toppings include fresh fruit, a spoonful of fruit jam or preserves or even a smear of peanut or almond butter. Finally, a tablespoonful or two of genuine Vermont maple syrup is always a good choice—there's nothing to beat it and a little goes a long way.
What's your best tip for keeping pasta dinners healthy?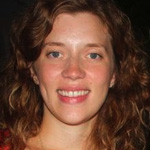 Emily Kennedy tests and develops recipes in the EatingWell Test Kitchen. Emily recently moved to Vermont from New York City, where she worked at Food & Wine, food52.com and Real Simple. She is a recent convert to the glories of kale and has a weakness for doughnuts, strawberry licorice and anything her Italian-American grandmother makes, especially pizza.
Related Links from EatingWell:
Related