Summer is never ever a good time to wear business attire as a guy in New York City, especially when you ride the subway to work every day. That's because guys don't wear dresses. We wear dress shirts. When we're sweating our brains out in 100-degree heat (hitting 110 in the subway tunnels), our shirts often look like a bad BP oil spill in the Gulf of Mexico.
So why in the hell can't they make a shirt for us that keeps us dry, no matter how hot and nasty it gets outside, and however sweaty we become? That's exactly what Kevin Lavelle of Dallas, Texas asked himself when he saw a sweat-soaked gentleman running late to a meeting one day. "His shirt was two different colors, sticking to him like glue," according to Lavelle. "When his shirt was finally dry, it was wrinkled and disheveled. So I got the idea for a moisture wicking dress shirt."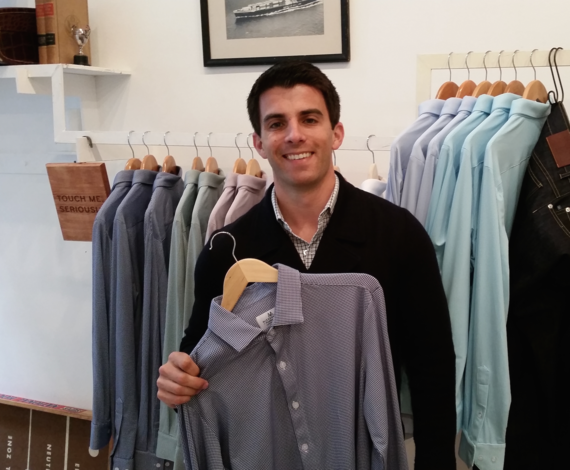 Lavelle quit his day job in 2012 with Hunt Energy Enterprises in Dallas to design, develop, and produce a shirt for the "athletic professional" man. After a year or so prototyping, testing, and tweaking, tweaking, tweaking, he created the "Mizzen and Main" dress shirt -- a moisture wicking, breathable, wrinkle free, no ironing, no dry cleaning, athletic cut, bad ass shirt. For those who don't know nautical nomenclature (me included), Mizzen and Main is named after masts on a sailboat -- the Mizzen is the third mast, and the Main is -- yep -- the Main mast.
I met Lavelle, in person, this summer in New York when he set up a pop-up shop down in Soho and I wandered on in. Lavelle suggested that I test drive a beautiful blue "Beckett" dress shirt (named after Samuel Beckett, the playwright) in the summer heat of the Naked City. For the record, dress shirts never fit me right. If I do the Brooks Brothers style, they hang off me like a cloth box, and if I try on the European "slim fit" cut, I feel like I am going to pass out because I can't breathe.
Well, the Beckett was just right. I normally wear a size large, but Lavelle told me to wear his shirt in XL. When I put it on, it felt a lil big, and then something shifted, and it instantly shrunk to fit me, perfectly. This from a guy who never designed a shirt in his life until three years ago. What the hell. I had to know more about Lavelle's secret sauce.
"Our shirts are a poly blend," according to Lavelle, and made from the best athletic performance materials on the market today. "The polyester in the shirt is what keeps it from wrinkles and keeps you dry. One of the major benefits of the shirts is the low maintenance. You can throw it in a sink, hand wash, then hang to dry."
Huh? I didn't believe him, at all. Then, last week, I was running late for an important business meeting, and none of my shirts were clean -- not one! So I grabbed the Beckett out of my closet, stuffed it into my sink in cold water with a scooch of laundry detergent. I swirled it around in the sink for like two minutes, hand squeezed the shirt, and then put the shirt on, while it was still wet. I ran out the door to the meeting and the shirt was bone dry, no wrinkles, 30 minutes later when I walked into the conference room, and no one knew for the better.
Lavelle says that's why professional athletes love his shirts, and swear by them. Mizzen + Main has been seen on studs like LeBron James and Drew Brees.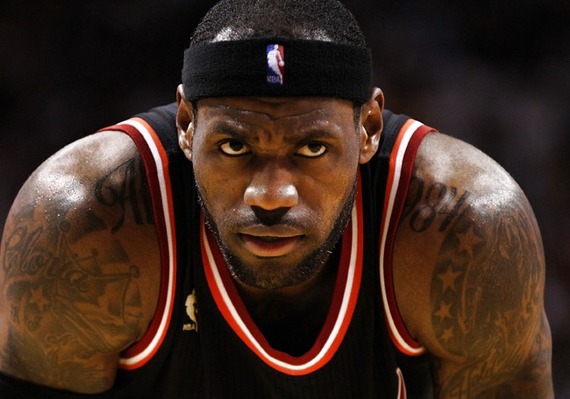 Some of the bigger athletic performance brands, like UnderArmour, are now climbing into Mizzen + Main's sandbox of what I'm calling the "mens professional performance dress" clothing line. The good news is that little 'ol Mizzen + Main from Dallas, Texas is holding its own against the Big Boys, so far at least. Most M + M shirts are sold out on their website, and are on back order. Here's why: Mr. Lavelle's shirts, at least from my sweaty hot summer perspective, are indestructible and feel so damn good to wear, every single day. Just rinse and run to your next meeting, no worries. Hell, you can probably even skip the deodorant too (ok, maybe that's going too far). Summer sweat never felt so good.
PHOTO GALLERY
Bald Hotties
Calling all HuffPost superfans!
Sign up for membership to become a founding member and help shape HuffPost's next chapter