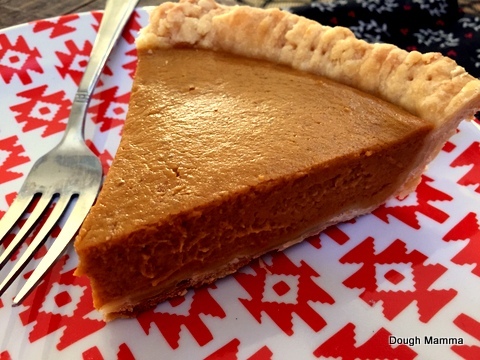 Fall is supposedly here in Santa Barbara, but with temperatures in the triple digits, one would never guess Autumn is technically in full swing. Never-the-less, it's my husband's birthday today and every year for his birthday, he requests one of three desserts: carrot cake, strawberry shortcake or pumpkin pie. This year, the winner is good old fashion pumpkin pie.
I wish I had lovely photos to display the wealth of my pie crust talents, but alas, my week was one of absolute clumsiness and carelessness -- which of course carried over into the kitchen. The fact I'm still here with all ten digits on my wrists, is nothing short of a miracle. I could blame it on the baby who still wakes up three times a night to nurse, I could blame it on our busy schedules, I could even blame my haziness on the fact we have had 18 separate guests stay with us in less than six months, but ultimately I am just done -- toast, finito, kaput. I am running on fumes this week and it shows.
I realized I was pretty far gone when I decided it was a good idea to put my iPhone on top of the car when I was getting Elora into her seat. Onto the highway we headed and onto the asphalt my phone flew. The upside? I was able to collect it, it still works and some stranger didn't discover a phone with breastfeeding photos on it -- the cup is always half full my friends.
Two days later, I was with Elora at a doctor's appointment only to discover I had forgotten the diapers. Let's just say MacGyver would have been proud of the diaper I managed to create out of a dog waste bag, some handy wipes and a bandana.
If you have had a week similar to mine and are asking yourself, "Are the planets out of alignment or something?" then here is a lovely straightforward recipe sure to produce a delicious, aromatic, rich pumpkin pie -- a comforting dessert sure to make any accident prone week a little bit better.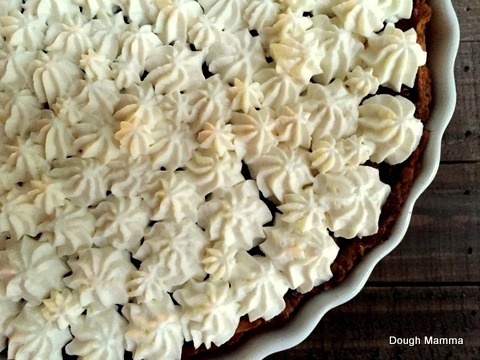 Title: Perfect Pumpkin Pie
Author: Adapted from Richard Sax and Ina Garten
Prep time: 30 mins
Cook time: 1 hour
Total time: 1 hour 30 mins
Serves: 8
Notes: This pie crust recipe is from Ina Garten and is a very easy dough to manipulate. The outcome is fabulous -- flaky and crisp. The pumpkin pie recipe comes from Richard Sax's Classic Home Desserts, a wonderful recipe book that was recommended by my executive chef. The original recipe suggests using your own pumpkin puree. I used canned pumpkin instead and the results were delicious. Making your own pumpkin puree does add another dimension of flavor, so if you have sugar pumpkins available to you, by all means, follow the original recipe. Do not use just any type of pumpkin, as most are very bland -- make sure you only buy sugar pumpkins. If you are experiencing a hot kitchen, freeze your butter and shortening the night before making your pie crust. I use a pie cutter instead of a food processor. I prefer this method because it's one less bowl to clean and I like my hands in the dough - use whichever method works best for you. If your crusts are browning before the cook time is up, make a tinfoil cover as seen in the collage below to protect your crust from burning.
Ingredients
Pumpkin Puree
2-3 sugar pumpkins
Pie Crust
12 Tbsp of very cold unsalted butter
3 cups all-purpose flour
1 tsp salt
1 Tbsp sugar
⅓ cup very cold vegetable shortening
6-8 Tbsp of ice water (about ½ cup)
Pumpkin Pie
2 cups of pumpkin puree (if using canned, make sure its unsweetened and unseasoned)
⅔ cup packed dark brown sugar
⅓ cup sugar
1 Tbsp of AP (all-purpose) flour
½ tsp salt
1½ tsp of ground cinnamon
½ tsp fresh grated nutmeg (fresh makes all the difference)
½ tsp ground ginger
¼ tsp ground allspice
Pinch of freshly ground pepper
1 cup heavy cream
⅓ cup milk
2 large eggs, lightly beaten
3 Tbsp of bourbon
1½ tsp of vanilla extract
Instructions
Pumpkin Puree
Preheat oven to 400 F. Halve the sugar pumpkins crosswise and place them, cut sides down, on a foil-lined baking sheet. Cover the entire sheet with foil, tenting it over the pumpkins and crimping the edges.
Bake until the flesh is very tender - about 1½ hours.

Remove the foil and let the pumpkin halves cool. Remove the seeds, scrape the flesh into a food processor and puree until smooth.

You can freeze any extras for up to 6 months.
Pie Crust
Dice the butter and return it to the refrigerator while you prepare the flour mixture.

Place the flour, salt and sugar in the bowl of a food processor fitted with a steel blade and pulse a few times to mix.

Add the butter and shortening.

Pulse 8-12 times, until the butter is the size of peas.

With the machine running, pour the ice water down the feed tube and pulse the machine until the dough begins to form a ball.

Dump out on a floured board and roll into a ball.

Wrap in plastic wrap and refrigerate at least 30 minutes, longer is better.

Cut the dough in half. Roll each piece on a well-floured board into a circle, rolling from the center to the edge, turning and flouring the dough to make sure it doesn't stick to the board.

Fold the dough in half, place in a lightly buttered pie pan and unfold to fit the pan.

Heat your oven to 400F, with a rack in the lower third.

Loosely cover your pie crust with a buttered piece of tinfoil.

Bake the crust for 8 minutes. Carefully remove tinfoil; prick with a fork all over; Bake again for another 5 minutes or until the dough is dry but not yet baked all the way through.
Pumpkin Pie
Whisk together the pumpkin puree, brown and white sugars, flour, salt, spices, pepper, cream, milk, eggs, spirits and vanilla in a large bowl. Taste and correct seasonings. Pour the mixture into your pie shell.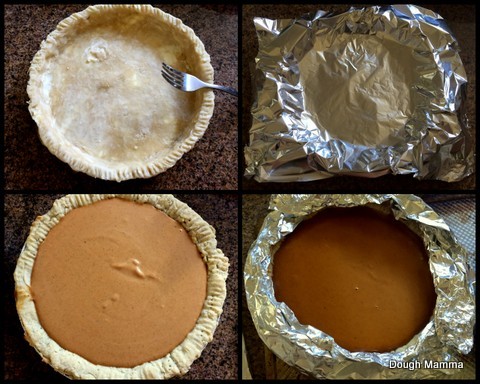 Bake until filling is set but still slightly wobbly in the center, about 45 minutes.

Cool pie on wire rack. Serve with whipped cream.