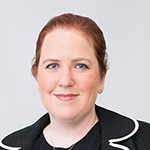 By Stephanie Wander
Stephanie Wander is a Prize Designer with XPRIZE. During her two years with the Foundation, she has worked on the designs of the Wendy Schmidt Ocean Health XPRIZE, the Global Learning XPRIZE, and the proposed Personal Aerial Vehicle and Tissue Engineering XPRIZE competitions. Stephanie is a proud graduate of the UCLA Anderson School of Management and a Board Member of Clifford Beers Housing.
In the wake of an epic Super Bowl, the 14 competing teams of the Wendy Schmidt Ocean Health XPRIZE, The XPRIZE Oceans Operations Staff, and I descended on Seattle--home of the Seahawks-- for phase 3 coastal trials. We had not anticipated the daily sea of purple-clad aquarium visitors streaming by our outdoor tank at the Seattle Aquarium. The "12's," as Seahawks fans describe themselves, now looked on as scientists gently lowered the teams' pH sensors into the tank and secured them with sailor's knots. The $2 million Wendy Schmidt Ocean Health XPRIZE competition for the most accurate and easy-to-use ocean sensors was now in play.
If innovation were football, the goal of XPRIZE is to perfect the snap. We try to set up the best possible conditions for our competing teams to succeed. When we do it right, we are rewarded with incredible plays and revolutionary breakthroughs. Breakthroughs like the creation of the first reusable, privately funded, manned spaceship that paved the way for the $2 billion private space flight industry; the development of the 100 MPGe industry standard for automobiles; and a quadrupled oil recovery rate, which redefined oil cleanup in the wake of the BP oil spill in the Gulf of Mexico.
For the remaining teams in the Wendy Schmidt Ocean Health XPRIZE, this phase is the second round of field-testing and a critical down-select. Fourteen entries are competing for one of five deep-sea ocean deployment slots--the final test before XPRIZE declares the winners. For me, this is the culmination of two years of work at XPRIZE as a Prize Designer (the Ocean Health XPRIZE Visioneering was my first project with the organization).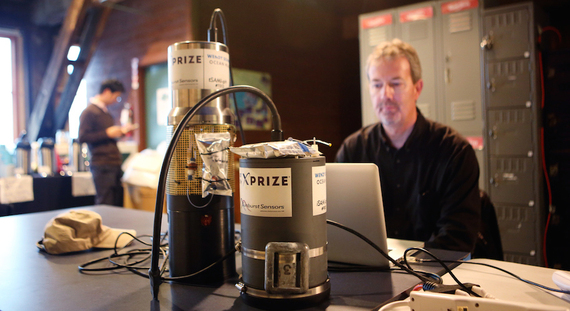 Sunburst Sensors' entry in the Wendy Schmidt Ocean Health XPRIZE
As a Prize Designer, I think a lot about impact. From the impact we want to see in the world, we define the problem we want to solve. I have been privileged to ask, "How should this XPRIZE impact the world?" for prize designs in Ocean Health, Global Learning, Autonomous Personal Aerial Transportation and Tissue Engineering.
With each of these designs, prize designers evaluate and customize a competition to maximize a number of impacts. For the Wendy Schmidt Ocean Health XPRIZE, our impact goals included encouraging the development of improved technical, scalable solutions, engaging communities of experts, innovators and the public, and positioning competing teams for success in a new industry. My role in the field is to ascertain if we are achieving those impacts. I keep an eye out for evidence, such as cross-team collaboration, innovation, plans to scale solutions, and community engagement.
The energy and focus of teams is palpable as they prepare for deployment. One quickly sees that each team is its own fiercest competitor. Teams are quick to lend a tool or piece of advice, and quicker still to share their plans for the next prototype or eventual commercialization of their sensor. One team (Team Durafet) composed of industry stalwarts and leading scientists even went so far as to contribute to the crowdfunding campaign of a team of composed of high school students (Team pHFinescale). I am not sure there is a better example of the power of an XPRIZE to inspire disruption.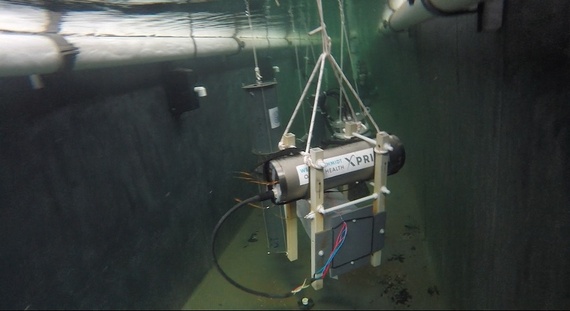 The sensors hanging in the testing tank at the Seattle Aquarium
A quick conversation with Team SmartPhin, whose sensor is designed to attach to a surfboard fin, revealed that they are supported by an art foundation, the Lost Bird Project. This foundation sees artistic expression in tapping the surfing community to capture ocean data. Where they see art, we see a chance to transform the "quantified self" movement into the "quantified earth" movement.
As part of our early design work, Prize Lead Paul Bunje and I had many conversations about the kinds of teams that might compete: had anyone used mass spectrophotometric (light-based) approaches? What about other industries? Could biomedical or agricultural sensing communities be sitting on a solution for better pH measurement of our oceans? It turns out they might be: several teams are taking a spectrophotometric approach using varying approaches in micro-fluidics and lab-on-a-chip designs, Team OSU-FABE Sastry Lab from Ohio utilized novel nanomaterials based their design on pH sensors used in food science, and a team of students from Duke University (Team Blue Devil Engineering) modified a technique used to measure pH in agriculture.
All of this innovation is happening under the careful observation of our scientific advisory team, led by Dick Feely and Chris Sabine from NOAA's Seattle-based Pacific Marine Environmental Laboratory. Dick and Chris wrote landmark publications that advanced the world's understanding of ocean acidification. They contributed to early Visioneering of the prize concept and have been part of a key team of advisors through the ideation and design processes. They inspire us with their patience. It cannot be easy to advocate for better stewardship of our oceans with full knowledge of the urgency. We are positively humbled when they say to us that what we are doing is important.
Best of all, Nicole Killebrew, a longstanding interpreter with our educational partner, the Seattle Aquarium, shared a story from their first day of tours: Upon viewing a tank filled with the active sensors, a 5-year-old girl asked "Is this real science?" Upon receiving affirmation she declared, "Science is Awesome."
One of our sayings at XPRIZE is "the impact of a prize begins the day after a prize is won." It's our teams and the amazing innovations they produce that truly change the world. We also realize we may not know the full impact of our competition for a long time to come. These things are all true. In success, this competition triggers an exponential series of positive impacts, starting with better science and stories and hopefully resulting in better solutions and advocacy. And I can truly say that what I saw in Seattle is enough to make me want to throw Skittles (the in-game snack of famed Seattle running back Marshawn Lynch). We were in the home of the Seahawks, after all.
REAL LIFE. REAL NEWS. REAL VOICES.
Help us tell more of the stories that matter from voices that too often remain unheard.