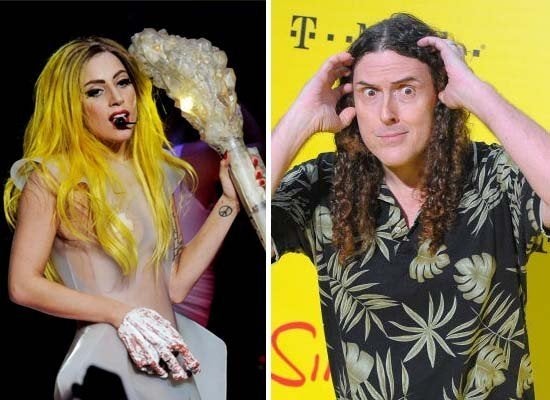 UPDATE II: Dave Itzkoff has reported via Twitter that Lady Gaga has now given permission for "Perform This Way" to be included on Yankovic's album.
UPDATE: Sources close to Lady Gaga told TMZ that "There must have been a misunderstanding because [Gaga] is in no way trying to block the release of the parody," and that Lady Gaga is "a huge Weird Al fan."
PREVIOUSLY: Musical comedy icon "Weird Al" Yankovic continues his decades-long career of spoofing pop music with the YouTube release of "Perform This Way," a parody of Lady Gaga's "Born This Way." Yankovic's anthemic send-up mocks Gaga's penchant for over-the-top theatrics and eccentric persona. He announced the song on his Twitter earlier today.
The comedy artist's first hit was in 1984 with the Michael Jackson parody "Eat It," and after decades spoofing artists as varied as Madonna, Nirvana and Coolio, Yankovic saw his biggest hit with a Chamillionaire parody, "White and Nerdy." In "Perform This Way," Yankovic channels Lady Gaga's often-outrageous flair for the dramatic: "I'm sure my critics will say it's a grotesque display / Well, they can bite me, baby -- I perform this way / I might be wearin' Swiss cheese or maybe covered with bees / It doesn't mean I'm crazy -- I perform this way," sings Yankovic.
Yankovic, who has a new album due out this summer, notes in the video that he intended to include "Perform This Way" on the album, but was denied by the subject of his parody. "The following song was supposed to be the first single from my upcoming album," Yankovic says in a title card at the beginning of the video. "Unfortunately, it did not meet Lady Gaga's approval."
On his blog, he explains that Lady Gaga insisted on hearing the song before giving her blessing, which Yankovic claims was unprecedented in his career. Although all profits from the song were to have been donated to the Human Rights Campaign (in a nod to the original song's intention as an "earnest human rights anthem"), Gaga turned down the parody upon hearing it. (While parody artists are protected under the First Amendment, Yankovic traditionally requests permission from the artists he spoofs.)
Related
Popular in the Community