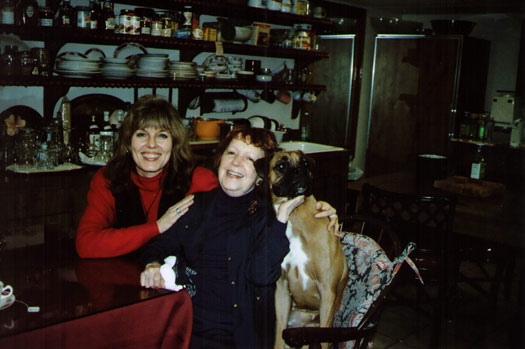 The author with Silverman.
My former landlady, Irene Zambelli Silverman, went missing on July 5, 1998.
Perhaps you recall her name. Her disappearance made the network news and headlined newspapers across the nation. Despicable crimes always do, don't they?
Eighty-two years old and she still had more life in her than most people half her age. She also had more money than anybody I knew. All that wealth kept her safe for a long time. Until the day it put her in harm's way. Irene and I met when I came to New York to launch a television icon's comeback and needed a place to stay. I found it on the third floor of Irene's Upper East Side stone mansion.
Five days a week I left her lovely digs to travel by cab to our studio at Chelsea Piers, where New York News, the great white hope of CBS' 1995-96 season, groaned and gasped through its last breaths. Mary Tyler Moore played the Katharine Graham-like diva who ruled her late husband's tabloid empire with an iron fist. She and her co-star, Madeline Kahn, sparkled when they could. But the vehicle, as the networks refer to a show that is supposed to deliver desired demographics and critical acclaim, was yet to find its "target" audience.
As one of the co-executive producers of the series, I shared the responsibility of saving a show unlikely to be saved. The ship was going down, and panic swelled among those on deck. But in the business of illusion, any inconvenient reality is ignored. With each passing month network pressure elevated to make a miracle that would not happen.
On occasion I escaped the studio for a few minutes to walk the streets of New York during rush hour. The crush of other frenetic souls, some even more distressed than I, gave me comfort. Most avoided direct eye contact. Not me. I locked on to a thousand faces in the crowd. Wondering what lay beneath. Straining to spot clues to the story behind each mask. Liars and thieves can present such pretty personae. There are no strangers on planet earth. Only allies or adversaries not yet met. The truth is that we're all improv artists spinning tales for our target audience. No different from the cast of characters running lines and blocking moves on any sound stage. Except for one thing. In the editing room there is control of the final image. In the real world, there is none.
One morning my favorite cabbie, (a Brooklyn resident born in Haiti whose first language was Flemish -- it's a long story) told me about the "crippled" beggar in the wheelchair that we passed on the corner of Sixth and 32nd. One Sunday the beggar hopped in the taxi, his legs working just fine, thank you very much. Then he tipped the cabbie two bucks to get him to church on time. It was, the performer who pretended to be a beggar explained, his day off.
The beauty of New York, the cabbie added, was that while everyone knew their place in the social hierarchy, they also had a scheme to ensure they wouldn't stay there. Just like Los Angeles, I thought. Or any other metropolis from Sao Paulo to Mumbai populated by aspiring movers and shakers with an eye on the main chance. The key to advancement? Never show fear. If you don't show it, you don't feel it. And that just might calm another humanoid desperate to subdue the tender terror hovering in his own amygdala.
Often, after I finished a trying twelve hour stint at Chelsea Piers, I stopped by the small market on Madison to buy a take-home dinner for one. When the clerk rang up my purchases, I thanked him. More often than not, I also smiled, a civilized nicety he never felt compelled to return. Instead he would grunt and turn to the following customer in line. And that's how it went for a month or two until the night he looked me straight in the eye and, and in a thick Middle Eastern accent, communicated in no uncertain terms that he was on to me.
"You're not from New York City."
Well, obviously, neither was he. But I was raised to remember my manners and had no intention of being rude. "Why do you say that?" I smiled again. Which seemed to confound him even more.
He studied me, the way he would an alien aircraft. "You're not afraid."
Recovering from another day of backstabbing egos and impossible production demands, I resisted the urge to laugh, scream, mutter a few four letter epithets. Instead I stood there like Silent Bob, too exhausted to come up with a clever comeback. Still smiling.
He slid the cash register drawer shut and, lest I was too blockheaded to get his meaning the first time, repeated with emphasis: "Real New Yorkers, they don't smile. Too afraid." Then he pushed the paper bag containing my dinner across the counter and dismissed me with one final word, "Next!"
Just to be perverse, I continued smiling for the next two blocks... all the way to my rooms at 20 E. 65th Street where I pulled out my heavy ring of skeleton keys, opened the double locks on the ornate iron door and entered Irene Silverman's stone fortress.
After her disappearance, news reports referred to Irene - a tiny redhead whose fingernails were painted the same color as her hair - as a "socialite," which was untrue, and a former ballerina, which was. In her youth, Irene graced the floorboards of Radio City Music Hall as a featured dancer in the city ballet. Anyone who confused Irene's classical training with the high kicks of later Radio City headliners got set straight, hard and fast.
Irene took pride in her cultural snobbery. "I was no Rockette," she sniffed. She and her mother originally hailed from Louisiana - although there was no hint whatsoever of a southern accent in Irene's proper diction - and came to the big city by way of New Orleans to further young Irene's stage career. Perhaps she mentioned a father. I don't remember. It seemed, in her telling of the story, to be only Irene and her mother against the world.
In the early days, it was the good mother who protected her daughter's virtue, putting the kibosh on the advances of stage door Johnnies until a reputable suitor could come courting. He did, and his name was Samuel Silverman. The good news for Irene and her mother, who lived with her daughter and son-in-law until her death, was this: Mr. Silverman, a banker and mortgage broker, had investment acumen as well as honorable intentions.
Which is how his widow came to own the $10 million (in 1998 money) mansion that I called home. Four stories tall, it housed 14 rooms bursting at the seams with art, antiques and the finest European furnishings. In effect, Irene ran a high end boarding house, providing lodging for sojourners in the city with the means and inclination to move under her roof. Like her husband, she possessed an astute business mind, managing her mansion, her housekeeping staff and her multi-million dollar assets with a reptilian eye, always on the look-out for poseurs who did not meet her standards.
And Irene being Irene, she did more than manage. Small in stature, large in presence, she ruled her realm in the manner of benevolent despots of the 18th century. Autocratic but enlightened. It worked for her, and it seemed to work for her residents, many of whom were repeat paying customers.
Irene Silverman's house was not my first choice of abode. But after six weeks of living at Le Meridien Hotel and failing to find a short lease apartment, my studio per diem - though generous - was eroding faster than the ratings for New York News. The folks at Feathered Nest, the agency favored by industry types in town for film production, suggested I interview with Irene. A prospective resident always had an audience with the grande dame herself before a rental contract would be considered. There should be no problem in winning her approval, I was told, because Irene liked to surround herself with professionals from the arts.
Before Irene and I sat down together, the real estate agent showed me the "Chaka Khan Room," the only suite currently available. Twenty-foot Renaissance style ceilings sheltered a large bedroom/sitting room with spacious bath, tiny bar-kitchen and a walk-in closet larger than some New York City hotel rooms... large enough in fact to do my daily yoga meditation when I needed a reprieve from the 65th Street traffic streaming out of the Central Park tunnel. The agent explained that she called it the Chaka Khan Room because the singer liked to stay there when she was performing in the city.
The décor was a bit over-the-top for my taste. Dramatic to the hilt, it married a spectacular conflux of Ralph Lauren Safari fragrance ads with the Edwardian elegance of a Nairobi gentleman's club before The Great War. Tufted sofas in buttery chestnut leather... a mirrored armoire with burled walnut doors... African sculpture... zebra rugs scattered here and there...golden sconces and chandeliers...leopard fabric pillows bound in black silk... and, across from the rose marble and mahogany fireplace, the piece de resistance framed above the king size bed: a five foot tall nude.
To be more precise, an oil painting of a nude woman posing for a male artist, his pen and sketchbook in hand. Because the artist was positioned with his back to the observer, his face was unseen. No matter. The lush female nude dominated the portrait. Reclining on a white coverlet against a rustic red headboard, the gorgeous nude napped. Or perhaps she was dreaming. Eyes closed, head cradled in one arm, legs coyly askew, her pubic glory on display for any casual admirer.
"Amazing, isn't it?" the agent asked. I didn't know if she was talking about the room or the painting, but there was only one possible answer. "Yes."
We then went downstairs to Irene's office for my audience with the lady herself. When I complimented her on the exotic beauty of the "Chaka Khan Room," she visibly bristled and snapped at me: "What did you call it?"
I could see I was failing my interview and turned to the agent for assistance. But Irene was already reading both of us the riot act. Not that she had anything against celebrities in general, or Ms. Khan in particular, but the rooms in her home were not to be minimized by personality or guest preference. Was that absolutely clear? As transparent as glass. The real issue, I realized, was not the name but the possessory credit. The room in which I might be staying was not and never would be Ms. Khan's. It belonged to Irene Silverman now and forever, make no mistake. The interview went better after that.
Irene introduced me to her devoted Great Dane, a four legged security guard lolling aside her dainty feet. She asked about the television series I was working on and allowed that she too had tasted the vagaries of the show world. Then it was back to business. A credit check would be done, of course, and a professional vita appreciated. If I passed muster, a formal contract would be drawn up, the rent required promptly on the first of every month and generous gratuities expected for her loyal staff. Maid service was included, laundry and ironing available at additional cost. All conditions acceptable, she presumed?
After six weeks at a hotel, no other lease in sight and a crush of script deadlines looming every week? There was only one possible answer. Yes, I nodded. Yes.
Still, on the day I moved in, I was suddenly seized with an attack of renter's remorse. Before I could make my way up the grand staircase or unload my baggage in the mirrored elevator at the end of the foyer, I needed to meet and greet Irene again. There she sat at her desk with her big happy dog in the office just to the right of the terrazzo tiled entry hall, watching over all comings and goings. A small round red-haired Buddha ensconced on her throne. No one could enter or leave without moving past the open door of her office - or the security cameras positioned at adroit angles of observation. Cameras which I had not noticed on my earlier visit. My writer's paranoia went on high alert, and I wondered if she had secret cameras and hidden wires installed in the Chaka Khan Room itself. I stepped into the elevator and watched the doors shut tight, sealing me inside.
In the weeks that followed, something surprising started to happen whenever I passed by Irene's perennially open office door. Her presence ceased to be the intrusion I feared and became something else. An unexpected comfort, like a friendly but distant neighbor who waved as you left for the day or nodded as you returned. Not that Irene waved or nodded. She spoke only when she had something to say. Sharp and critical one minute, kind and solicitous the next, she was seldom predictable. Small talk did not interest her. Speaking about what she loved did. And what she loved, besides those dead and gone, were beautiful things.
Day in and day out, she labored over the cataloging of the fashion and costume collection she planned to donate to the Metropolitan Museum of Art. (A young real estate agent frequently assisted her with the assemblage when he wasn't bringing in new prospective residents for her to interview.) I was amazed at such relentless energy from a woman twice my age - and then I learned why the collection meant so much to her. It had been sewn by her mother. Mrs. Zambelli had supported her daughter by crafting original designs for, as Irene put it, discerning ladies of the "highest" New York society.
So Irene and I had something in common after all. I told her my widowed grandmother was also a master with the thimble and needle, creating exquisite wardrobes and fanciful doll dresses fit for a fairy princess. We both had been raised by iron matriarchs who survived the bleak days of the Depression with nothing but wit, grit and a fierce will to provide for the daughters who came after.
No wonder Irene started her performing career at the tender age of 16. Money needed to be made and family obligations honored. And now, Irene was taking on the task of memorializing her mother's work in one of the great museums of the world. I was impressed. Irene's devotion knew no bounds. She probably got a great tax write-off too.
Unlike others who knew what I did for a living, Irene seldom inquired about my work. The strain of difficult days showed on my face, but there was an understanding between us. If I wanted to talk about how things were going, I would. I didn't. That was fine with both of us.
What did interest Irene was my family. My husband and young daughter came to visit at Thanksgiving. My mother-in-law and her sister dropped by on their way to Boston. A dear classmate from school stayed for a few days. She welcomed them all, even leaving a bottle of champagne outside my door to celebrate my husband's birthday.
When I rented an adjacent room for my teenage son during school vacation, Irene approved - until she found out from the housekeeper that he snuck a pack of cigarettes into his non-smoking room. She immediately cornered him. Either he abided by her rules or out he went. He apologized and discarded the forbidden tobacco. She chose to be merciful and allowed him to stay. Once again, all was secure in Irene's rarefied universe.
My New York sojourn, however, was coming to its anticipated end. Our series received the dreaded cancellation notice, by this time no longer so dreaded. I discovered that the less I try to control the outcome, the less defeat takes its bloody toll. Fear floats away like an errant butterfly, winging its way to another delicate blossom down the road. All that remains is relief -- and gratitude to be still standing.
Before I returned to California, I invited Irene out for lunch. No, the lady of the house demurred, she didn't enjoy going out as much she once did. Instead we had dinner in her private quarters, a favorite Caribbean recipe prepared by her cook, Ramon, which was much more to her liking. I still have a snapshot of Irene and me from that evening. Her beloved protector, the Great Dane himself, is perched between us, giant right paw on the arm of her chair, left paw on mine, mammoth head turned upward to Ramon who had come to the table, at Irene's insistence, to be photographed with us.
The next year I received another photo from Irene at Christmas. The Lady in Red had positioned herself like a gypsy queen against one of the spectacular framed abstract paintings that graced the mansion's foyer. Strands of pearls draped her fire engine red sequined gown, a red velvet and gold brocade bag hung from one arm and a jaunty red bow framed her auburn bangs. One tiny foot in its size 3 Cinderella red slipper rested on a marble urn overflowing with poinsettias -- red, of course. Her scarlet fingernails clasped a crystal goblet of champagne as she toasted the new year ahead with a smile.
That was the last correspondence I received from Irene. Later, when I read that "wealthy socialite Mrs. Irene Silverman" was missing, I couldn't believe it. There must be some mistake... another Mrs. Silverman maybe... certainly not the Irene I knew.
In the news coverage that followed I learned that detectives had already linked her disappearance to 23-year-old Kenneth Kimes -- a resident at her home -- and his mother, Sante, who on occasion stayed with him there. Among the incriminating evidence found in the Kimeses' possession was this: Irene's keys and passport, cassettes of her telephone conversations (taken from wiretaps), a forged deed of Irene's townhouse, loaded .9 mm and .22 caliber pistols, plastic handcuffs, an empty stun gun box, and several wigs and masks.
I called one of the real estate agents who had worked with Irene. We both knew that she put every potential boarder through the third degree. And yet Kimes, using the alias "Manny Guerrin," had managed to win her approval. How could this mother-son con artist team have possibly crawled in under Irene's radar?
The agent paused before answering: "They paid cash." And that was enough to distract the notoriously discriminating Irene? Perhaps. Cash on the barrelhead might still be the ultimate seduction for a girl from the lowlands of Louisiana, no matter how wealthy and sophisticated she had become.
But I sensed it was more than money that turned Irene's head. Companionship was worth its weight in gold. And in the summer of '98, more than one room in her stone palace was empty, according to the agent. She wanted boarders. Needed them for reasons that had nothing to do with East Side property taxes, staff salaries and the maintenance of a grand mansion in the style to which it had become accustomed. Besides, young Kimes was well-dressed and clever, referencing a supposed mutual friend to ingratiate himself. Handsome too. Beauty can confer a sense of trust. Irene spent a lifetime surrounding herself with its comforts.
Irene had no children, no husband, no siblings. Her closest associates were her staff and the real estate agents who brought in strangers to share her home. Once, when she was complaining about the laborious details of domestic management, I asked her if she had ever considered the possibility of selling her house and moving to something smaller.
No, she said, quickly dismissing such an outrageous idea. I understood why. More than her private sanctuary, this was her mother's last home and her husband's legacy. Her mansion, in effect, was her only surviving relation.
All of us who boarded there and kept her company became her surrogate family. And she became ours. I always thought of Irene as indomitable. Mothers die, husbands leave, careers end, fortunes fluctuate, old friends vanish, new friends arrive as unknown commodities to be tested time and again. And still she went on, courageous and proud in the face of life's devastating detours.
But maybe she was less brave than she was obstinate about preserving the status quo at all costs. Defiantly determined to present another consummate performance of the Lady of the Manor every day the curtain rose... even as her audience dwindled. Maybe she was simply afraid to accept the inevitability of change and move on.
What we resist can, one way or another, ultimately take subversive control. Even my dramatist's imagination could not have concocted the tragic twist that befell Irene... a pair of grifters plotting her demise to take possession of her beloved manse. Two years after she disappeared, the Kimeses, reaping the seeds they'd sown in a long trail of robbery and violence, were sentenced to 120 years in prison for her murder. In our media-drunk age, of course, the story is not finished until art imitates life.
In 2001 CBS saturated the airwaves with promotional spots for Like Mother, Like Son: The Strange Story of Sante and Kenny Kimes. Always ready to back a ratings winner, the network presented a true crime thriller dramatizing the famous Kimeses' infamous deed. The character of Irene Silverman, the real Irene would have been furious to see, played only a minor part. The star of the story was the sociopathic mother herself, Sante Kimes. The actress who played her? Mary Tyler Moore, making one more comeback
Life's little ironies -- like the amoral among us -- take no prisoners.
REAL LIFE. REAL NEWS. REAL VOICES.
Help us tell more of the stories that matter from voices that too often remain unheard.