"Art saved my life... art makes everything better."
Yogis often meditate on the mantra "So Hum" or "I am." The goal is to simply show up and experience what is happening in that very moment. When I began writing this piece, I was stuck -- hung-up on a definition. I began, "Michael Alan is a..." and every label seemed incomplete. So I will be begin with the basics: Michael Alan is. In all the work he makes, he is one hundred percent present.
Born during the blackout (7.13.77) in the Summer of Sam in Bushwick Brooklyn, Alan came into a world, quite literally, on fire. He grew up in low-income neighborhoods all over the city -- Brooklyn, Queens, Staten Island. "I saw a lot of good people in bad situations. I understood pretty quickly that my friends might leave the house and not come home. There was a lot of crime and a lot of drugs. I used drawing to process what I saw."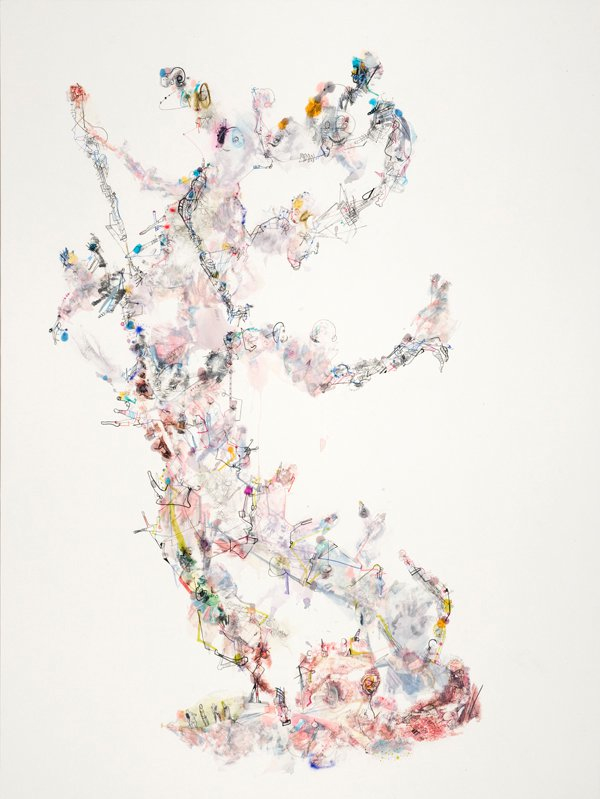 Michael Alan. "Persistant Change," Courtesy of Gasser Grunert Gallery.
His parents have been hugely supportive and influential in Alan's life. "When I was a kid, we had very little money. One day my dad brought home these Dali prints and I was so mad -- I mean we could barley afford the essentials. But I came home every day after that and looked at those prints and it began to sink in that someone actually made those images," he explains.
As a teen, Alan fell into the club scene and was offered a job as a promotor. He presented acts like Wu-Tang Clan and Tracey 168 -- he was often remembered as the guy who sketched the audience at shows. For a time, he toured Europe, making music, but finally with friends and colleagues pressuring him to make visual art, Alan looked into formal training. He found night classes offered at SVA -- a low-cost program that no longer exists -- and earned his degree. He was then asked back to the school to teach.
"I met people, and a whole new world and culture opened. I had a place to be -- a locker to keep my stuff, a studio to make my drawings in."
Alan's work and style of organizing his installations and exhibits is unarguably infused with his years of work as an outsider-artist, his passion for expression, his years of promoting music, and his love of collaboration.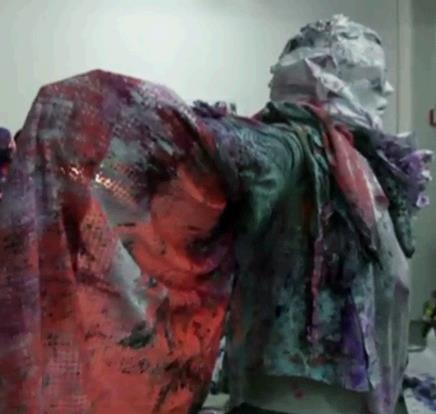 Photo of Michael Alan, courtesy of the artist
In a recent article by in the Art21 blog, Alan shared the following:
"I'm here to create an empathetic, honest, strong visual language, by working through every process I can, whether it's drawing, painting, sculpture, performance or music that will touch as many people as possible. Life is short."

"Having the ability to create is a gift and should be shared. Touch as many as you can.
Alan often features his parents in both his music and live-art-installations. His other collaborators form an impressive list of musicians and visual artists alike and include: Jello Biafra from The Dead Kennedys, Shinji Masuko from The Boredoms, and artist Kenny Scharf. And just as I was finishing this piece, Alan texted, "More good news. Meredith Monk is collaborating with me on the soundtrack" for his upcoming Living Installation "Working with Pain / Turning a Negative Into a Positive," occurring on July 21st at Gasser Grunert Gallery in Chelsea. This piece is extremely personal as it's built around an injury Alan endured during his last performance at Dumbo Arts Center three months ago. The injury caused neurological damage so severe that Alan now faces spinal surgery. "This show will be about the ability to use the body, even in pain, in a calm fashion demonstrating oneness."
Related
Popular in the Community