Recently, the words of great Russian poet Joseph Brodsky ring in my ears: "Not reading poetry makes society sink to such low level of expression, that it becomes an easy prey to a demagogue or a tyrant." These words are especially important today, when freedom becomes again a difficult challenge for us.
Poems and poetry seem to be merely a whim to most of our contemporaries. Something like a square peg in a round hole. In actuality, nothing could be further from the truth. Reading poems is the best practice in learning life, learning what in life is important and most beautiful. It teaches us basic things.
We often do not realize the impact of poetry on our world. Back in the seventies, Polish poet Ryszard Krynicki said that although poetry seemingly has no influence on political and social life, it is quite characteristic that when totalitarian and authoritarian regime comes to power, it usually begins by imprisoning or killing poets. Poets were killed and put in camps in Nazi Germany and Stalinist Russia. Poets were collectively interned during martial law in Poland.
Not without a reason. Every totalitarian or authoritative regime is born in a language. At the beginning, the meaning of words imperceptibly changes. In fact, the words start to lose their original, true meanings.
A body of people, who in the communist period in Poland had nothing to say was called parliament. The Polish People's Republic was called socialist democracy, even though it had nothing in common with democracy. It was called an independent state, although everyone knew full well that it was a satellite state dependent on the Soviet Union. Comments and simple propaganda on television and in the press was called news.
Julian Kornhauser in his poem "Office of poetry" said ironically:
"The state will turn the nation into a socialist camp
Homeland into industrial cities
Barricades into recycled paper storage
Shipyard workers' riots into a novel by Bratny
Some names into initials (...)
The state is the most outstanding Polish poet"
We are extremely vulnerable to such a great manipulation. Because we do not read poems. And even more - we practically don't read anything. Research shows that in 2014 19 million Poles did not hold a single book in their hands! And 10 million do not own one! These figures are frightening.
In Gdansk we are trying to do our share to bring poetry back to the people. With a festival of poetry we draw the poets from Europe and their translators to our city twice a year to receive a prize and a prestigious title of The European Poet of Freedom. We have already promoted a Belorussian, German and this year a Romanian poet Ana Blandiana whose poetry sings freedom. Let's read.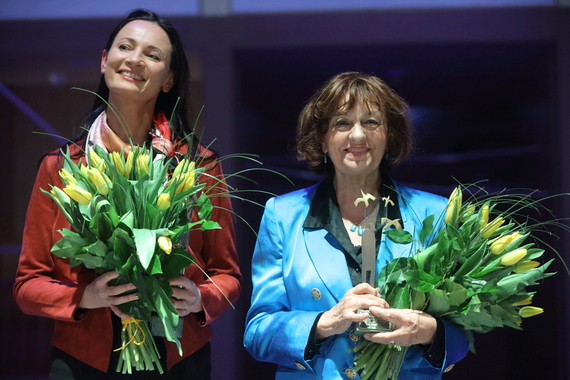 Ana Blandiana (R) and her translator Joanna Kornaś-Warwas (L) who won the The European Poet of Freedom prize
REAL LIFE. REAL NEWS. REAL VOICES.
Help us tell more of the stories that matter from voices that too often remain unheard.