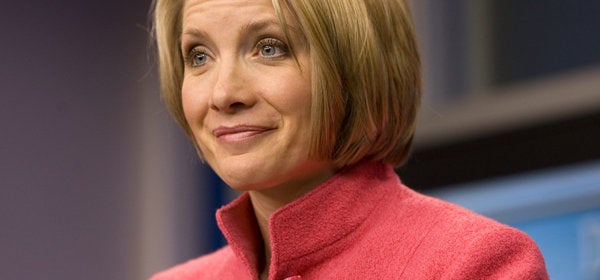 Former White House spokesperson Dana Perino said on Sunday that the Bush administration, while presiding over the start of the current recession, nevertheless deserved some credit for the modest uptick that Wall Street experienced this past week.
Appearing on CSPAN's Washington Journal, the last of Bush's press secretaries said it was "not a secret" that the current economic mess started under her boss's watch. But, she cautioned, the public had yet to realize the full extent to which the past president's policies "alleviat[ed] the downturn." Take, for instance, the improvement in the Dow Jones Industrial average this week.
"You were just speaking earlier about the possibility that since we had a little bit of a better week on Wall Street does that spell a turnaround?" Perino said. "Can all the credit go specifically to President Obama? Well, I would say no. We are just going to have to take a while to let all of this settle down and let the policies that our administration and the new administration are trying to put in place have a chance to work."
The Dow Jones Industrial Average had gone, roughly speaking, from a high of 14,000 to a low of just over 9,000 in the last two years of Bush's tenure. It rose from slightly below 7,000 to slightly above 7,000 this past week.
The effort to credit the market boost to Bush administration fiscal policy comes at a time of renewed debate over what role the former president played in the recession. On Sunday, former Vice President Dick Cheney said he didn't think it was fair to blame Bush for creating the current economic woes. That followed a speech by Barack Obama, saying that he had inherited the mess from which he was trying to dig the country out.
Asked how long Obama would be able to cast blame on his predecessor, here was Perino's response (per the C-SPAN VIdeo Library):
"For a while, I guess. He can do it as long as he wants. The question is, is this the smartest communications strategy to be doing it? Remember, President Bush inherited a recession as well. That is when the Internet technology stocks and the companies all fell apart. The question is not who the blame. You couldn't blame the technology bubble all on President Clinton himself, absolutely not... That aside, every president inherits big problems because you are the leader of the free world and there are going to be problems that you inherit. The danger I think - and I would say we fell into this a bit as well - is that if you constantly blame the person before you, you are not able to move forward and look forward and I do not think that necessarily the country wants that right now."
Popular in the Community