Periscope was voted the Apple App Store 2015 App of the Year. I discovered Periscope, the app that was bought by Twitter before it even launched, through my friend Africa Miranda. She came to visit me at my office and said, "I'm going to scope this." Confused, I said, "Do wha...?" She then proceeded to introduce me to, what I imagine, will become our modern, interactive, version of television: Periscope. Warning: it's addictive.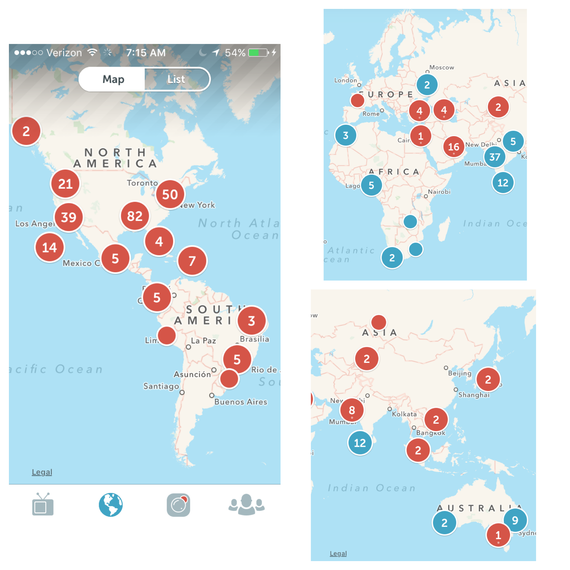 Where do you want to see today? The red illustrates the number of live broadcasts in that specific area. The blue are broadcasts that have ended within 24 hours.
Periscope is a live-streaming app that serves as a direct view into the lives of others. Download, open the app, and teleport to anywhere you like. It's like a free boarding pass to anywhere in the world. That's exactly what Mike Lin, Founder of the Scope Day account did. On November 7th, 2015, he had 65 broadcasters, from over 16 countries, live-streaming 45 cities and attractions to 51K people. From pyramids in Cairo, Egypt to one of only four green sand beaches in the world, Periscope viewers had the opportunity to discover and view the world, literally, through the eyes of others. Periscope; however, is so much more than just getting to see cool places.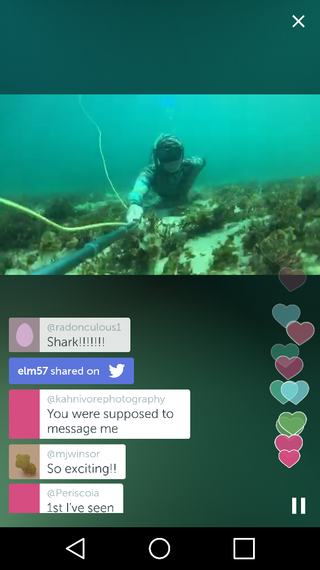 Travel blogger Mitch Oates made Periscope history to do the first live stream on Periscope underwater in Argentina. Screenshot by Lynette Lee. Users can share their broadcasts to both Twitter and Facebook.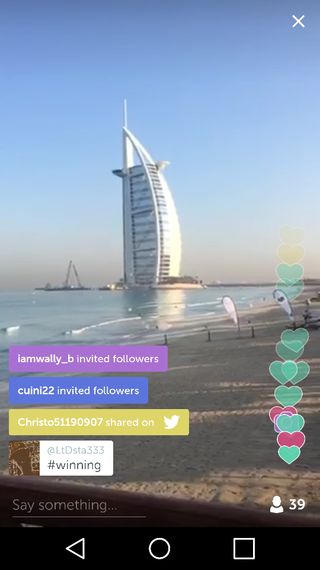 YouTuber Anika Mojaria shows us the sites in Dubai. She showed Periscope the Jumeira hotel. Screenshot by Lynette Lee. Users can invite their 'followers' to broadcasts they are viewing.
Periscope is about the people and the community it creates. Periscope gives you an opportunity to interact with not only your favorite celebs and influencers, but also with cool, interesting people that you would have never met otherwise. In an average day, I visit over seven countries and cities watching various broadcasts by "Scopers" (people who broadcast live on Periscope). I've discovered Pangni Landrum, a screenwriter out of LA that gives tips on screenwriting and social media. I've seen some of the world with Milan journalist Rosella Canevari. I have visited with the inspirational Amrit Singh, a UK creative, for art and good conversation. While "virtually" traveling around the United States, I met April Butcher, who helps new users navigate the platform. Through a great share, I now play 'Periscope Pictionary', created by Ruben Arena, who draws and educates on what he describes as, 'nerdy words', in quite a creative way.
With so many cool individuals to view and interact with on Periscope, in the short 9 months it has been around, "Tribes" have been created for people to find likeminded individuals, more easily. PeriNewbies is a tribe that was founded by Maryjoy Cinense as a service organization to help new Periscopers get their voices heard. She exclusively told me,
PeriNewbies is to help people like me! I was nervous and scared and uncomfortable live streaming and it was the biggest thing I had to overcome. After my first broadcast, I was shaking, so I knew other people had to feel like I do. I created the Facebook group and am so humbled by how fast it has grown! We are here to empower other people to broadcast. We are a global organization working towards helping people that might be remote, reach the outside world. We're in Africa, Australia, it's growing every month!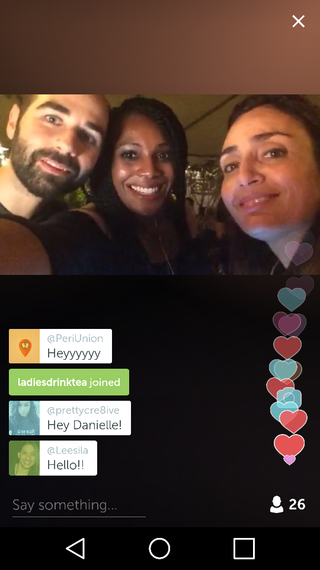 With Ben Leonard and Rossella Canevari at Art Basel in Miami during a live broadcast. Screenshot by Lynette Lee.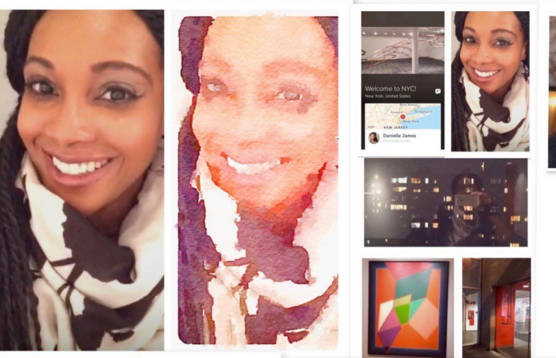 Screenshot of my broadcast at an art museum in New York City by Periscope user @r_Jon4. He has yet to broadcast, however, he takes screenshots and makes digital art from many Periscope users broadcasts and shares. Periscope is community driven.
Periscope has changed the way that people interact with each other and see the world. Kayvon Beykpour, CEO and Co-Founder of Periscope, explained,
The diversity and spectrum that people use on Periscope is wide and broad. I've seen German reporters walking across borders with Syrian Refugees. Whether it's in Serbia or the #BlackLivesProtest at home, everyone gets an audience.
I got that quote, live off Periscope with an interview with Stephen Colbert. I was going to email Kayvon - I didn't even need to! -- and I saw the interview before it even went live on TV! TV is something that has happened in the past, something that has been prepared in advance. Periscope is life, real things, real places, with real people. The catch? Each broadcast lasts for only 24 hours (unless you use a third-party website like Katch.Me to save).
Periscope has built such a community, that it led to the creation of Periscope Community Summit, founded by Ryan Bell. Ryan joined Periscope on April 6th, 2015. His first broadcast was with his one-year-old daughter Poppy. He exclusively told me that he founded Periscope Community Summit, which has already been compared to a SWSW.
I knew that it would be a way to get the world together. This is when people in New York were starting to do little meetups and I couldn't help but think how powerful it would be to have a REALLY big group of broadcasters in one place.
The next Summit is January 14-17th and you can get tickets online. I asked Ryan what he hopes Periscope Community Summit turns into and he excitedly told me, "A place to launch ideas and to find connections. It's still so early in live streaming that people can change and connect to the world in the ways that were unattainable before."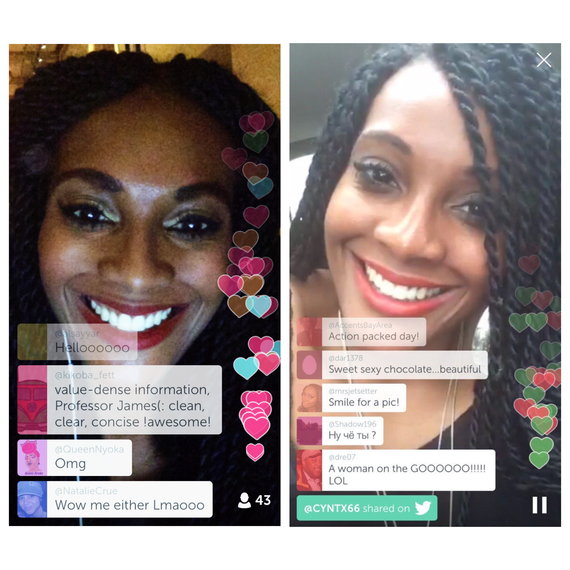 Screenshots from my broadcasts. The left is an example of what a live broadcast looks like. Individuals enter the room and type to you. The right is an example of a replay view. An egg avatar is normally a 'troll' and users have the option to block. Periscope users are pretty serious about everyone having an avatar.
In the three short months that I have been on Persicope, I have created community, found community and seen some eye-opening things that TV couldn't even possibly begin to imagine. People are forming social media gatherings, creating movements, and more. Twitter acquired Periscope reportedly for somewhere between $85M and $90M. The most interesting thing about the growth of Periscope that is in less than a year, it has amassed nearly 20M users. To place this in perspective, it took Facebook three and a half years to amass 50M users. Furthermore, Facebook has also recently launched live streaming also. This is definitely the place to be on the Internet and the app to watch for 2016.

You can watch Danielle's broadcasts here.
Related
Popular in the Community