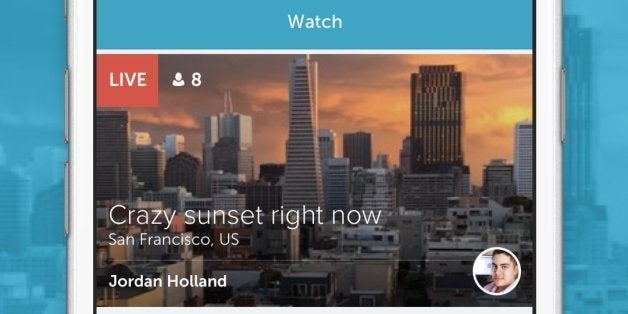 Live-streaming video apps are having a moment.
The app, which Twitter reportedly acquired for around $100 million earlier this year, was immediately put to use Thursday afternoon, following the collapse of a building in New York City's East Village, as bystanders streamed live videos of first responders on the scene. At one point, one stream showed more than 600 people tuning in to watch.
You can watch Periscope videos through the app on your iPhone or on your desktop browser. (There isn't an Android app yet, but it's in development.) People viewing the broadcast can instantly send comments, and you can tap the screen -- the way you would when you "like" a photo on Instagram -- to send a heart to the person broadcasting. These hearts float up on the right side of the broadcast.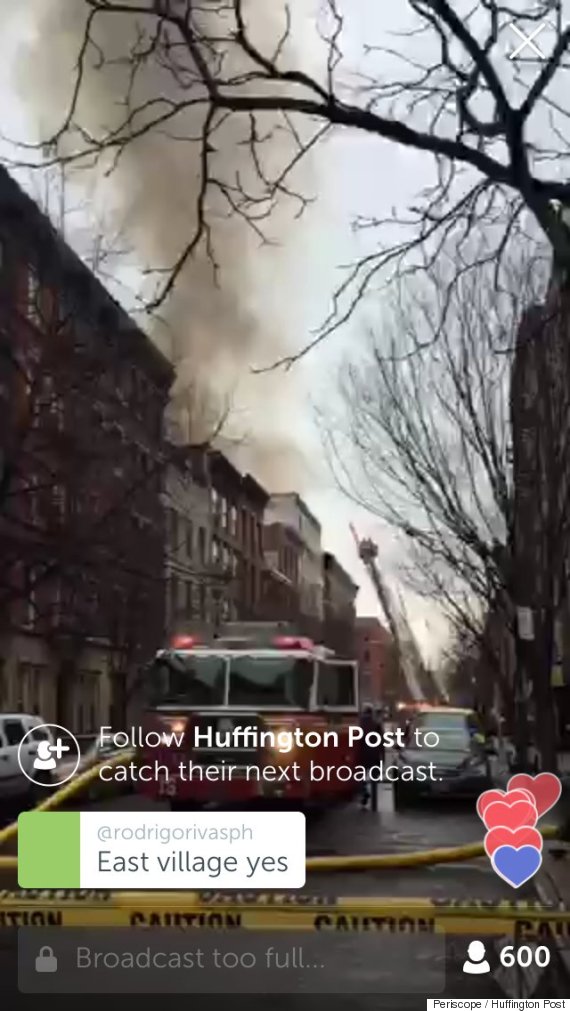 Screengrab from a popular Periscope stream of the building collapse in New York.
Periscope's launch comes shortly after Meerkat, an app that also streams live video, exploded in popularity this month.
When you compare both apps, it's clear that Periscope is much more refined and intuitive than Meerkat. This is likely due to the amount of development time that went into each: Twitter says developers worked on Periscope for a year, whereas Meerkat founder Ben Rubin has said he built Meerkat in only eight weeks.
Unlike Meerkat, Periscope records the live streams, allowing you to watch older videos. This is an especially important feature, given that more people will be able to watch a replay than drop whatever they're doing to view a live video.
But video archiving may be coming to Meerkat, too. Rubin recently said his company is working to add that feature.
Services that stream live video are nothing new. As The New York Times notes, other companies have tried to succeed in this space before. So the big question is whether this moment will be different, and if Twitter's global brand can drive mass adoption and give Periscope staying power, beyond the tech and media press.
Apart from the backing of Twitter, Periscope does have some things going for it that older services didn't: More people have smartphones than ever before -- 1.3 billion smartphones were shipped last year, according to IDC, a technology research firm -- and wireless networks continue to become faster and more reliable.
Dan Pfeiffer, a former senior adviser to President Obama, recently wrote that live-streaming video services like Meerkat and Persicope will have the ability to change the next presidential election. The services, he wrote on Medium, "could do to television what blogs did to newspapers by removing many of the financial and structural advantages of legacy media institutions."
So, will the revolution will be Periscoped or Meerkatted? We'll have to wait and see.
Related