At the beginning of the year, mobile live streaming apps started taking the social media and tech world by storm, starting with the launch of Meerkat and its rise during SXSW. While in March, Twitter launched its own live streaming app, Periscope to great fanfare and adoption. The question everyone was asking then was whether Meerkat or Periscope would win the battle.
What a difference a few months make.
Apple just named Periscope the best iOS app of 2015. The apps' numbers keep increasing and it's popularity soaring. Proof of this is the more than 1,000 Periscope users expected to attend Periscope Community Summit's second user-generated conference next January in San Francisco.
But just a few days ago, Facebook announced that it was slowly rolling out mobile live streaming capabilities to a small number of IOS users in the U.S. This new feature, often referred to as Facebook Live, gives users the ability to share native live video on the platform and it is starting to create a lot of buzz among social media influencers.
So, if live streaming is deemed to become one of the top social media and communications trends in 2016, will the live streaming battle play out between Facebook Live and Periscope?
"Facebook Live will completely change the mainstream perception of live streaming upon release to all accounts an blow away all the other options in the market," said Vincenzo M. Landino, CMO, Fifty 2 Creative and host of the Brand Boost Podcast. "Facebook picking up live streaming for the masses gives credence to the live stream movement. What marketers fail to recognize is that the majority of social media users are not up to date on the latest apps, and many want to use one app for all the features. Facebook is taking that position."
For Landino, the biggest challenge with current live stream apps (Periscope, Meerkat, FireTalk) is that you cannot really target your viewers. Facebook would instantly allow the targeting small business and brands have been craving, and give the bigger brands deeper access to their audience where they already are. This is echoed by those who currently create content on Facebook Mentions, a live streaming app that was introduced in July, but only to those with verified profiles, such as celebrities and journalists.
"Roker Labs has been airing original live programming on Facebook for a few months now and have been really pleased. The audiences are significant, the streaming platform performs well and, importantly for us, the viewer analytics we receive are robust," said Ron C. Pruett Jr., chief advisor for Al Roker Entertainment and co-founder of Roker Labs. "We're encouraged by the opening of the platform to others and strongly believe livestreaming is a new category for viewers and advertisers alike. This is just the beginning."
According to Nicole Henderson, an Atlanta based PR and social media consultant and the organizer of Scope Day Atlanta, Facebook Live will up the visibility of live streaming as a communication tool to a whole new level, but it won't t replace apps like Periscope and Meerkat. "It will actually intrigue more people and brands to get into the live streaming game. The ability to talk to your Facebook following can quite possibly bring life back to many Facebook brand pages," added Henderson.
Many agree with Henderson and think Periscope will not be the loser in this battle and that several live streaming apps will co-exist, while competing for users and time watched per broadcast.
Only time will tell who will triumphantly make it to the top social media lists of 2017, but one thing is for sure, mobile live streaming is here to stay.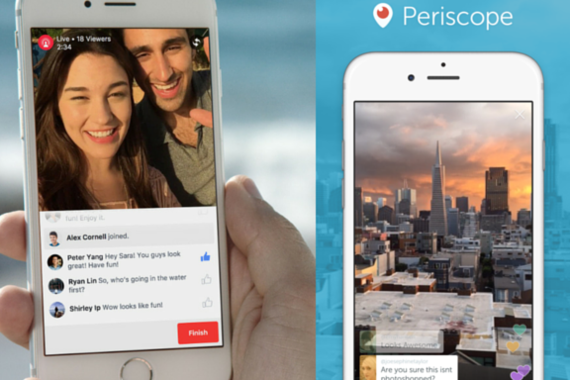 Related
Popular in the Community