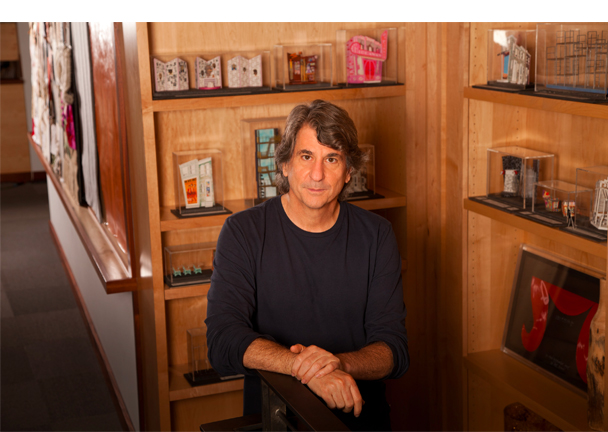 David Rockwell, portrait. Photo courtesy of Rockwell Group.
I am sitting overlooking Union Square in New York City from the office of the incomparable David Rockwell, which expectedly houses an eclectic collection of sketches, books, snow globes and kaleidoscopes, as well as, countless framed photos of Rockwell with family, friends, even Robert De Niro. A few moments pass before Rockwell enters his office, graciously extending his hand to welcome me to his studio, and says, "Just finished sushi for lunch so I should probably brush my teeth before we begin this interview." Naturally I laugh.
I share this anecdote with readers because describing David Rockwell's vast body of work without first accentuating his off-the-cuff charm and humility feels like an impossible assignment. Yes, Rockwell is one of the most amazing design talents of our time, but his cool and charismatic disposition, is equally extraordinary.
To begin our conversation, Rockwell reached for a framed photo of himself lying in a hammock as a student in the design studio at Syracuse University, and told me that his curiosity about public spaces materialized as early as his days in school.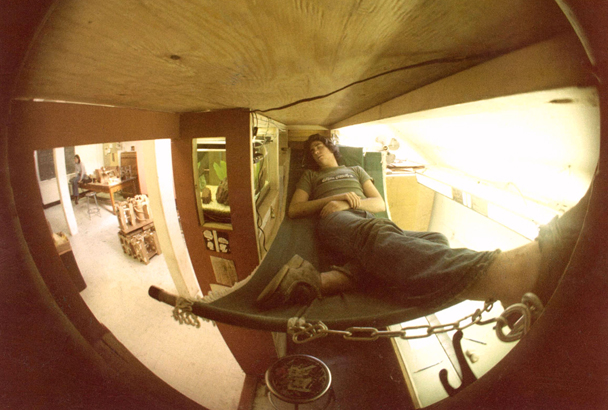 Photo courtesy of Rockwell Group.
I suppose it's therefore no surprise that his projects range from restaurants and bars, to hotels, museums, retail spaces, airports, even theater - notable highlights include set-design for the Broadway-musical Hairspray, as well as, the Kodak Theater in Hollywood, CA, and its set-design for both the 81st and 82nd Annual Academy Awards. And today, Rockwell's newest fascination amongst public spaces is portable, temporary design. I'd like to share some bits from our conversation addressing Rockwell's formidable storyline, specifically, his focus on this new typology of public space.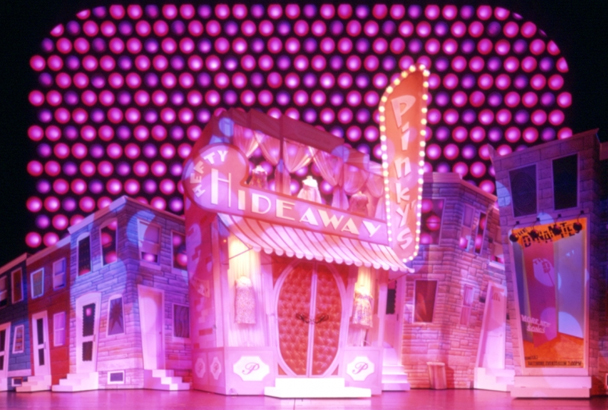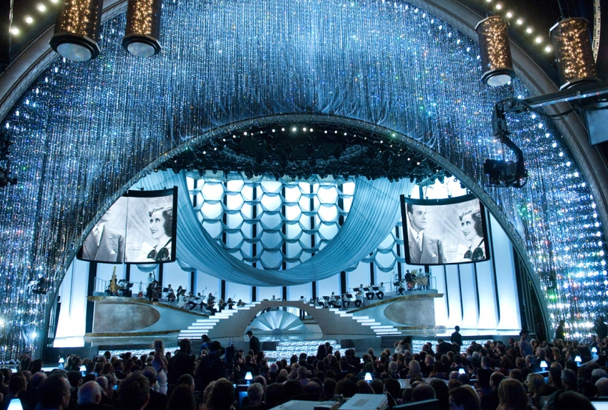 Hairspray for Margo Lion Production (top). Photo courtesy of Rockwell Group. 82nd Annual Academy Awards for Academy of Motion Picture Arts and Sciences (bottom). Photo courtesy of AMPAS®.
Jacob Slevin: Your work is tied so closely to your personal experiences and passions. Was this a deliberate choice, or one that happened by chance?
David Rockwell: My work is strongly rooted in place and memory, in personal, formative experiences that took shape within very different environments. I was born in Chicago, but grew up in New Jersey and Guadalajara. Play and transformation were a bit part of my childhood -- using whatever materials were at our disposal, my brothers and I would constantly build and create fantasy worlds.
My mother's work as a dancer and choreographer helped inspire my love of theater and design and develop my artistic eye. The color and spectacle of Mexico's streets sparked my interest in community driven space and experience, a passion that I began to develop while studying architecture at Syracuse University and then at the Architectural Association School in London. Having been immersed in such a diverse array of lively environments, it would be impossible for me not to use these memories and experiences as inspiration for my work.
JS: As the designer of so many critically acclaimed eateries, what is your approach towards the design of the culinary spaces? What has the highest priority: the diner, the chef and/or establishment, or the food itself?
DR: Good restaurant design is about achieving equilibrium between the food, service, and design -- in effect, telling a complete story. The design of a restaurant should embrace the identity of the chef, the nature of the cuisine, and the context of the restaurant itself.
We should ask the question: What places, things, or ideas have influenced the food? The design has to be authentic to the food and recipes; it can't be upstaged or contradicted. In fact, the décor and the cuisine should support each other -- the menu is inspiration for the design.
My task as a designer is to capture and expand upon the chef's vision, to bring it to life through an immersive environment that will impact a guest's first impression and overall experience.
JS: How do you reconcile design, a generally deliberate and thoughtful discipline, with the speed at which technology is moving the world? Specifically with projects like Yotel, does your approach towards design change?
DR: In our highly mediated, technologically driven world, we're all looking for meaningful ways to connect. This has constantly inspired me to create environments full of lively, immersive, experiential elements specifically crafted to foster human connection. Technology should be used to create unforgettable experiences that enhance our natural and built environments, transforming them in newly meaningful ways.
A great example of how we've done this is The Cosmopolitan of Las Vegas, where our digital interaction design team, the LAB, used sensing and reactive technologies to create deeper and more valuable experiences. In the west lobby, eight central columns are wrapped with mirrors and LCD displays. The 384 displays on the columns contain programming that changes based on time of day or event, creating a fluid digital experience that is continually transformed.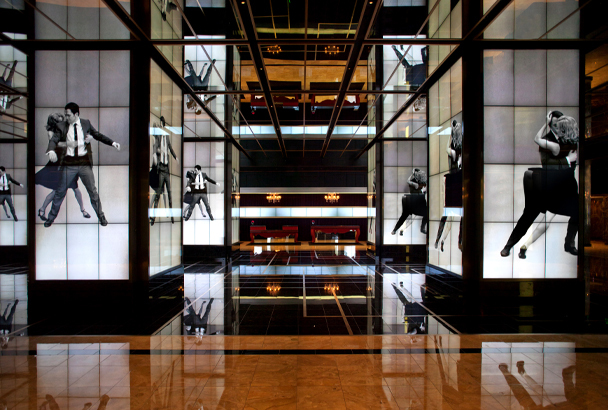 Photo courtesy of The Cosmopolitan of Las Vegas.
For the nightclub at The Cosmopolitan, the LAB created a choreographed stage in the main dance area made up of layers of LED, projection, and physical stage elements. The stage environment creates real time music and dance effects that react to performers on the stage, creating a unique environment for each performer.
The technological design elements we incorporated at Yotel are very different. We wanted to stay true to the hotel's brand, which is based on the concepts of Japanese capsule hotels and the luxury airline experience: modern, luxurious, efficient, state of the art, and small scale. Technology was used to create a unique, collective user experience in the hotel's lobby with an electronic check-in system, but the context of place and those inhabiting it drove the content of our work, instead of technology dictating the design.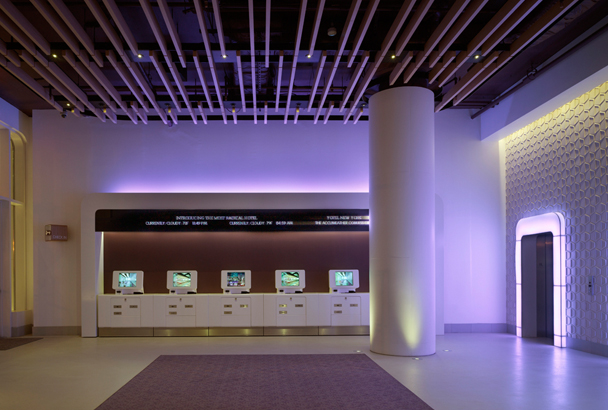 Photo courtesy of Nikolas Koenig.
JS: Can you tell us more about the Imagination Playground for adults at the Venice Biennale, and how it came about? How do you predict adults will interact with the playground you designed for kids?
DR: The presentation of Imagination Playground at the Venice Biennale is an excellent fit for this year's theme, "Spontaneous Interventions: Design Actions for the Common Good." Designed to encourage child-directed, unstructured free play, the concept is breathing new life into a number of diverse settings across the globe. It will be showcased alongside other projects initiated by architects, designers, planners, and everyday citizens -- those interested in collaboration and bringing positive change to the urban community.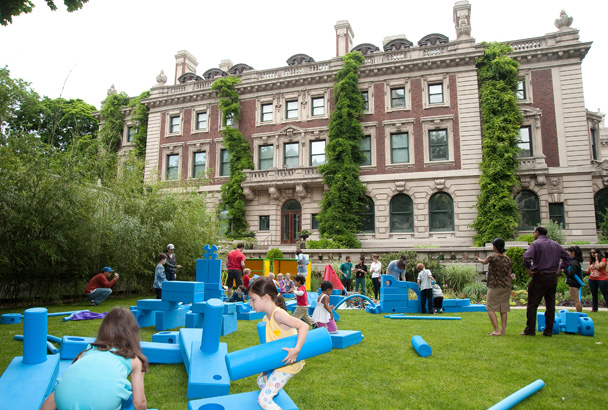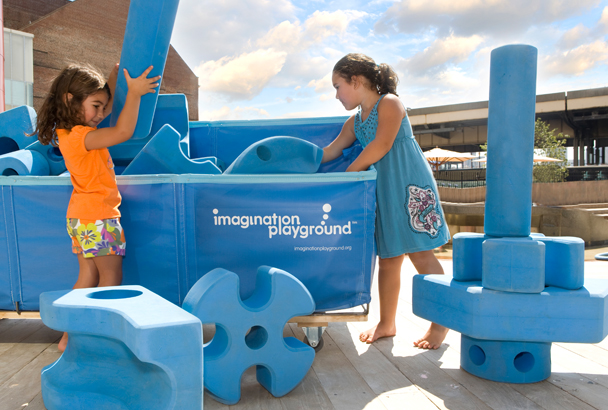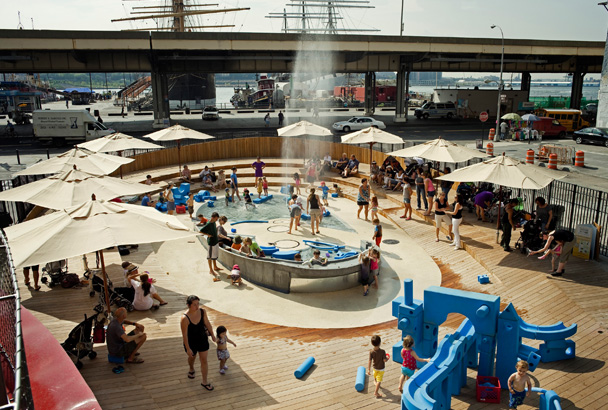 Imagination Playground, Cooper Hewitt (top). Photo courtesy of Blandon Belushin. Imagination Playground in a Cart (middle). Photo courtesy of Chris Amaral. Imagination Playground, Burling Slip (bottom). Photo courtesy of Frank Oudeman.
JS: The Imagination Playground, in your own words, is a portable design concept. How is portable design either similar or different than your more typical public space?
DR: Portable designs have the power to transform unused public spaces into dynamic environments that build and invite communal experiences. Imagination Playground in a Box and Imagination Playground in a Cart provide solutions for communities that do not have the space or resources for a permanent fixed-site playground. Whether used indoors or outdoors, the portable versions can activate smaller areas into play spaces all year round.
JS: Did your own children have any influence on your work for the Imagination Playground?
DR: Adults and their children will have the opportunity to interact with the blue foam blocks (loose parts), demonstrating the universal value and appeal of play, at the Serra dei Giardini, which will be the permanent home of the Imagination Playground in a Cart.
Yes, as the father of two young children, I spent a lot of time observing playgrounds. I began to ask questions like: How could playgrounds be more interactive? How might they offer a different experience every time? How could a play environment provide more opportunities for imaginative, open-ended play? I also observed how my own kids played. They always found boxes more compelling than what they contained. Imagination Playground was conceived in response to these observations and questions -- as a solution that would give children the tools to create their own course of play.
Popular in the Community