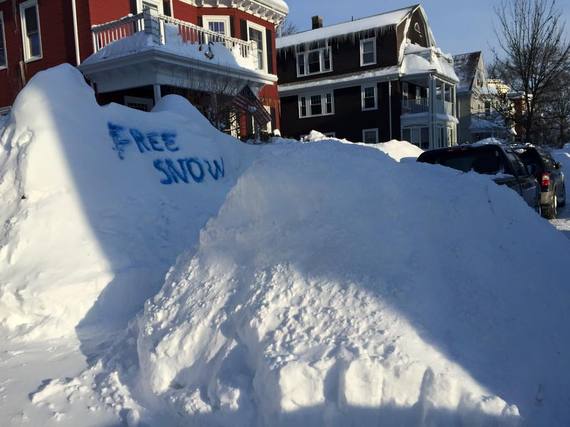 Weekly snowfall has become the norm in my Boston suburb. Even the hearty Canadian transplants are starting to weary of our endless winter.
The historic snowfall has spawned jokes (free snow!), prompted neighborliness, and made school closings the norm rather than the exception. Some cabin-fever Bostonians looking for an escape have even taken to posting videos as they fling themselves from their second story decks into huge piles of fluffy snow. (This resulted in a stern safety warning from the mayor.)
Joking aside, the storms have taken a toll on typically tough Bostonians, who experienced four epic blizzards and seven feet of snow in just three weeks. As I write this, it's snowing again.
Factors in the survey include: purpose, social, financial, community, and physical. But the findings show that happiness isn't simply linked to external indicators, like the weather. Dan Witters, research director for the Gallup-Healthways Well-Being Index, told HuffPost that, "People are leaving a lot of untapped potential sitting out there if all they do is focus on the physical part. Focusing on all aspects [of well-being] makes a big difference."
There's been plenty of extra indoor time in New England this winter, providing an opportunity to focus on a practice that cultivates a healthy mental state, which is key to well-being. I admit to at times feeling dragged down by all the snow, especially with the hassle of ice dams, water leaks and endless shoveling for so many locals. My own spiritual practice involves watching that I don't feel dependent on things outside of me to create joy, but to experience happiness as a permanent aspect of being.
I've come to see that, "All power and happiness are spiritual, and proceed from goodness" (Mary Baker Eddy). The Bible affirms that God is good and we each reflect that goodness in our thoughts and actions. So when we're helping our neighbor, we're harnessing the power of true joy. And when we're affirming that our joy can't be taken from us, we're seeing that the source of joy is divine. It's a quality that can't be depleted like funds in a bank account. Instead, it can be drawn upon and freely spent over and over again.
When things look bleak, the following scriptural promises offer a beacon of hope to each of the well-being indicators in the Gallup-Healthways survey:
PURPOSE: "Your ears will hear a word behind you, saying, "This is the way, walk in it..." (Isaiah 30: 21).
SOCIAL: "Love does no harm to a neighbor; therefore love is the fulfillment of the law" (Romans 13: 10)
FINANCIAL: "... your Father knows what you need before you ask him" (Matt. 6:8)
COMMUNITY: "Let no man seek his own, but every man another's wealth" (I Cor. 10:24)
PHYSICAL: "A joyful heart is good medicine, but a crushed spirit dries up the bones" (Proverbs 17: 22)
Sometimes built-up problems can feel like piles of snow that never disappear. But knowing and feeling God's love is like the sun that can't help but pierce through sorrow and hopelessness, bringing a springtime of gladness right in the middle of winter.