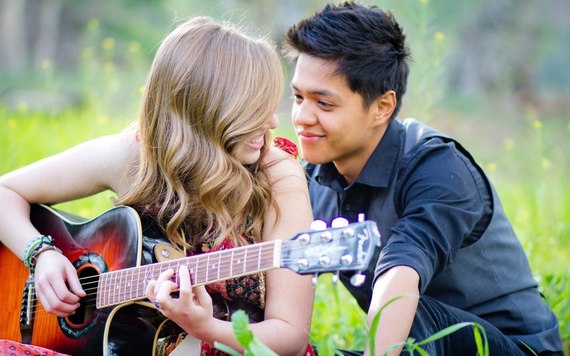 Image Source
Technology is dominating the music industry of today. People want to "own" their music. They want it readily available and under their control. They want it inexpensive, or in many cases, free.
While streaming services like Pandora and Spotify supply an ample amount of free and playlist based music, they do not supply a sense of ownership that most consumers desire. As a result, downloading music is still popular and preferable for many people.
According to an article in The Wall Street Journal, in 2014 purchased downloads of albums and songs decreased about 10% and streaming services increased 54%. This might suggest that consumers want more for their money than just buying one song at a time.
Pandora and other such services provide inexpensive, streaming music, but they do not allow people to own a particular favored song or album that can be listened to repeatedly. Some artists like Taylor Swift don't allow Spotify to supply their albums. In order to get songs and albums on demand, people will often turn to illegal downloading.
There is no denying that illegal downloading has the potential to hurt the music industry. Most people download music by popular artists and labels who make plenty of money. But on the other side, illegal downloading makes it difficult for musicians, lesser known artists, producers and songwriters of the industry to earn a living.
According to a 2016 article from The New York Times, people have been spending less on downloaded music for the past three years with no signs of increasing. There is a debate about whether the decrease is due to illegal downloading or simply a shift in modern technology.
In many cases, the people who sometimes steal music files are also often willing to spend money on artists that they care about. According to a Forbes 2016 article, those that sometimes steal also spend $33 per year on CDs and downloads. The average consumer will only spend $19 per year on their music files and CDs. It seems the people who are willing to steal may also be more passionate about owning their music and do not favor streaming services.
A 2013 Forbes article agrees that piracy is not to blame for the decrease in recorded music sales. Modern technology is what has changed the music industry by outdating what was once its most valuable profit: CDs and other physical copies of music.
Popular artists like Lady Gaga, Taylor Swift and Adele make plenty of money. According to MSN, Taylor Swift made around $1 million every day in 2015. Her album "1989" made $5 million since 2004. On top of that, Swift also makes a significant amount of income from non-music related endorsement deals with popular brands like Keds and CoverGirl.
In 2015, Taylor Swift was ranked one of the highest-earning artists. In 2015 live concert sales were responsible for 52% of music spending.
How do lesser known artists earn a living when recorded music sales are endangered and people buy songs for a dollar a piece on iTunes? They don't have endorsement deals and don't have large concert sales. In 2013 the average person only spent $12 a year on iTunes.
So what is the future for how people will listen to music? Free, legal downloads are increasingly more common as consumers shift away from individual song purchases.
An article on Gadget Supersite lists some of the top reputable places to download free music, legally. All indications are that these free downloads are the future of the music industry in the coming years.
People want to own their own songs, but they don't want to pay the price for them. The average consumer is not motivated to spend money to obtain the music they want. Free downloading is a convenient solution, but it may not financially support the music industry.
The music industry's survival cannot depend on purchased, downloaded music or streaming services. Live concerts and brand endorsements are what pay for an artist's success.
According to 2016 statistics, the average singers and musicians earn $37,889 per year. That's a long climb up to get to Taylor Swift's $1 million per day. In today's world of modern technology where every song you own can be held in the palm of your hand, many artists with true talent may never reach the stage.
Calling all HuffPost superfans!
Sign up for membership to become a founding member and help shape HuffPost's next chapter