WASHINGTON -- The last week of August was a very generous one at the Smitherman household in Austin, Texas. Barry Smitherman had recently been appointed commissioner of the Texas Railroad Commission by Gov. Rick Perry, following a stint as chairman of the Texas Public Utility Commission. That week, Smitherman, his wife Marijane, and three of their four children each donated thousands of dollars to Rick Perry's presidential campaign.
Barry, Marijane, and their son Wyatt, a sophomore at Texas A&M University, donated the maximum allowed, $2,500, according to campaign finance disclosures. Their only daughter, who appears to be of middle school age judging from her dad's campaign website, also donated $2,500. And one of her brothers, who is a junior in high school according to his Twitter feed, donated $1,000. Smitherman declined to respond to questions from The Huffington Post about whether the money belonged to his children or to him.
Recently filed federal election disclosures show an unusually high number of live-at-home children of Perry donors also contributing to the Perry campaign -- more than the number contributing to other Republican candidates -- provoking questions as to whether some of those donations are actually coming from the kids.
These questions have serious implications. Federal regulations limit the amount of money that an individual can legally donate to a political campaign, and stop short of prohibiting minors from donating to politicians. But they do set up clear restrictions. Under current law, three conditions that must be met for a minor to donate to a political campaign: that the donation was made knowingly and voluntarily; that the funds donated must belong to the minor in question; and that the parents may not reimburse the child for the donation. A Perry spokesman declined to say whether there is an age that the campaign considers too young to knowingly and voluntarily donate.
But those rules aren't always followed in the real world, said Bill Allison, editorial director for the nonprofit watchdog group the Sunlight Foundation. "It's pretty much understood that it's not the kid's money, so a person with a larger family can give more," he said. "It's just one more way for a well-heeled donor to exceed the individual legal limits."
Like Smitherman, Toyota dealer and avid outdoorsman Dan Friedkin also recently received a Perry appointment, in this case as chairman of the Texas Parks and Wildlife Commission. Perry named Friedkin to his new position September 1. Less than a week before that, Friedkin, his wife Debra, and their two college-aged sons, Corbin and Ryan Friedkin, all gave the maximum of $2,500 each to Perry's presidential campaign.
Steve Layton also has an extremely generous and organized family giving schedule for the presidential primary. A Bakersfield, Calif., oil executive whom the Texas governor appointed to the Interstate Oil and Gas Compact Commission, Layton, his wife Susan, and their four children, some of whom are adults, all donated to Perry's presidential campaign on the same two days in September. Each child donated $1,000 to the campaign, and all of the Layton children listed their address as the family home in Bakersfield.
But living at home doesn't preclude a select group of young people from having enough money to donate to politicians. Texas philanthropist Lee Bass's three children, son Perry R. Bass II and daughters Ramona and Sophie Bass, all gave Perry $2,500 each during the last week of August, as did their father and mother. Lee Bass was appointed chairman emeritus of the Texas Parks and Wildlife Commission shortly after Perry took office. But as members of the billionaire Bass family, the Bass children all have their own foundations, and ostensibly control their own funds.
Bankrolling Perry is also a family affair for the Danos clan of Lockport, Louisiana. Todd Danos is an executive at Gulf Offshore Logistics, a company that provides vessels for drilling in the Gulf of Mexico. Aside from Todd and his wife, Michele, there are five young Perry donors living under the Danos roof. The oldest, Brook, is a 2011 graduate of Loyola University New Orleans and the son of Todd's deceased brother, Timothy. The youngest, Taylor, graduated from high school this year. All five of the Danos kids gave $2,500 to Rick Perry, all on September 2. But campaign finance reports aren't the only place where the Danos children's names pop up: Each of the youngsters has an oil vessel from Gulf Offshore Logistics named after them. The company's president, Joel Broussard, is the patriarch in another family of Perry donors.
According to Allison, of the Sunlight Foundation, the use of a donor's children to funnel more money to a candidate is a strategy that's especially well suited to this stage in Perry's presidential campaign -- and Perry's unique history.
"Texas is the wild, wild West of campaign finance, so when you think about the biggest donors to Perry, most of them come from Texas, and they're going to try to get him as much money as possible at this early stage," he said.
Mollie Reilly contributed to this story.
SEE more details about Rick Perry's presidential campaign: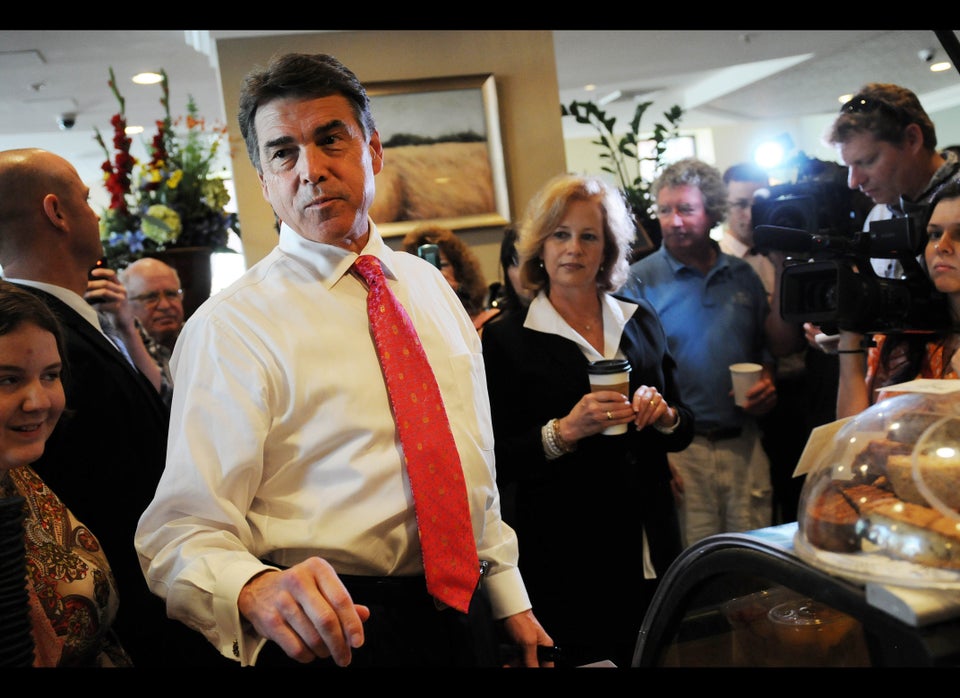 Rick Perry 2012

Popular in the Community