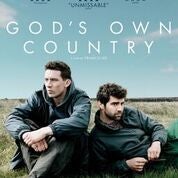 A few days ago I got to see God's Own Country, English filmmaker Francis Lee's arresting film about two men in England's wind-bitten, starkly beautiful Yorkshire countryside (home territory of the poet Edward Carpenter and his rough woodsman friend George Merrill, who inspired E. M. Forster's Maurice), who meet on an isolated sheep farm and . . . well, I won't give you the whole plot. It would be easy to dismiss this movie as "Wuthering Heights meets Brokeback Mountain," but Francis Lee who wrote and directed this maiden voyage of a movie of his has crafted it and cast it extremely well with Josh O'Connor as Johnny Saxby, a young yeoman of the old order, so repressed and destroyed by the backbreaking desolation of farm life that all he can do on weekends is get near black-out drunk then find any man he can fuck in the local pub. Everyone seems to know Johnny is queer, but of course, this is rural England: it can't be spoken about. He lives very much to himself on the family farm, with his father and grandmother, played by the excellent actors Ian Hart and Emma Jones. Johnny's mother has flown the coop decades ago, after going "half daft" from loneliness out there, where the closest to real communication we get to hear—again—is, "Are you daft?"
Into this desperate lunacy arrives Gheorghe Ionescua, an extraordinarily good-looking, fairly sophisticated Romanian migrant worker played by Alec Secareanu, who has a temporary assignment to work on the Saxby farm. Johnny immediately calls him a "gypsy," and Gheorghe orders him flatly: "Don't call me that."
Like most romances, there is tension between the two protagonists, some physical violence, and then the "moment of truth" where the two men are thrust together, backed up against a wall of repressed feelings, and then explode sexually. I mean, a lot of people don't like these kind of scenes; they feel they are kind of . . . icky—but then why the hell would they go see this movie? The scenes of Yorkshire are raw and gorgeous. I kept thinking, this region has not changed since Far from the Madding Crowd, and that is the great charm of it to the English and of course their American cousins.
I have often said about the English that the upper classes are bloodless and the lower classes are speechless, and God's Own Country purely illustrates this: Johnny Saxby and his whole family are so repressed that all they can do is work, eat, sleep, and belch. This gives it opportunities for spectacular moments of catharsis: those emotional breakthroughs that make a movie like this truly throat-lumpy: Johnny has one with his father after the old man suffers a stroke, and of course with Gheorghu after he drives him away with his drinking and emotional stoniness. Gheorghu does say something wonderful about the country he has come from: "There's nothing left there except the crying of old women looking for the life they once had."
This is a beautiful, evocative movie that sits inside you after it is over. It is graphic about the cruelty to animals that takes place on a farm, but writers like Forster and, later, D. H. Lawrence—who wrote so often of salvation through sexual connection—would have genuinely loved it, as I did.
Award-winning writer and gender-rights pioneer, Perry Brass has published 19 books, including poetry, novels, short fiction, science fiction, and bestselling advice books (How to Survive Your Own Gay Life, The Manly Art of Seduction, The Manly Pursuit of Desire and Love). A member of New York's radical Gay Liberation Front, in 1972, with two friends, he co-founded the Gay Men's Health Project Clinic, the first clinic specifically for gay men on the East Coast, still operating as the Callen-Lorde Community Health Center. His acclaimed prize-winning dystopian futurist novel Carnal Sacraments has recently been translated into Italian and Spanish, penning a world where privacy, a personal life, and a moral compass are worthless to a high-stakes consumerist society of both endless bullying and cosmetic rebellion.