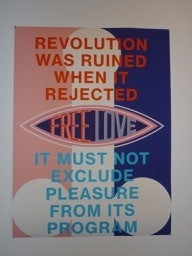 2017, besides being the first year of America's misadventures in Trumpism—i.e., lies, corruption, trash crazy talk, foreign interventions and other dangerous and nefarious liaisons—has another distinction: it is the 100th anniversary of the Russian Revolution, which succeeded basically because the dysfunctional regime of Tsar Nicholas II, the last Romanoff, was drowning in World War I. Most people born after World War II have little to no consciousness of the Russian Revolution, except for movies like Dr. Zhivago. It was brutal—but then most European revolutions were, (think of the French Revolution's Reign of Terror when 13,000 people were executed in roughly 6 months)—and, for a while mind-boggling. For 18 years, from 1917 to 1935, when Stalin solidified his power, leading to his famous purges, Russia was the most progressive country on earth. Under a new legal system, revolutionary Russia basically divorced morality from the domination of religion, specifically the Russian Orthodox Church. Women were given an equality unknown in any other country; gays and lesbians were no longer penalized, or even ostracized; civil rights for racial minorities were guaranteed; birth control, abortion, and family planning were readily available, even birth outside bourgeois marriage was condoned if not encouraged.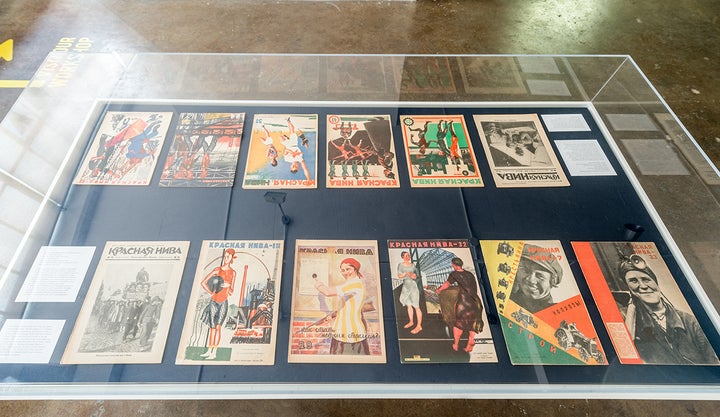 To commemorate this anniversary, the International Print Center New York has put on a spectacular but small show curated by Masha Chlenova, that features all sorts of rare, authentic, often avant-garde printed work from period Russia, and works by two contemporary artists who have become associated with Russian culture through the Soviet era: Yevgeniy Fiks (whom I have reviewed before for Huffington Post) and Anton Ginzburg. Amazingly, this is the only show devoted to the Revolution's centennial in New York. You'd think the cultural capital of the world would be chockablock with performance programs, dance programs, big museum shows, etc. to mark this milestone. Nope.
Instead, run down to the IPCNY show before it closes on December 16. It is mind-opening. Divided into three extraordinary concepts—hold on to your hats when you now think about Russia!—and see what was once there before Stalin, Hitler, and the Cold War consumed one of the most amazing social experiments in human life ever carried out.
About those three concepts—First: Internationalism. All human beings are joined by their own humanity regardless of race, class, or religion. This show includes African-American Americans expats like Paul Robeson, Langston Hughs, Robert Robertson, and Claude McKay in revolutionary Russia. They were embraced there, although some doctrinaire American racists were sure they were only being used. It also has many examples of Russia's attempt in that period to heal from its historic anti-Semitism. In 1917 three million Jews were still living in Russia; many became active in the revolution, with Yiddish an accepted language—as seen in several Russian government posters extolling Jewish farm life and Jewish industrial workers.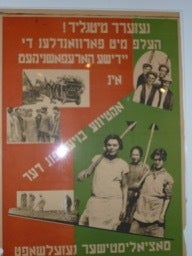 Two: Women's Liberation. For this breathing spell women were liberated in Russia at a time when they could not even vote in much of the rest of the world.
Three: Proto gay liberation. Wow! You read it. Russia swept away all sodomy laws, and the Russian Orthodox Church's condemnation of homosexuality, which had lacerated the lives of so many Russians from Pietr Tchaikovsky on down, was ignored. The legacy of this was Mattachine founder Harry Hay's embrace of the Communist Party, in the 1940s and 1950s, and his revelation that gay men and lesbians comprised an "oppressed class," worthy of the same feelings that revolutionary Russia extended to black men and women within its cultural borders.
To highlight this, Yevgeniy Fiks shows a series of 5 incised wood blocks with quotes from Hay, saying things like: "With my Communist background, I knew I could not work in a group without a theory. I said, 'All right, Harry, what is our theory?' And he said, 'We are an oppressed minority culture.' I agreed instantly."
Or, "Newer levels of Marxist perceptions which were emerging in me as gay values."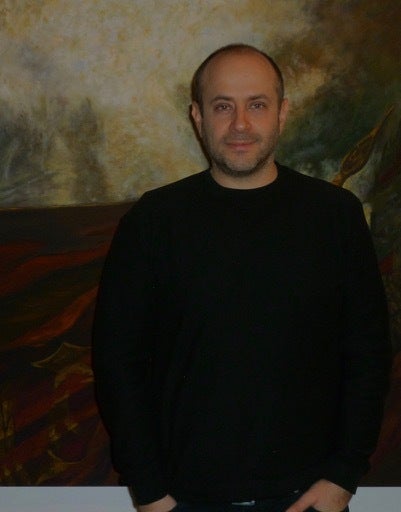 There are many don't miss items in this show: one of my favorites was "Soviet Russia and the Negro," a once-famous essay by Claude McKay, here seen in English in a period pamphlet printed in Russia, but also recited, in Russian, as a "Kaddish" by Fiks in a video showing places where people of African descent have been physically attacked in modern Russia. Trans activist Leslie Feinberg has on display "Can A Homosexual be a Member of the Communist Party?" in Worker's World, from 2004. And Anton Ginzberg has a poster in his Meta-Constructivist poster series, from 2016, that pulls no punches when it says: REVOLUTION WAS RUINED WHEN IT REJECTED FREE LOVE. IT MUST NOT EXCLUDE PLEASURE FROM ITS PROGRAM.
How did it all end up so badly; how did we end up with Donald Trump? Deep questions, but you may very well find some answers at this extremely enjoyable show.
The International Print Center New York is at 508 W. 26th Street (Chelsea gallery district), Suite 5A, New York, NY 10001. Tel: 212 989-5090. www.ipcny.org. This show is free to the public, but contributions are welcomed. The IPCNY has published an excellent catalogue, and also hosts a program of public events to go with the show. To see these, go to the website.
Award-winning writer and gender-rights pioneer, Perry Brass has published 19 books, including poetry, novels, short fiction, science fiction, and bestselling advice books (How to Survive Your Own Gay Life, The Manly Art of Seduction, The Manly Pursuit of Desire and Love). A member of New York's radical Gay Liberation Front, in 1972, with two friends, he co-founded the Gay Men's Health Project Clinic, the first clinic specifically for gay men on the East Coast, still operating as the Callen-Lorde Community Health Center. His acclaimed prize-winning dystopian futurist novel Carnal Sacraments has recently been translated into Italian and Spanish, penning a world where privacy, a personal life, and a moral compass are worthless to a high-stakes consumerist society of both endless bullying and cosmetic rebellion. More info: www.perrybrass.com.